Event Information
Location
Bauhaus Stadtbad Luckenwalde
Rudolf-Breitscheid-Straße 72
14943 Luckenwalde
Germany
Refund policy
Refunds up to 7 days before event
Imagine a beach—you within it, or better: watching from above—the burning sun, sunscreen, bright bathing suits, sweaty palms and legs...
About this event
[ENGLISH BELOW]
Sun & Sea
Rugilė Barzdžiukaitė, Vaiva Grainytė, Lina Lapelytė
Samstag, 17. und Sonntag, 18. Juli 2021
Bauhaus Stadtbad Luckenwalde
Kuratiert von Lucia Pietroiusti
Produziert von E-WERK Luckenwalde
Sun & Sea ist eine Performance-Oper der litauischen Künstlerinnen Rugilė Barzdžiukaitė, Vaiva Grainytė und Lina Lapelytė, die auf einem Indoor-Strand voller Sonnenschirme, Urlauber, Hunde und Kinder spielt. In ihren Liedern warnen die Darsteller*innen vor dem Klimawandel und drohenden Umweltkatastrophen. Das Werk wurde auf der Biennale Venedig 2019 mit dem Goldenen Löwen ausgezeichnet und wird nun im leer stehenden Bauhaus Stadtbad präsentiert - komplett mit 100% CO2-neutralem Kunststrom, Wärme und Licht!
Das E-WERK wird die Performance und das Gebäude mit 100% grüner Energie versorgen, die durch einen Holzvergaser vor Ort im E-WERK Luckenwalde erzeugt wird. Lies hier mehr!
Sun & Sea wurde ermöglicht durch NEUSTART #TakePlace, die E.ON Stiftung, die Großzügigkeit der Laurenz Stiftung, Basel, Nicoletta Fiorucci Russo De Li Galli, Sprüth Magers, Lithuanian Kulturattachée und durch eine Crowdfunding-Kampagne mit zusätzlicher Unterstützung von Schlauch Weberei, Charitea, Campari, Märkischer Hof. Lucia Pietroiusti wird auch die POWER NIGHT 2021 kuratieren, die von September 2021 bis Mai 2022 stattfinden wird.
Frühbucher Normalpreis - 8€
Frühbucher Ermäßigter Preis - 6€*
Kind unter 11 Jahren - Kostenlos
*Ermäßigung für Schüler (11-18), Studenten, über 65-Jährige, Bundesfreiwillige, Empfänger von ALG II, Arbeitslose und Menschen mit Behinderung. Freier Eintritt für Kinder unter 11 Jahren. Bitte beachten Sie, dass das Stadtbad leider keinen stufenlosen Zugang hat.
Ticket-Konditionen
Frühbucher-Tickets - Zeitfenster - Stehplatz
Bitte erscheinen Sie zu der auf Ihrem Ticket angegebenen Zeit. Dieses Ticket berechtigt zum Einlass und Aufenthalt im Raum für bis zu 1 Stunde.
Um Ihren Eintritt zu garantieren, stellen Sie bitte sicher, dass Sie die richtige Anzahl an Tickets für sich und Ihre Gruppe (falls zutreffend) buchen.
Bitte beachten Sie, dass große Gruppen möglicherweise aufgeteilt werden, damit wir die soziale Distanzierung überwachen können. Während der Aufführung sind maximal 4 Personen in einem Bereich erlaubt.
Aufgrund der Beliebtheit der Veranstaltung besteht die Möglichkeit, dass Sie am Einlass anstehen müssen. Wir werden jedoch versuchen, dies so weit wie möglich zu vermeiden und uns bemühen, angenehme Bedingungen für alle Wartenden sicherzustellen.
Die Aufführung ist fortlaufend, was bedeutet, dass einige etwas länger und andere etwas kürzer verweilen können. Wir werden unser Bestes tun, um so viele Menschen wie möglich sicher unterzubringen, indem wir zeitlich begrenzte Einlass-Slots anbieten. Inhaber von Early Bird-Tickets sollten zu der auf ihrem Ticket angegebenen Zeit eintreffen. Alle Tickets sind Stehplätze, wobei wir einige Stühle auf Nachfrage bereithalten.
Wir überprüfen ständig die Entwicklung der COVID-19-Regelungen in Teltow-Fläming, um zu sehen, ob es möglich ist, die Kapazität der Veranstaltung zu erweitern, sobald die Frühbucher-Tickets ausverkauft sind. Bitte stellen Sie sicher, dass Sie sich für unseren Newsletter angemeldet haben, um regelmäßige Updates zu erhalten.
Aufgrund der derzeitigen Beschränkungen können wir nicht garantieren, dass Tickets an der Tür erhältlich sein werden, daher empfehlen wir die Reservierung, um Enttäuschungen zu vermeiden.
Hinweise für Ihren Besuch
Der Zutritt zur Vorstellung ist nur unter den folgenden Bedingungen möglich:
das Tragen einer FFP2-Maske
Buchung eines Timed-Entry-Tickets online im Voraus
Es ist nicht notwendig, ein negatives COVID-19-Testergebnis vorzuweisen. Wenn Sie in einer Haushaltsgruppe teilnehmen, werden Sie gebeten, in Pods von drei bis vier Personen zu stehen. Außerhalb der Pods muss jeder während der Veranstaltung einen Sozialabstand von 1,5 m einhalten.
Wir haben unsere Kartenzuteilung auf der Grundlage der Größe des Stadtbads und des empfohlenen Sozialabstands berechnet. Wir werden außerdem eine strenge Hygienestrategie umsetzen, die sicherstellt, dass der Raum zwischendurch ständig gereinigt wird. Wenn Sie weitere Fragen zu unseren Richtlinien haben, senden Sie bitte eine E-Mail an info@kunststrom.com.
Essen wird es von Edible Alchemy geben, einem in Berlin ansässigen Fermentationslabor, das die mikrobielle Welt der Fermentation erforscht, um natürliches Umami zu erzeugen, das Gold der hohen Küche.
Es gibt keinen stufenlosen Zugang zur Vorstellung. Wenn Sie diesen benötigen, senden Sie bitte eine E-Mail an info@kunststrom.com, um herauszufinden, wie wir Ihnen den Zugang auf andere Weise erleichtern können.
Das Betreten des Raumes ist nur Blindenhunden gestattet.
Züge fahren ab Berlin Südkreuz, Potsdamer Platz und Berlin Hbf stündlich zwischen 05:00 - 20:00 / 15:00 - 18:00 Uhr. Das E-WERK Luckenwalde/Bauhaus Stadtbad ist vom Bahnhof Luckenwalde in 10-15 Minuten zu Fuß erreichbar. E-WERK empfiehlt, ca. 1 Stunde Reisezeit von Berlin zum E-WERK einzuplanen. Um z.B. um 15:00 Uhr am Samstag an zu kommen, sollten Sie den 13:47 Uhr RE3-Zug ab Südkreuz nehmen. Ihre Route von überall in Deutschland können Sie hier planen.
Rückfahrt
Wenn Sie nicht an der Veranstaltung teilnehmen können, kontaktieren Sie uns bitte vor Freitag, den 9. Juli, um eine Rückerstattung zu beantragen, damit wir Ihren Platz an andere Personen vergeben können. Sie können auch an der digitalen "Behind-the-Scenes"-Tour teilnehmen, die von der Kuratorin und den Künstlerinnen geführt wird und die Sie in unserem Shop erwerben können. Bitte senden Sie eine E-Mail an events@kunststrom.com für weitere Informationen.
Wenn du up to date bleiben willst, schreib dich für unseren Newsletter ein und folge uns auf Instagram, Facebook und Twitter.
-
Sun & Sea
An opera-performance by Rugilė Barzdžiukaitė, Vaiva Grainytė and Lina Lapelytė
Saturday 17 July: 2021 – 15:00 - 19:00
Sunday 18 July 2021: 12:00 - 17:00
Bauhaus Stadtbad, Luckenwalde
Curated by Lucia Pietroiusti
Produced by E-WERK Luckenwalde
Sun & Sea is an opera by Lithuanian artists Rugilė Barzdžiukaitė, Vaiva Grainytė and Lina Lapelytė, set on an indoor beach filled with parasols, holidaymakers, dogs and children. In their songs, performers warn of climate change and impending ecological disasters. The work was awarded the Golden Lion at the Venice Biennale 2019 and will be presented in the empty Bauhaus Stadtbad - complete with 100% CO2-neutral Kunststrom electricity, heat and light!
E-WERK will power the performance and building with 100% CO2 neutral energy generated through a wood gasification technology on site at E-WERK Luckenwalde. Read more here!
Sun & Sea has been made possible by NEUSTART #TakePlace, E-ON Stiftung, the generosity of Laurenz Foundation, Basel, Nicoletta Fiorucci Russo De Li Galli, Sprüth Magers, Lithuanian Kulturattachée and a crowdfunding campaign with the additional support of Schlauch Weberei, Charitea, Campari, Maerkische Hof. Lucia Pietroiusti will also curate POWER NIGHT 2021, which will take place from September 2021 - May 2022.
Early Bird Full Price - 8€
Early Bird Concession - 6€*
Child under 11 - Free
*Reduction applies to schoolchildren (11–18), students, over-65s, federal volunteers, recipients of ALG II, unemployed and people with disabilities. Children under 11 enter free. Please note, unfortunately the Stadtbad has no step free access.
Ticket conditions
Early Bird Tickets - timed entry - standing
Please arrive at the time stated on your ticket. This ticket allows for priority entrance and to stay in the space for up to 1 hour.
To guarantee your entry, please ensure you book the correct number of tickets for yourself and your group (if applicable).
Please note, large groups may be split up so that we can monitor social distancing. A maximum of 4 people in one area is allowed during the performance.
Due to the popularity of the event, there is the possibility that you may have to queue for entry. However, we will try to avoid this as much as we can and will ensure comfortable queuing conditions for everyone.
The performance is continuous, meaning some may linger a little longer while others may stay a shorter while. We will do our best to accommodate as many people as safely as possible by offering timed entry slots. Early Bird ticket holders should arrive at the time stated on their ticket. All tickets are standing with chairs available on request.
We are constantly reviewing the development of COVID-19 regulations in Teltow-Fläming to determine whether it is possible to extend the event's capacity once Early Bird tickets have sold out. Please ensure you are signed up to our newsletter to receive regular updates.
Under current restrictions we cannot guarantee tickets will be available at the door so we encourage pre-booking to avoid disappointment.
Notes for your visit
Entry to the performance is only possible under the following conditions:
wearing an FFP2 mask
booking a timed-entry ticket online in advance
It is not necessary to show a negative COVID-19 test result. If you are attending in a household group, you will be asked to stand in pods of three to four people. Outside of pods, everyone must observe social distancing of 1,5m during the event.
We have calculated our ticket allocation based on the size of the Stadtbad and recommended social distancing. We will also implement a strict hygiene strategy, ensuring the space is constantly sanitised between performances. If you have any further questions about our policies, please email info@kunststrom.com.
Food will be available from Edible Alchemy, a Berlin-based fermentation laboratory who explore the microbial world of fermentation to create natural umami, the gold of high cuisine.
There is no step-free access to the performance. If you require this, please email info@kunststrom.com to find out how we can facilitate in other ways.
The only dogs permitted to enter the space are guide dogs.
Trains leave Berlin from Südkreuz, Potsdamer Platz and Berlin Hbf every hour between 05:00 - 20:00 / 15:00 - 18:00. E-WERK Luckenwalde/Bauhaus Stadtbad is a 10-15 minute walk from Luckenwalde train station. E-WERK recommends accommodating approx. 1 hours travel time from Berlin to E-WERK. For example, to see the 15:00 viewing on Saturday, you should catch the 13:47 RE3 train from Südkreuz. To check your route from anywhere in Germany please visit here.
Returns
If you are unable to attend the event, please contact us to claim a refund before Friday 9 July so we can offer your place to others. You can also join the digital behind-the-scenes-tour led by the curator and artists, available to purchase through our shop. Please email events@kunststrom.com for more information.
If you want to stay up to date, sign up for our newsletter and follow us on Instagram, Facebook and Twitter.
Rugilė Barzdžiukaitė (geb. 1983, lebt in Vilnius) arbeitet als Filmemacherin, Theaterregisseurin und bildende Künstlerin. In ihrer kreativen Praxis erforscht Barzdžiukaitė die Kluft zwischen objektiven und imaginierten Realitäten, während sie eine anthropozentrische Denkweise auf spielerische Weise herausfordert. Ihr jüngster abendfüllender Dokumentarfilm-Essay Acid Forest wurde u.a. auf dem Internationalen Filmfestival von Locarno ausgezeichnet und in der National Gallery of Art in Washington, im Lincoln Center in NYC, beim American Film Institute Festival in LA und vielen anderen Events und Veranstaltungsorten für Kino und zeitgenössische Kunst gezeigt. Sun & Sea ist ihre neueste Zusammenarbeit im Medium der Performance.
Vaiva Grainytės (geb. 1984, lebt in Litauen und Kanada) textbasierte Praxis bewegt sich zwischen Genres, interdisziplinären Theaterarbeiten und Publikationen. Als Schriftstellerin, Dramatikerin und Lyrikerin agiert sie als beobachtende Anthropologin: Herausgefordert durch Grainytės poetische Interpretation, nehmen alltägliche gesellschaftliche Themen einen paradoxen und verfremdeten Charakter an. Ihr Essayband Beijing Diaries (2012) und die Gedichtsammlung Gorilla's Archives (2019) wurden für den Preis Buch des Jahres nominiert und in die Top-12-Liste der kreativsten Bücher in Litauen aufgenommen. Ihr Werk wurde in über zehn Sprachen übersetzt. Ihr kommender, zweisprachiger, genreübergreifender Roman, Rosen und Kartoffeln (2022), dekonstruiert die zeitgenössische Durchsetzung von Glück.
Lina Lapelytės (*1984, arbeitet in Vilnius und London) Performance-Praxis hat ihre Wurzeln in der Musik und kokettiert mit Popkultur, Gender-Stereotypen und Nostalgie. Ihre Arbeiten beziehen ausgebildete und nicht ausgebildete Performer ein, die sich oft in einem Akt des Singens durch ein breites Spektrum von Genres wie Mainstream-Musik und Oper bewegen. Das Singen nimmt die Form eines kollektiven und affektiven Ereignisses an, das Verletzlichkeit und Schweigen hinterfragt. Zu ihren jüngsten und kommenden Ausstellungen gehören Cartier Foundation, Paris; Tel Aviv Museum of Art; RIBOCA2 - Riga biennale; Tai Kwun, Hong Kong; Glasgow International; Kunstenfestivaldesarts, Brüssel; Kaunas Biennale, Litauen; Pompeii Commitment und Castello di Rivoli, Italien.
In ihrer kollaborativen Praxis achten die Künstlerinnen besonders auf die Beziehung zwischen Dokumentation und Fiktion, Realität und Poesie sowie auf die Überschneidung von Theater, Musik und bildender Kunst.
-
Rugilė Barzdžiukaitė (b.1983, based in Vilnius) works as a filmmaker, theatre director and visual artist. In her creative practice, Barzdžiukaitė explores the gap between objective and imagined realities, while challenging an anthropocentric way of thinking in a playful way. Her recent full-length documentary film-essay Acid Forest was awarded at the Locarno International Film Festival among others, was shown at the National Gallery of Art in Washington, Lincoln Center in NYC, American Film Institute festival in LA and many other events and venues for cinema and contemporary art. Sun & Sea is her latest collaboration in the medium of performance.
Vaiva Grainytė's (b. 1984, based in Lithuania and Canada) text-based practice shifts between genres, interdisciplinary theatre works and publications. As a writer, playwright, and poet she takes action as an observant anthropologist: challenged by Grainyte's poetic interpretation, mundane social issues take on a paradoxical and defamiliarised nature. Her book of essays Beijing Diaries (2012) and the poetry collection Gorilla's Archives (2019) were nominated for the Book of the Year awards, and included in the top twelve listings of the most creative books in Lithuania. Her oeuvre has been translated into over 10 languages. Her upcoming, bilingual, cross-genre novel, Roses and Potatoes (2022), deconstructs the contemporary enforcement of happiness.
Lina Lapelytė's (b.1984, works in Vilnius and London) performance-based practice is rooted in music and flirts with pop culture, gender stereotypes and nostalgia. Her works engage trained and untrained performers often in an act of singing through a wide range of genres such as mainstream music and opera. The singing takes the form of a collective and affective event that questions vulnerability and silencing. Her recent and upcoming shows include Cartier Foundation, Paris, Tel Aviv Museum of Art; RIBOCA2 – Riga biennale; Tai Kwun, Hong Kong; Glasgow International; Kunstenfestivaldesarts, Brussels; Kaunas Biennale, Lithuania; Pompeii Commitment and Castello di Rivoli, Italy.
In their collaborative practice, the artists pay special attention to the relationship between documentary and fiction, reality and poetry as well as the overlap of theatre, music and the visual arts.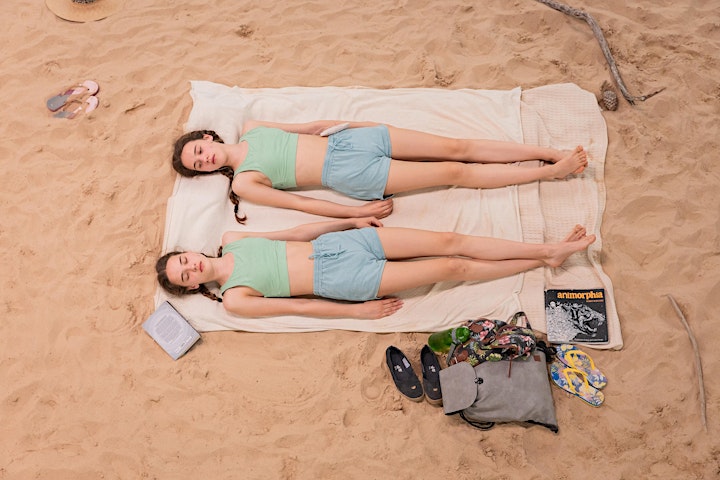 Location
Bauhaus Stadtbad Luckenwalde
Rudolf-Breitscheid-Straße 72
14943 Luckenwalde
Germany
Refund policy
Refunds up to 7 days before event