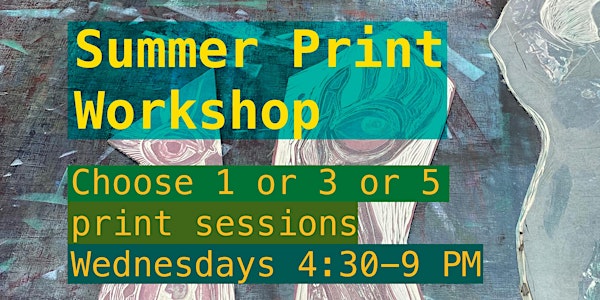 Summer Print Workshop
Printmaking in July and August - 5 sessions with a unique emphasis on traditional printmaking technique with an experimental approach
When and where
Location
Defreggerstraße 12 Defreggerstraße 12 12435 Berlin Germany
Refund Policy
Contact the organizer to request a refund.
About this event
This July, August and September, I am offering a collection of 5 Printmaking sessions. Each with a unique emphasis on a traditional printmaking technique or a more experimental approach.
As we all want to enjoy the sunny and warm weather, these session will take place during the Open Workshop time on Wednesdays evening between 16:30 - 21:00.
It is possible to book 1 - 3 or 5 sessions at the same time, therefore one can benefit from a discount and decide which technique/session/date suits them best.
!!!! When you sign up for one session, please select the date of that specific workshop (as follows).
!!!! When signing up to multiple sessions, please sign up on the date of the first session and mark on the ordering form (at the end) which session you are interested in.
For any question or requests: hadass.gilboa@gmail.com
Let's Print!
06.07.2022 - ETCHED LINO - 1
As a natural material, Linoleum can be Etched. Etched Lino allows for a great variety of mark making and texturising that cannot be obtained with the more traditional Lino cutting. Etched Lino is an expressive and loose technique that offers a great degree of experimentation. Together we will prepare the lino block, go over the various stages for etching Linoleum, experiment and print a small series of prints.
13.07.2022 - MONOTYPE - 2
As an expressive and accessible printmaking technique, Monotype is an excellent introduction to the experimental and intuitive approach of printmaking. This session is intended to give you hands-on instructions on how to develop a project, acquire the necessary tools/materials and print a series of monotypes.
17.08.22 - DRY POINT - 3
In this workshop, you will learn how to make use of readily available repurposed materials for engraving, soft plastic materials (PVC) and recycled Tetra pack. We will also experiment with mark making using inventive tools developing your own visual language. Finally, we will print a collection of prints in combination with the plates we created. This workshop encourages experimentation and opens the door to further means of expression.
07.09.2022 - KITCHEN LITHOGRAPHY - 4
Kitchen Lithography is a faster and cheaper cousin of the original stone lithography. Both are planographic printing technique (printing from a flat surface) that essentially rely on the principle of water and oil repelling each other. During the workshop, we will go over the simple list of materials needed to create a home tool box. We will discuss the various effect certain oily materials can create, playing and experimenting. Finally, we will issue a series of prints from 2 different plates we will create together.
28.09.2022 - FABRIC PRINT - 5
During this workshop we will learn an easy and reliable technique to print of fabric based on rubber foam stamping and stamp making. Each participant will design they own print, test it on paper and then print it on a tot bag. Participants are encouraged to bring more accessories such as t-shirts, curtains, etc. based on cotton, on which to print their designs.
* All materials are included (ink, tools, solvent and mordants). Linoleum plate (A4), PVC plate (A3 or A4), rubber foam sheets (A4)
**Printmaking paper is to be purchased through the instructor (cash only)
*** All workshops will takes place with a minimum of 3 participants.