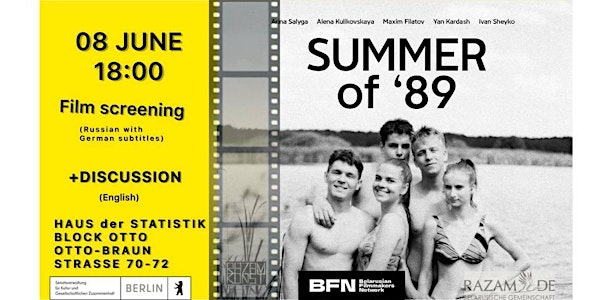 SUMMER of'89 film screening + DISCUSSION
"Divided Berlin. Divided Belarus" project presents:
Von Belarusische Gemeinschaft RAZAM e.V.
Datum und Uhrzeit
Do., 8. Juni 2023 18:00 - 21:00 CEST
Veranstaltungsort
Otto-Braun-Straße 70-72 Block of Containers OTTO Otto-Braun-Straße 70-72 10178 Berlin Germany
Zu diesem Event
3 Stunden

Mobile E-Tickets
Film Screening: "Summer of '89" (Russian with German subtitles)
Directed by Vladimir Kozlov
+ discussion (English)
Join us for a captivating film screening of "Summer of '89," which serves as a point of reference in our project exploring the concept of divided societies. Set just months before the fall of the Berlin Wall in 1989, the film offers a poignant reflection on the hopes and dreams of Belarusian teenagers. Despite being set 30 years ago, it raises pertinent questions about our present reality. These teenagers, who are the same age as the leaders of the 2020 protests in Belarus, such as Viktar Babaryka, and those who detain and mistreat protesters, like Nikolay Karpenkov, ponder a future that we already know but they do not.
After the screening, we invite you to join an open discussion on the topic of "Divided Berlin. Divided Belarus," where participants can share their perspectives and engage in a meaningful dialogue. This event provides an excellent opportunity to delve deeper into the societal divisions that impact our past, present, and future.
Date: 08 June 2023
Time: 6 pm
Venue: Haus der Statistik, Block Otto, Otto-Braun-Str. 70-72 (S-/ U-Alexanderplatz)
We welcome film enthusiasts, filmmakers, cinema researchers, civil activists, and anyone interested in exploring the intriguing parallels between divided Berlin and divided Belarus. Don't miss this chance to reflect on the similarities and differences between these divided societies and how they are portrayed in the film "Summer of '89."
Realised with financial support of Senatsverwaltung für Kultur und Gesellschaftlichen Zusammenhalt.