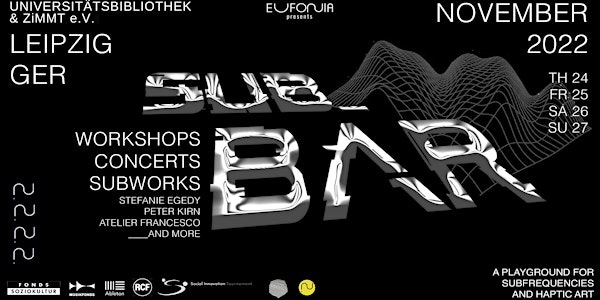 Sub_Bar Leipzig: Music for Subfrequencies
Sub_Bar is a pioneer music environment based on subfrequencies instead of sound, bringing workshops, concerts and listening session.
When and where
Location
ZiMMT e.V. Torgauer Straße 80 04318 Leipzig Germany
Refund Policy
Contact the organizer to request a refund.
About this event
Sub_Bar returns to Leipzig with an immersive event series at Zimmt e.V. and Universitätsbibliothek Leipzig: after events in Berlin, Köln, Lisbon and Porto, we are back with our pioneering concept around subfrequencies and haptic art, a language that allows deaf, hearing impaired and hearing people to experience music in the same way.
Ignored by compositional practices, our sense of "touch" is home to our most profound memories and most instinctive reactions, talking a language of pain and pleasure, traumas and comfort, summer and winter. What happens when we stimulate it with music? We invited hearing, hearing impaired, and deaf artists to create original works (subworks) using only subfrequencies, more specifically, frequencies between 30hz and 150hz: their compositions will be played through a powerful subwoofer system, transforming ZiMMT into a musical pressure room, for a unique listening experience that activates the whole body.
On Thursday 24th and Friday 25th we'll host a 2-days workshop at Universitätsbibliothek Leipzig, led by Franziska Kastner aka Bocu, one of Sub_Bar artists, discovering music for subfrequencies using haptic devices and Ableton Live.
On Saturday 26th we will be showcasing more and new works from artists such as Ümit Han (Traum Records), Alexander Tillegreen (Raster Media), Akka Miau (Female:Pressure), Alejandro Mosso (Sushitech), Julia Lema (ESA-Aix) and many more.
On Sunday 27th we'll close our event with 5 live concerts from Ana Bogner, Atelier Francesco, Peter Kirn, Stefanie Egedy and Tinkah.
Expect an immersive, challenging, and inclusive experience while subfrequencies pass through your body and invite your focus to go deep down, where you hardly ever went, lead by the artistic excellence of our artists.
----------------------------------------------------------------------
LIVE SHOWS (Sun, 27 Nov. 17-21h00)
Ana Bogner (Headphonica)
Atelier Francesco (Cocoon)
Peter Kirn (Establishment)
Stefanie Egedy (MONOM)
Tinkah (HUMAN)
SUBWORKS (Sat, 26 Nov. 17 - 21h00)
Sebastien Branche - My heart beats at 50Hz
William Primett - Synthetic hearts ensemble
Fernando Fadigas - SubCaption #1
Nuances d'engrais - Subbarleipzig
Vicente Booth - Altes
Östrol - Lost keys
Sofia Balbontin - Low sharawadji
Akkamiau - Sine qua non
Ümit Han - Hicaz
Alexander Tillegreen - Phantom streams for subfrequencies
Bocu - Slow vibrant a frequent body awareness
Byetone - 16Hz
Alejandro Mosso - Georhythm
Grischa Lichtenberg - 0322_08
Christian Duka & Troi Lee - Subterranean Meditations
Stefanie Egedy - Sub-Bass Invigorating Dose
Doron Sadja - Instabilities
Juan Orjuela - Low Class Conversation
Pawel Janicki - Resonant Clara Prospectus #1
Ana Bogner - These lands have a lot to tell
Myles de Bastion - LoFreqOh Structure
Peter Kirn - Syncope
Julia Lema Barros - Sonic Bodies
Tinkah - Equality Dance
John Kameel Farah - Cauldron
Martine-Nicole Rojina - Autopoiesis
Hearing protection will be available at the door.
---------------------------------------------------------------------
Sub_Bar is kindly supported by Musikfonds, Fonds Soziokultur, RCF & Ableton.
---------------------------------------------------------------------
About Eufonia:
Eufonia is an interdisciplinary platform that explores the relationship between art, science, and culture through the medium of sound. We believe that curiosity, creativity, and dialogue are necessary for artistic, scientific, and social development. We explore the use of sound in various aspects of daily life and create unique and engaging opportunities for people to meet. In doing so, we are motivated by the beauty of sharing knowledge across geographic, academic, and cultural boundaries.
Follow us on IG @subbar.eufonia and @eufonia.io
https://eufonia.io