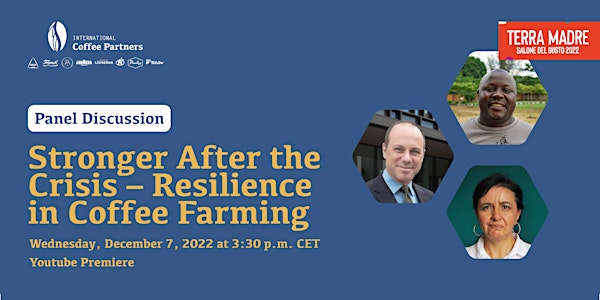 Stronger After the Crisis
What the Pandemic Taught Us About Resilience in Smallholder Coffee Farming
About this event
The COVID-19 pandemic has changed the world. It has created new challenges for smallholder coffee farming families and exacerbated their already difficult situations. Many of them experienced food insecurity, couldn't sell their products or did not have access to inputs like seedlings or fertilizers.
The pandemic, however, also showed what has helped smallholders during the lockdown. The approach of International Coffee Partners (ICP) equipped them to deal with several challenges by applying certain agronomical techniques and through training in different social aspects, among others. The approach shows the potential to prepare farming communities for future crises as well.
We are inviting you to attend the streaming of a panel discussion from the Terra Madre Salone del Gusto 2022 in Turin, Italy on December 7, 2022, at 3:30 p.m. (CET). It gives you firsthand insights into the situation in Uganda and Guatemala during the pandemic and presents you the instruments of the ICP approach.
Prior to the event, you will receive a confirmation email including a link to the Youtube Premiere.
Giuseppe Lavazza, Vice Chairman of the Lavazza Group, Claudia Muñoz, Technical Coordinator at Hanns R. Neumann Stiftung (HRNS) Central America, and Victor Komakech, Regional Project Manager at Hanns R. Neumann Stiftung (HRNS) Uganda were on stage.

ICP is a pre-competitive partnership of eight committed family-owned coffee companies. It is supporting smallholder coffee farming families for over 20 years to improve their livelihoods and get better and more stable access to the market. Parts of ICP's work also include climate change adaptation, gender equality, and the strengthening of youth.