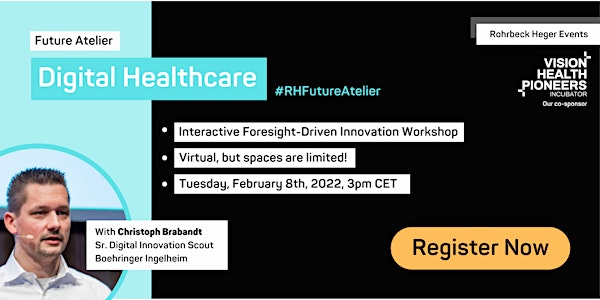 Strategic Foresight Workshop - RH #FutureAtelier: Digital Healthcare
Assess & discuss transformative trends in our collaborative online session. Christoph Brabandt, Boeringer Ingelheim joins as guest speaker.
About this event
Join us for our first collaborative foresight-driven innovation session in 2022 as part of the #RHFutureAtelier series - this time with a focus on the digital healthcare industry. Co-hosted by Vision Health Pioneers Incubator, Berlin's premiere network of select healthcare startups.
Participation is virtual. Registration is free.
PLEASE NOTE: The session is limited to 50 participants. To ensure a fair distribution of participants from diverse organizations, we reserve the right to cancel your registration. We will confirm final participation a few days before the event.