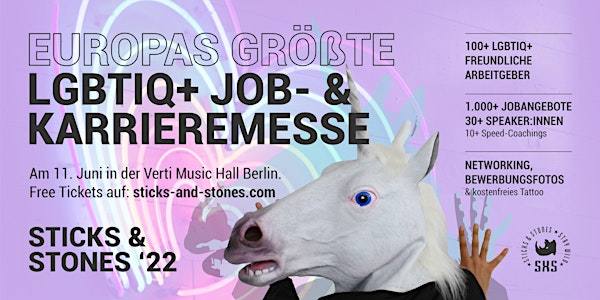 STICKS & STONES 2022 – Europe's largest LGBTIQ+ job & career fair
Veranstaltungsort
Verti Music Hall
Mercedes-Platz 2
10243 Berlin
Germany
Der Ticketverkauf ist beendet
Der Ticketverkauf ist beendet
Your ticket will now be sent to you by e-mail. Check your spam folder if you did not receive a message in your inbox. Stay informed and follow Sticks & Stones on Instagram, Facebook, Twitter or Proudr
30+ Talks & Panels | 100+ Proud Employers | 1.000+ Job Offers | 3.000 Visitors from all over Germany | 1 Great Party
Zu diesem Event
STICKS & STONES 2022
Presented by Proudr - The LGBTIQ+ Job & Career platform
The true unicorns are back! 🦏
We hope you're in a safe position because we have good news: Like phoenix from the ashes STICKS & STONES is coming back to you on June 11, 2022! And for the true offline feeling, we're going live on stage at the Verti Music Hall in the heart of Berlin.
So better start organizing your documents and your hottest outfit for job interviews because we offer your more than 100 queer-friendly employers who want to get to know you – not only from Berlin, but from all over Germany. And we spice it all up with lots of jobs, networking, career support, free application photos and some glitter. And a little free tattoo. Are you with us?
Exhibitor drop no. 1: Check our early exhibitors. You can already apply to them with your resume. And if you want to introduce yourself to all exhibitors right away, upload your CV here. (Of course, you can also do both)
And what would SXS be without a series of empowering talks? We're still in the process of mobilizing all of our favorite speakers and hosts, but we can tell you this much: Tessa Ganserer, Jurassica Party, and Ricarda Lang are in the mix.
At the moment, we don't know exactly which Corona precautions will be relevant in June or whether we may directly fall into each other's arms. But this much can be said: We will keep you up to date with our flexible hygiene concept.
We're looking forward to you.
Heart emoji,
your SXS team.
Program
The exhibitors
SXS offers many opportunities to get in touch with employers who are committed to diversity and appreciation of their LGBTIQ+ employees. Our exhibitors come from various industries: consulting, IT, health care, law, public service, etc. Our target audience are pupils, students, graduates, young professionals, professionals and managers alike. Take a look at our exhibitors here.
Networking
SXS provides the perfect atmosphere for networking: Get in touch with employers, speakers, and other like-minded people. There are also varios career networks taking part in the event: Queer Staff Network, Wirtschaftsweiber e.V., Unicorns in Tech, RAHM, Völklinger Kreis and Panda.
Speakers
We've been talking about many topics in the past ten years: life hacks for job interviews and CV updates, being out at work, or diversity quotas. But there is still much to say! The working world has just begun to open up, and we're seeing more rainbow flags than ever before. In our speakers program, you'll get key takeaways on those topics relevant to LGTBIQ+ at work.
Coaches
What do you need to boost your career? A fresh idea? An unusual perspective? Some smart advice? – We've got it for you. The queer-friendly coaches at SXS are looking forward to supporting you with your questions. What you have to do? Come to our fair, sign up for a free time slot in the coaching area and off you go! First come, first serve.
CV-Checks
Let professional recruiters give you tips on how to optimize your resume and application documents.
Application photos
Do your photos still remind you of school days? Have you already recycled them on a #ThrowbackThursday? High time to have your pictures updated at our fair! Free of charge, as always.
Chill-out area, tattoos, table tennis & more
Get a new tattoo done by our resident tattoo artist, enjoy some live music, or get some snacks and relax in our chill-out area.
After-show party
Our guests receive a ticket discount for the after-fair event. The location will be announced soon.
We offer two types of tickets: The free tickets and a supporter ticket with which you can donate for Queere Nothilfe Ukraine.
Follow the real unicorns: Facebook | Instagram | Twitter
More information on: http://www.sticks-and-stones.com/en/