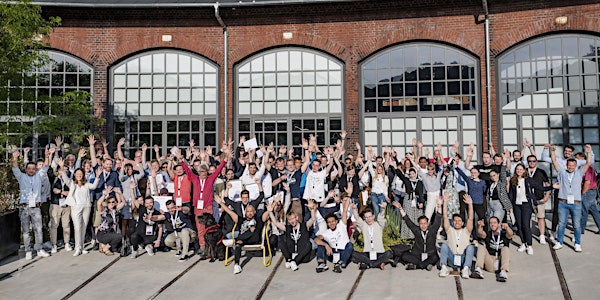 Startup Weekend Mittelhessen 2023
Techstars Startup Weekend is a 54-hour event designed to provide experiential education for technical and non-technical entrepreneurs
Von Regionalmanagement Mittelhessen
Datum und Uhrzeit
Fr., 2. Juni 2023 16:30 - So., 4. Juni 2023 20:30 CEST
Veranstaltungsort
Am Leitz-Park Am Leitz-Park 35578 Wetzlar Germany
Rückerstattungsrichtlinie
Rückerstattungen bis zu 7 Tage vor dem Event
Zu diesem Event
2 Tage 4 Stunden

Mobile E-Tickets
###english version below###
Hinweis: Dieses Startup Weekend wird vom Regionalmanagement Mittelhessen veranstaltet. Wir wollen mit unserem Event eine regionale Gründer- und Unternehmerszene fördern und beleben. Wir wollen die regionalen Potentiale heben und eine Plattform schaffen, die die Talente – ob junge oder alte, unerfahrene oder erfahrene, blutige Anfänger oder gestandene Unternehmer – zusammenbringt, Austausch ermöglicht und Neues entstehen lässt. Dazu laden wir alle ein, die auf der regionalen Ebene gemeinsam agieren wollen, um Gründer- und Unternehmertum und regionalen Nutzen zu stiften.
Dieses Event ist Teil unseres Ökosystem "DiGIMit" Projekt und wird von der Europäischen Union aus dem Europäischen Fonds für regionale Entwicklung kofinanziert mehr Informationen.
Was ist ein Startup Weekend?
Das Startup Weekend ist ein 3-tägiger Intensiv-Workshop, bei dem Du in nur 54h aus einer reinen Idee ein tragfähiges Geschäftsmodell entwickelst. Dich coachen und unterstützen erfahrene Mentoren aus der Startup-Szene, erfolgreiche Gründer geben Dir als Speaker ordentlich Input. Dein erarbeitetes Geschäftsmodell "pitcht" Du vor einer ausgewählten Jury und potenziellen Investoren. Die besten Konzepte werden ausgezeichnet. Nutze Deine Chance!
Wer kann teilnehmen?
Startup Enthusiasten, Studenten, Nicht-Studenten, Entwickler, Designer, Business Developer, Marketing Gurus, Ingenieure, Ökotrophologen, Innovatoren, Investoren, usw....... Kurzum: Alle, die Bock auf Startup haben, eine Herausforderung suchen, motiviert & engagiert sind, um aus einer Idee in nur kurzer Zeit ein Businessmodell zu entwickeln.
Muss ich selbst eine Idee pitchen?
Nein, eine Idee müsst ihr nicht preisgeben, wenn ihr es nicht wollt. Vielleicht verpasst ihr aber eine große Chance und vielleicht pitcht jemand bei einem anderen Startup Weekend genau eure oder eine sehr ähnliche Idee, die vielleicht gewinnt und dann habt ihr das Nachsehen. Lauft der Entwicklung nicht hinterher. Habt nicht Angst vor der eigenen Courage. Seid mutig, verhaltet euch unternehmerisch, werft euren Hut in den Ring und startet durch. Join Startup Weekend Mittelhessen!!! ... und natürlich könnt ihr euch als Teilnehmer auch einer Idee von anderen Teilnehmern anschließen
Was Dir geboten wird?
Ihr habt die Gelegenheit, eure Unternehmensidee vor einer Jury von ausgewählten Akteuren der Startup-Szene zu pitchen und euch individuelles Feedback einzuholen. Die besten drei Pitches werden mit wertvollen Preisen ausgezeichnet. Gesondert ausgezeichnet wird die beste Startup-Idee im Bereich Life Sciences! Zudem versorgen wir Euch mit fachlichen Input durch erfahrene Mentoren.
###########################################
Disclaimer: This Startup Weekend is brought to you by Regionalmanagement Mittelhessen. Our visionary goal is to promote the regional startup scene in Mittelhessen. By creating a common platform, the combined force and the full entrepreneurial potential of the region will come together and benefit everyone interested to gain (first) insights and perform within an entrepreneurial realm - no matter whether young or old, absolute beginners or established entrepreneurs. Everybody is invited to join us at the Startup Weekend Mittelhessen to get inspired, to exchange and create innovation!
This event is part of our Ecoystem "DiGIMit" Project and Co-financed by the EU European Regional Development Fund of the European Union more information .
What is a Startup Weekend?
The Startup Weekend is a non-commercial event promoting aspiring entrepreneurs with entrepreneurial experience. Teams with similar interests will be heavily supported throughout the first stages of developing individual business ideas - from the very initial inspiration to a viable business model. Eventually, the final pitches will be presented in front of and awarded by a panel of judges consisting of (inter-)nationally well-experienced actors within the startup scene.
How does a Startup Weekend work?
In general terms, everyone with a potential business idea aiming at further developing and implementing it after the weekend, will be encouraged to pitch it in front of all participants in order to find suitable team members to work with during the weekend. The following two days, each team will individually work on their business idea. As these advance throughout the process of building their business, mentors specialised in different fields (Management, Marketing, IT, Finance etc.) will provide guidance and support by sharing their profound knowledge and experience. The results will finally be pitched in front of a panel of judges that evaluates each concept. The best presentations and teams are then awarded with valuable prices.
Who should participate?
Each and everyone being on a lookout for new challenges should participate, particularly those enjoying conceptual work within a very dynamic and highly inspiring environment, and everybody who feels intrigued by developing a viable and profound business idea within a short time period.
What awaits you?
From a very rough founding idea to the creation of an enterprise within 54 hours: Take full advantage of the great potential provided by the network of well-versed business angels, mentors, speakers and judges. They are experts and sovereign actors within the startup scene within and outside of Germany, present and available during the entire weekend.
Do I have to pitch an own business idea?
No, you don't have to reveal your idea, if you prefer not to. Anyways, you may miss out on a great chance to learn how to avoid mistakes that most inexperienced entrepreneurs make and how to turn your very own startup idea into a profitable business. At worst, another team will pitch the same or a similar idea at yet another Startup Weekend, win the competition and successfully enter the market. Be entrepreneurial, be courageous, live the spirit , live progress, be open-minded and have no regrets! Join Startup Weekend Mittelhessen! We are all in this together!
What happens after the weekend?
The outcome will absolutely depend on you. Maybe you want to jump at the opportunity and translate your business idea into action with the team members you have shared the weekend with. Maybe not. Eventually, it will depend on your long-term aspirations and individual goals.
What do we offer you?
We gladly provide for a common platform here in Mittelhessen for you to gain first insights and experience within the startup environment. I.e. you will have the exclusive opportunity to develop and pitch your business idea in front of a panel of experienced and well-chosen actors of the (inter-)national startup scene and profit from profound feedback. The first three pitches will be awarded valuable prices. Beside, the best startup idea in the field of Life Sciences will be separately awarded! Other than that mentioned, you will benefit from professional input provided by versed mentors. And that is not all: Naturally, you will also be 'powered' with food and drinks throughout the entire weekend!
Why should you participate?
Discover the facets of entrepreneurship and broaden your horizon working in a startup environment. Acquire new competences, gain profound feedback from experienced mentors and judges, meet potential investors and competent team members you couldn't wait to convince to put your business idea into practise with! Still wondering why to participate?
About Techstars Startup Weekend Online: a 54-hour online event designed to provide superior experiential education for technical and non-technical entrepreneurs.
Beginning with Friday night pitches and continuing through brainstorming, business plan development, and basic prototype creation, Techstars Startup Weekends culminate in Sunday demos and presentations.
Participants create working startups during the event and have the opportunity to collaborate with like-minded individuals outside of their daily networks. All teams hear talks by industry leaders and receive valuable feedback from local entrepreneurs. The weekend is centered around action, innovation, and education.
Whether you are looking for feedback on an idea, a co-founder, specific skill sets, or a team to help you execute, Techstars Startup Weekend is the perfect environment in which to test your idea online and take the first steps towards launching your own startup.
Refund Policy
Refund Policy: please reach out to your organising team for a refund at Benni@startup-weekend-mittelhessen.de
Terms and Conditions
Terms of Participation Agreement: It is our job to provide you with an incredible networking and learning experience. Our intention is that you meet some amazing people that you might start a company with, learn from mentors as well as learning from your peers. The event is intended to be a collaborative forum for sharing, learning, building, and having fun. As such, by registering as a participant, you acknowledge that any ideas shared by you or anyone else over the course of the event are contributions to the overall experience and community. If you're very concerned, you can limit your pitch to the rough outline of the idea without giving away key information.
As a member of your startup community, you agree to be inclusive of any and all people and their ideas. You agree to act professionally, treat everyone with respect, and treat the event facilities with proper care. You agree that you are responsible in the event of any accidents or damages that you cause. You also agree to not hold Techstars Startup Weekend, your local volunteer team, or any of the event supporters liable for any loss, damage, injury, or any other unforeseeable incident.
By participating in the event, you grant Techstars Startup Weekend permission to capture photos/videos of the event. You can find the full legal terms on our Communities Page, but to summarize, we want to share your success with the world.
By purchasing a ticket to a Techstars Startup Weekend event, you agree to our Terms of Use and Privacy Policy. If you have questions please reach out to privacy@techstars.com.
Über den Veranstalter
Wir wollen mit unserem Event eine regionale Gründer- und Unternehmerszene fördern und beleben. Wir wollen die regionalen Potentiale heben und eine Plattform schaffen, die die Talente – ob junge oder alte, unerfahrene oder erfahrene, blutige Anfänger oder gestandene Unternehmer – zusammenbringt, Austausch ermöglicht und Neues entstehen lässt. Dazu laden wir alle ein, die auf der regionalen Ebene gemeinsam agieren wollen, um Gründer- und Unternehmertum und regionalen Nutzen zu stiften.
Das Regionalmanagement Mittelhessen stärkt und vermarktet den Wirtschafts- und Hochschulstandort in der Mitte von Hessen. Der Schulterschluss aus Wirtschaft, Wissenschaft und Politik ist in den Themenfeldern Infrastruktur, Bildung und Fachkräfte sowie Forschung und Innovation tätig.
In der Regionalmanagement Mittelhessen GmbH haben sich 2013 alle Handwerkskammern, Hochschulen, Industrie- und Handelskammern, Landkreise und Oberzentren mit dem Verein Mittelhessen zusammengetan, um das seit 2003 bestehende Regionalmanagement weiter zu entwickeln, und Strategien für die Region zu planen und gemeinsam umzusetzen.