Dieses Event ist beendet.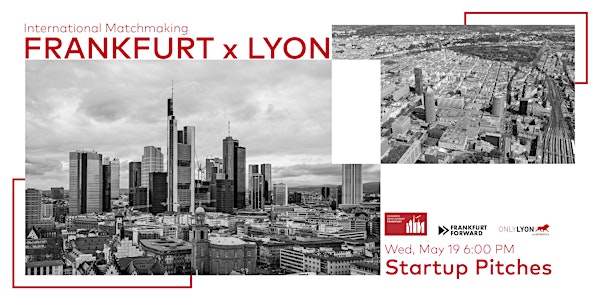 Startup Pitches | International Matchmaking Lyon
With our International Matchmaking we create and utilize synergies between startups, corporates, investors and politics internationally.
Zu diesem Event
Our participating startups from Frankfurt and Lyon have the chance to pitch their business ideas and to receive immediate feedback by out judges from Frankfurt and Lyon.
We're looking forward to welcoming the following startups.
BITA GmbH: BITA is building the world's most technologically advanced index platform. The cloud-based infrastructure uses the latest technologies to deliver passive strategies faster and more flexible than any other indexing solution.
MYTIGATE GmbH: MYTIGATE is a risk management platform created by and for the pharma industry with a validated development according to FDA Guidelines (CFR21 Part 11)
nevaal AG: With nevaal's products, organizations can digitize their own private social networks, allow collaboration between internal and external parties and lever social capital.
Qualifyze GmbH: Provides global supplier audits at scale solving the cost of compliance for over 300 pharma companies.
WIANCO OTT Robotics GmbH: Eliminator of software developer resources during the Age of Digitalization.
NEOVYA Mobility by Technology: Neovya enlightens investment and operating strategies of actors of the transportation system to enable a reliable, efficient, sustainable transportation system.
RECYC'ELIT: We recycle an infinite closed loop PET plastic at room temperature and atmospheric pressure.
Ship&Co: We are building the best platform to sell transport online.
Teach Up: LMS Platform and authoring tool to create easily personalized digital training.
YouTube-Livestream Link: https://youtu.be/sQrc_OQMd2Q