Der Ticketverkauf ist beendet
Registrierungen sind abgeschlossen
Hey there, awesome that your registered for this event. I'll send the login link before the event. Best, Jan from bremen-startups.de
Der Ticketverkauf ist beendet
Registrierungen sind abgeschlossen
Hey there, awesome that your registered for this event. I'll send the login link before the event. Best, Jan from bremen-startups.de
Your chance for your new dream job: ELISE is hiring 5 fulltime jobs & 1 working student ( + open applications welcome)!
Zu diesem Event
ELISE job offers in Bremen:
You are looking for ...
... flat hierarchies, high dynamics & little administration?
... a lot of creative freedom?
... working on the company instead of in the company?
... a steep learning curve?
... working in young & agile teams?
... really doing something new and unknown?
Then the Startup Job Night is your chance for your new dream job! In the relaxed atmosphere of bremen-startups.de events you can job-network with #Bremen based #startup ELISE:
Founded: 2018
Current headcount: 32
ELISE is a Bremen-based deep-tech startup developing a Generative Engineering software to automate the product development.
PROBLEM: Today engineers usually start their product design journey based on sketches and 3D models, imagining how the product will look like at the end. In a situation of product life cycles and development cycles getting shorter and shorter, whereas technical products are getting more and more complex and the requirements demands on their components are increasing drastically, manual design of components is a waste of time, money & technological advantage.

SOLUTION: ELISE fundamentally changes the process of how parts are designed. With ELISE, engineers will no longer design parts by hand - they can decipher nature's blueprints to automatically design components as light and stable as in nature. As in nature, ELISE's Generative Engineering enables the development of DNAs of technical parts, which allow products to be generated perfectly adapted to their boundary conditions. ELISE starts with collecting the requirements of parts, such as its load cases, size, costs and subsequently helps engineers shape a product out of it. Along the way ELISE allows the engineer to include requirements from various other stakeholders, therefore skipping lengthy feedback loops that stretch product development timelines today.

BENEFITS: ELISE enables ...

...engineers to automate multiple time-consuming steps of the product design process.
...faster development of more innovative products
...to achieve high efficiency in design processes
...to reduce product development times and costs.
...to optimise the individual key characteristics of their individual components, e.g. weight, load capacity, manufacturability, price or C02-footprint - just with a few clicks.
Beta software users include leading OEMs and Tier1s in the automotive and aerospace industry such as BMW, MAN, Ariane Group and Brose
ELISE closed a 3 million euros seed funding round in Nov. 2019 backed by UVC Partners, Cherry Ventures, BMW iVentures and Venture Stars. This marks one of the largest Seed Rounds for deep-tech startups in Germany
DO YOU WANT TO GROW WITH ELISE?
This is what you can expect at the remote Startup Job Night Bremen | ELISE Edition:
18:00 - 18:30 ELISE Pitch, including details on the corporate culture, current projects & job offers.
18:30 - 19:00 Q&A After the presentation of ELISE you have the opportunity to ask your questions in a question and answer session - e.g. about technical systems, project procedures, work processes or the team.
After 19:00: Application Following the remote session, all participants* will receive an email with the open positions at ELISE and the opportunity to register for a 1-on-1 interview with a recruiter.
---------------------------------------------------------------------------------------------
Fast Feedback!
Within one week after the remote session you will receive a reply from the ELISE team whether they want to continue the interview or not.
In the following video you can learn more about ELISE's mission: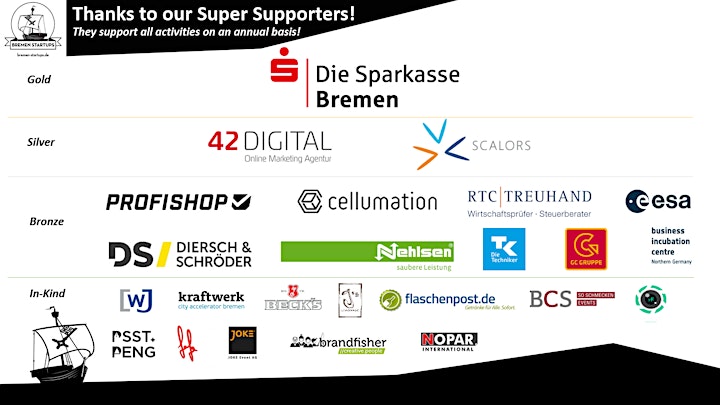 Datum und Uhrzeit
Veranstaltungsort
Veranstalter von Startup Job Night Bremen | JOBS @ ELISE