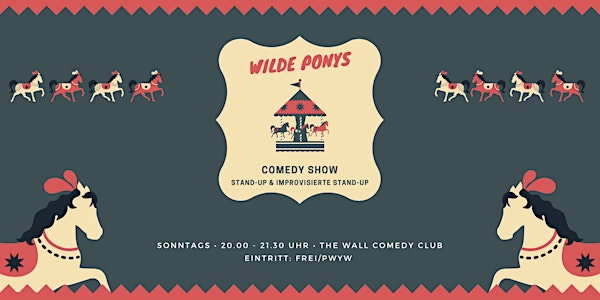 Stand-up Comedy • F-Hain • 20 Uhr | "Wilde Ponys"
"Wilde Ponys" ist die deutsche Premium-Show im THE WALL COMEDY CLUB im Herzen von Friedrichshain, direkt am Boxhagener Platz.
When and where
Location
The Wall Comedy Grünberger Straße 84 10245 Berlin Germany
About this event
Entspannt das Wochenende ausklingen lassen.
♥ einmaliges Format in Deutschland
♥ Comedy am Sonntag
♥ Stand-up & improvisierte Stand-up
DAS KONZEPT
Die Show ist eine wilde Mischung aus traditioneller Stand-up Comedy und einer Portion Wahnsinn. Unsere Comedians spielen ihre Witze und bekommen danach live auf der Bühne Themen über die sie sprechen. Nur Comedians, die wirklich wissen was sie tun, treten bei diesem Format auf. Moderne und authentische Comedy mit den angesagtesten Künstlern der vibrierenden Underground-Szene Berlins.
Moderation:
Unsere Moderatoren Hans Thalhammer & Falk Pyrczek sind bekannt aus u.a. dem
• Quatsch Comedy Club
• diversen TV-Formaten wie Nightwash, Sky Comedy, etc.
• arbeiten als Autoren für verschiedene Comedy-Produktionen (u.a. Roast Battle auf Comedy Central, FUNK, ...)
und führen bei "Wilde Ponys" durch den Abend.
DER COMEDY CLUB
Der liebevoll geführte THE WALL COMEDY CLUB hat sich in den letzten Jahren als alternative und treibende Kraft der Comedy etabliert. Mittem Schmelztiegel für Kunst und Kultur (direkt am Boxhagener Platz) macht der Comedy Club mit "Wilde Ponys" seinem Namen alle Ehre und etabliert ein bisher einmaliges Comedy-Format im deutschsprachigen Raum. Ehrlich und authentisch.
ZEIT
• Einlass 19.30 Uhr
• Showbeginn 20.00 Uhr
• Showende ca. 21:30 Uhr.
Wer also am nächsten Tag arbeiten muss, kommt zeitig nach Hause und schläft noch dazu mit einem Lächeln ein. 🙂 Schöner kann eine Woche eigentlich nicht aufhören.
EINTRITT
Der Eintritt zur Show ist frei, wir freuen uns am Ende über eine Spende.