Dieses Event ist beendet.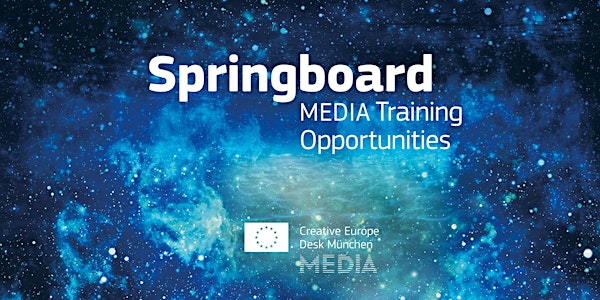 Springboard: EAVE Producers' Workshop
Springboard is a series of webinars by Creative Europe Desk Munich presenting European training opportunities for the audiovisual industry.
Zu diesem Event
Springboard:
EAVE Producers' Workshop
Wer nicht nur den deutschen Markt im Blick hat, profitiert von europäischen, durch das Creative Europe MEDIA Programm der Europäischen Union unterstützten Weiterbildungsangeboten und deren internationalen Netzwerken.
Im ersten Webinar am 16. Juli 2020 stellt sich EAVE Producers' Workshop, an dem seit 1988 mehr als 2.000 Produzent*innen weltweit teilgenommen haben, vor. Viele von ihnen haben Koproduktionspartner im Netzwerk der Absolvent*innen gefunden. Von EAVE Alumni produzierte Filme wurden vielfach ausgezeichnet, bis hin zum Academy Award.
Der EAVE Producers' Workshop wird vorgestellt von Programme Manager Satu Elo und von Produzent, EAVE Absolvent und Deutschland-Koordinator des Programms Jonas Weydemann ("Systemsprenger").
Im Anschluss haben die Teilnehmer*innen die Möglichkeit, in einer moderierten Q&A Runde Fragen an Satu Elo und Jonas Weydemann zu stellen.
Die Präsentation und das Q&A werden auf Englisch abgehalten.
Registrierung:
Bitte registrieren Sie sich für das Webinar über Eventbrite ("Registrierung"). First come, first serve. Das Webinar wird auf Zoom stattfinden. Der Zugangslink wird am Vortag der Veranstaltung an registrierte Teilnehmer*innen geschickt.
Springboard:
EAVE Producers' Workshop
Any film professional looking beyond their home market can benefit from European training offers supported by the Creative Europe MEDIA programme of the European Union and the resulting international networks.
In the first webinar on July 16th, 2020 we present the EAVE Producers' Workshop. Over 2000 producers have participated in this training programme since 1998, many of them found their co-production partners within EAVE's alumni network.
The EAVE Producers' Workshop will be presented by its Programme Manager Satu Elo and Producer and EAVE Alumni Jonas Weydemann ("Systemsprenger" Germany's Oscar candidate 2019).
After the presentation participants will have an opportunity to ask questions in a moderated Q&A session.
The presentation and the Q&A will be in held in English.
Registration:
Please register on Eventbrite ("Registrierung"). First come, first served. The webinar will take place on Zoom. Registered participants will receive the link to our Zoom-Event on 15th July.
Please note: In order to register as participant you need to enter the following personal data: first and last name, email address, profession, organisation. We use this data solely for the organisational purposes of this event. We do not forward you data to any third parties.