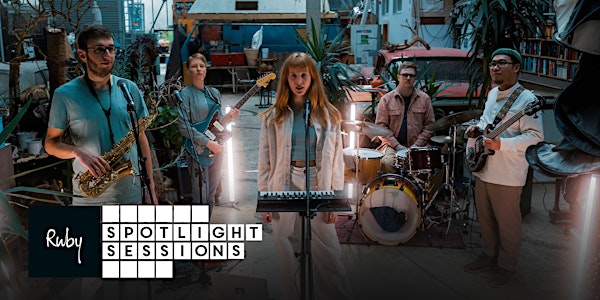 SPOTLIGHT SESSIONS by «stadtklang» w/ LARIZA
Ruby Ella welcomes LARIZA. Join us & dive into magical Jazzpop.
Date and time
Starts on Thu, 8 Jun 2023 19:00 CEST
Location
Ruby Ella Hotel & Bar Hohenzollernring 79 50672 Köln Germany
About this event
Hey Sunshine, 🚀
bist du ready, um in die Magie des Jazzpops einzutauchen? ✨🎸
Dann join uns in Ruby Ella Hotel & Bar für
SPOTLIGHT SESSIONS by «stadtklang»
mit LARIZA 🎵
Donnerstag, 08. Juni 2023 - 19 Uhr
Das hier ist für dich 🎸
Tanzend. treibend. ruhend. knisternd. wagend. suchend. Die Kölner Band LARIZA, bestehend aus fünf jungen Musikern, präsentiert eine Musik voller Spannung, in der Erwartungen erfüllt und wieder gebrochen werden, die Unerwartetes zulässt und Geschichten erzählt, die die Grenze zwischen Traum und Wirklichkeit sprengen - über Illusionen im Raum, Fragen nach den Ursprüngen des Lebens, die Magie der Natur und das Wagnis des menschlichen Miteinanders. Leadsängerin und Komponistin Lena-Larissa Senge greift Themen auf, die ihr im Alltag begegnen, mal ganz bodenständig und dann wieder ins Absurde abschweifend. Musikalisch entsteht eine Form von progressivem Jazz, beeinflusst von verschiedenen Elementen der Neo-Soul-, Folk- und Popmusik. In den schrägen und zarten Klangwellen schwingt ein Geist mit, der zwischen den Extremen balanciert und nach Einheit strebt. Die Musik folgt einer Intuition, deren innerer Antrieb die Neugier ist, die alles bis auf den Grund durchdringen will, indem sie dich mitnimmt, dich an unbekannte Orte führt und auf jeder Reise Raum für Phantasie lässt.. 🎵
Also schnapp dir deine Freunde, genieße einen einzigartigen und entspannten Abend mit Musik und vielleicht einem oder auch drei gekonnt geschüttelten Cocktails 🍸
Wir freuen uns auf dich, deine Freunde und einen super tollen Abend! 🌟
Dein Ruby Ella Team
⭐ FREIER EINTRITT ⭐
https://www.ruby-hotels.com/hotels-destinations/koeln/ruby-ella
https://www.stadtklang.org/08-juni-2023-lariza-live-ruby-ella-hotel-bar-koeln/
https://www.facebook.com/larizaofficial/
INFO: Während der Veranstaltung werden Filmaufnahmen und Fotografien gemacht, bei denen du möglicherweise gefilmt wirst. Durch deine Anwesenheit stimmst du ihrer Verwendung zu.
***
Du möchtest keine Neuigkeiten mehr verpassen und immer up-to-date sein? Dann klicke hier 👇
********************************************
Hey Sunshine 🚀
Are you ready to dive into the magic of Jazzpop? ✨🎸
Join us at Ruby Ella Hotel & Bar for
SPOTLIGHT SESSIONS by «stadtklang»
with LARIZA 🎵
Thursday, 08 June 2023 - 19:00
This one is for you 🎸
Dancing. driving. resting. crackling. daring. searching. The Cologne band LARIZA, consisting of five young musicians, presents music full of tension, in which expectations are fulfilled and broken again, which allows for the unexpected and tells stories that break the boundary between dream and reality - about illusions in space, questions about the origins of life, the magic of nature and the daring of human togetherness. Lead singer and composer Lena-Larissa Senge takes up themes that she encounters in everyday life, sometimes in a very down-to-earth way and then again digressing into the absurd. What emerges musically is a form of progressive jazz influenced by various elements of neo-soul, folk and pop music. In the oblique and delicate waves of sound smirks a spirit that balances between extremes while striving for unity. The music follows an intuition whose inner driving force is curiosity that wants to penetrate everything to the bottom, taking you along, leading you to unknown places and leaving room for imagination on every journey. 🎵
Grab your friends, enjoy a unique and relaxed evening of music and maybe one or three skifully shaken cocktails 🍸
We look forward to seeing you, your friends and having a great evening! 🌟
Your Ruby Ella Team
⭐ FREE EVENT ⭐
https://www.ruby-hotels.com/en/hotels-destinations/cologne/ruby-ella
https://www.stadtklang.org/08-juni-2023-lariza-live-ruby-ella-hotel-bar-koeln/
https://www.facebook.com/larizaofficial/
INFO: Filming and photography will take place during the event and you may be filmed. By being present, you consent to their use.
***
You always wanna stay in the loop and never miss a beat? Click here 👇