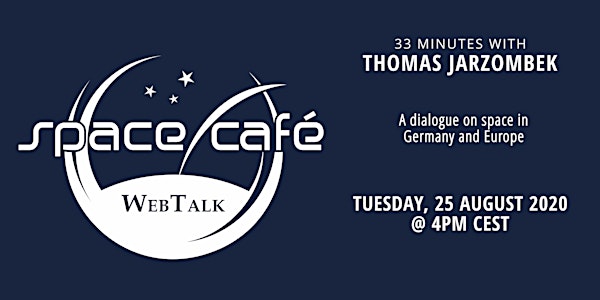 Space Café WebTalk - "33 minutes with Thomas Jarzombek"
Space Café WebTalks is SpaceWatch.Global's webinar series featuring global space experts.
About this event
This Space Café WebTalk will feature Thomas Jarzombek, Federal Government Coordinator of German Aerospace Policy, in conversation with Torsten Kriening, publisher of SpaceWatch.Global.
Thomas Jarzombek will share some thoughts about Germany's role in the European and global space sector. He will highlight the national contribution to space security in a European context. Also, he will discuss ideas on larger questions related to space developments in Europe and in Germany.
The audience will have an opportunity to ask questions in dialogue with Thomas Jarzombek.
SpaceWatch.Global is a n Europe-based digital magazine and portal for those interested in space and the far reaching impact of the space sector.
This Space Café WebTalk will be conducted in English.