Dieses Event ist beendet.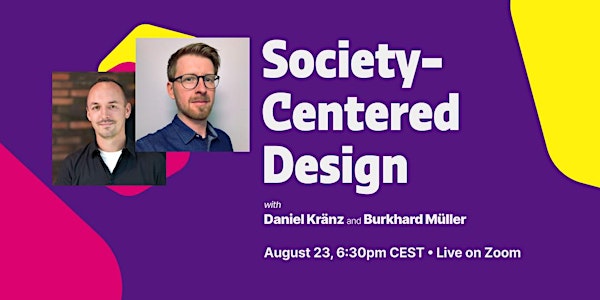 Society-Centered Design – August Meetup
Is user-centered design still relevant? In our globalized world, something that benefits one person can cause massive damage to many others.
Zu diesem Event
Want more content like this? Then join us at PUSH UX 2022 in November!
The Talk
Is User-centered design still relevant? User-centered design has been the foundation for the design of interfaces and services for almost thirty years. It once meant that the focus was no longer solely on the financial goals of a company, but also on the human needs and behavior of the users.
This approach is still valid. But it's just not enough today. Because in our global, highly networked world, something that benefits one person can cause massive damage to many others – and our planet.
For this reason, Society-Centered Design tries to include and actively shape an expanded perspective – on the context in which products and services are introduced – in the design process. For this purpose, both a canvas and new methods were developed that take into account the dimension of society and the effects on passive target groups.
In the meetup Burkhard Müller (CDO @ Mutabor) and Daniel Kränz (User Experience Director @ Mutabor) will present the developed tools and share the first lessons learned from projects.
About the speakers
Burkhard Müller, Chief Digital Officer, Mutabor
Burkhard Müller is an expert in digital transformation. He studied design and business administration and learned programming at the age of 10. For the last 20 years he has lead transformational projects for companies such as Bosch, Migros, Swatch and Vodafone.
His digital products are used by 100's of thousands of people every day. He is ADC Member, a speaker at digital congresses and regularly publishes in publications about digitalization, sustainability and the future of design-thinking.
At Mutabor, he is chief digital officer, builds teams of digital experts and supports his clients as a personal advisor.
Daniel Kränz, User Experience Director, Mutabor
Daniel Kränz is a Product Design Expert with more then 10 years of experience. He studied Industrial Design and Interaction Design with the strong focus on the connection between well crafted physical products (hardware) and the suitable interface (software). 
As a generalist Daniel works on many parts of an experience. He lead cross-functional product teams, that helped companies like Migros, Ernsting's family, s.Oliver, BabyOne and Bosch to define what products are built and to ship the final product to its target group.
As webinar leader, author from articles or workshop facilitator he love to share knowledge with colleagues, clients and the community. His passion is to develop user-centered design further for the challenges of our time: Society-Centered Design – a toolbox to develop economically and socially forward-looking products.
📹 This meetup will be recorded