Eventinformationen
Veranstaltungsort
STARTPLATZ
5 Im Mediapark
50670 Köln
Germany
#SNTM Opening Event - Israeli Startup Night: Meet the top 1% of Israel's Industry 4.0 Startups
Zu diesem Event
The Israeli Startup Night on October 30th at STARTPLATZ Cologne is the official launch of the #Startupnation To Mittelstand program, where 10 cohort startups, developing ground-breaking frontier Industry 4.0 technologies, will showcase their innovative solutions and explore business opportunities with local companies.
Israel is a recognised global innovation powerhouse and Israeli startups are playing a key role in the fourth industrial revolution. The presenting startups were cherry-picked by the Israeli Innovation Authority and represents Israel´'s top 1% Industry 4.0 innovators. All of those growth-stage startups have raised over 10 Million Euros in Venture Capital, have high-profile paying customers and technological applications in the fields of manufacturing, mobility and digital health.
Attend this first-of-its-kind event to:
Get a glimpse into the future of your industry
Learn about new business models shaping tomorrow ́s competitive landscape
Leverage networking sessions to identify growth opportunities for your business
Establish strategic relations with Israel's cream-of-the-crop innovators
#Startupnation To Mittelstand is powered by STARTPLATZ, the Israeli Innovation Authority and The Israel Economic and Trade Mission in Berlin, joining forces to accelerate innovation through collaboration and strengthen business ties between Germany and Israel.
Program agenda:
October 30th
18:00 Welcome & opening words
18:15 Keynote Prof. Dr.-Ing. Volker Stich (RWTH)
"Digital Transformation - Where established and new ways of thinking collide"
18:30 Startup-pitches - Meet Israel's top 1% industry 4.0 startups:
CoreTigo - Industrial IoT Wireless Platform
Visual Factories - Real-time Monitoring and Control
FieldBit - Collaboration Platform for Field Services
GoARC - Data-driven Workplace Safety Solutions
KITOV.ai - 3D Quality Control Systems
VocalZoom - Advanced Sensing Technology for Industrial IoT
NanoFabrica - 3D Printing for Precision Manufacturing
3D Signals - Acoustic Monitoring for Predictive Maintenance in Machines
Cymplify - Cyber-security Software for IoT and Connected Devices
20:30 Panel discussion - Boosting digitalization and innovation processes
20:45 Prof. Dr. Andreas Pinkwart, Minister of Economic Affairs, NRW
21:00 Networking
October 31th
09:00 Welcome & Startup Breakfast
10:00 How to take advantage of the day
10:15 1-on-1 sessions with cohort startups*
16:00 Networking
___________________
About the cohort startups:
All #SNTM cohort growth-stage startups have developed disruptive Industry 4.0 technologies with concrete use cases in the fields of Manufacturing, Mobility and Digital Health:
Industrial IOT & Connectivity
Predictive Maintenance
Cyber Security
Sensor & 3D Technology
CoreTigo - CoreTigo is addressing the true need for wireless communication of sensors, actuators and devices in the factory that cannot be addressed today by existing wireless networks. Our end to end industrial-grade solution increases flexibility and mobility, and reduces deployment complexity, maintenance and downtime at the most cost effective and reliable manner.
Visual Factories - VF's Digital Performance Monitoring™ platform is the easiest solution for discrete manufacturers, from any industry, to see what's going on in their factory's operations. VF's cloud-based solution analyzes the activities of each machine so that everyone – from machine operators to floor managers to top management – can see the specific information that they need to optimize productivity and set and achieve attainable goals.
FieldBit - Fieldbit's multi-source augmented reality knowledge platform for enterprise field service workforce offers users rich, real-time information and remote assistance through interactive collaboration with experts and digital resources. Designed to work with smart glasses, smartphones, and mobile devices, Fieldbit serves as a source of knowledge both on- and offline, empowering field service personnel with improved troubleshooting, safety and maintenance capabilities.
3D Castor - CASTOR is the Manufacturers' Gateway to 3D Printing. Our technology allows manufacturers to reduce lead time, avoid costly spending on limited quantities parts, and increase supply chain flexibility. These are achieved via the analysis of CAD files of parts/machine a manufacturer wants to produce.
GoARC - GoARC is a digital safety company that has developed a technology for industrial organizations, designed to reduce work-related accidents, save lives, reduce costs, and empower safety compliance.
KITOV.ai - Kitov.ai provides manufacturers with fully automated visual inspection solutions that consistently find defects that are often missed by human inspectors, while providing powerful insights that help boost quality and operational efficiency.
VocalZoom - VocalZoom has developed ultra-small, low-cost, non- contact vibration sensors (laser sensors) for use in industrial IoT applications.
NanoFabrica - Nanofabrica, additive manufacturing for precision engineering, is changing the way things are made. We deliver patented printers and proprietary materials that reach an unprecedented 1 micron resolution over an impressive build volume of 50X50X100 mm3. Our main advantage is to enable mass manufacturing of complex small and precise parts.
3D Signals - 3DSignals accelerates the digital transformation of manufacturers to the Industry 4.0 era. Our solution enables immediate visibility into production floors, through the quick, non-invasive, and machine agnostic deployment of a wide range of sensors.
Cymplify - Cymplify is an embedded software solution for IoT devices manufacturers. Unlike network-based security solutions, Cymplify focuses on identifying and mitigating attacks at the device level, by enabling security-by- design.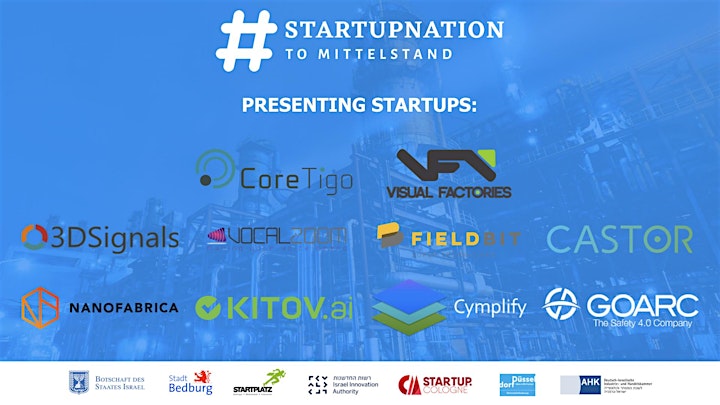 Datum und Uhrzeit
Veranstaltungsort
STARTPLATZ
5 Im Mediapark
50670 Köln
Germany