The 3rd annual smARTplaces conference hosted by the Dortmunder U will showcase arts and cultural innovators from across the world.
About this event
As the smARTplaces project comes to a close, we realised there are many stories to share about experiments, audiences, collaboration, failures and successes. For our third and final conference - SMARTPLACES - hosted by the Dortmunder U on March 5, 2020, we're telling these stories by shining a spotlight on our colleagues from across the world.
This search for cultural professionals with shared experiences led us to the conference theme - a human experience of engaging with digital in the cultural and creative industries. Across the four tracks - Identity, Belonging, Access and Acceptance - you'll hear from people with diverse backgrounds and professional experiences. From a museum in Sweden that wants to become more present in its city to a circus from Spain that's re-discovering its identity. You'll hear from a historian from a German museum ponder on just how digital we need to become and follow the journey of festival director from India who is determined to introduce culture into the day-to-day lives of citizens living in a bustling metropolis.
All these stories share a common thread - making sense of digital. The talks will inspire ideas that you can incorporate into your own professional practice. If you prefer a more hands-on approach, you can take part in a workshop on themes like wayfinding, setting up cultural labs and immersive storytelling.
SMARTPLACES recreates the open and inclusive atmosphere of our steering group meetings, when all multidisciplinary partners gathered to reflect on our experiments, ask questions and take deep dives into new themes. We invite you to do the same on March 5, 2020.
For updates follow us on Twitter and Facebook and sign up to our newsletter. We look forward to meeting you in Dortmund on March 5, 2020.
PROGRAMME
Please find the conference agenda, our speakers, workshop facilitators and the smARTplaces colleagues who'll chair the different tracks on the conference website: https://smartplaces.eu/conference2020/
Over 20 speakers from 10 countries are confirmed for the 3rd smARTplaces conference on March 5th. Join cultural professionals from around the word at the Dortmunder U. Book your ticket now!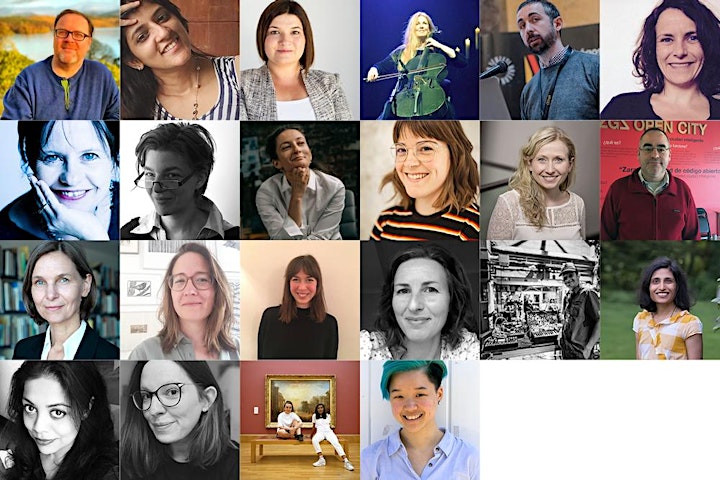 PRACTICAL INFORMATION
• The registration fee is €39,00 including lunch and coffee breaks on the conference day.
• Students and unemployed are eligible for a €5,00 discount. You can apply for the discount code upon proof of your situation via conferences@smartplaces.eu.
• All registrations are final – no refunds apply.
• The sessions of the event will be in English with free simultaneous translation to German available for all attendees.
• At this event, photo and video recordings and broadcasts are made for communication purposes. If you are not comfortable with your image being taken, please inform someone from the organisation.
• Accessibility: In order for everyone to participate fully, we want to make our event as accessible as possible. The Dortmunder U is accessible for wheelchair users. (Toilets, elevators and stepless transitions). The cinema in the U has an inductive listening system. The public area in the U is equipped with a guidance system for the visually impaired. Please contact the organization via conferences@smartplaces.eu for more information about access to the venue and event, so we can provide particular requirements on request.
•Travel information for international visitors: We suggest Düsseldorf airport as it's an international hub and there are regular, direct trains to Dortmund direct from the airport. Dortmund is also well connected by trains. You can get great fares using the Saver Price option on Bahn.de especially from The Netherlands, France, Belgium and the UK. Please select Dortmund Hbf from the dropdown list. If you are looking for hotel recommendations, we will be sending those out via our newsletter regularly. So make sure you sign up for regular conference updates.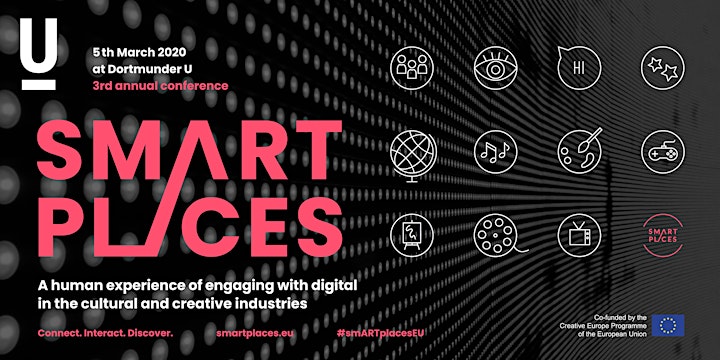 ABOUT SMARTPLACES
smARTplaces is a visionary, long-term European audience development project co-funded by the Creative Europe Programme of the European Union and aiming to revolutionise the way culture and art can be perceived and consumed using digital technology and new forms of cultural mediation.
LEARN MORE