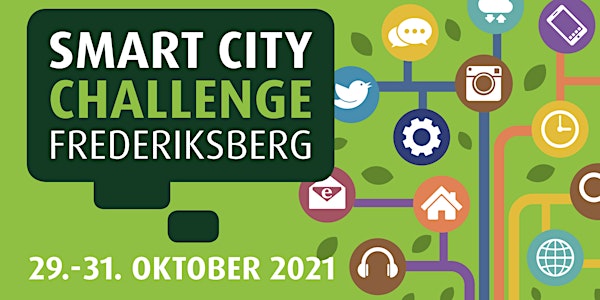 Smart City Challenge Frederiksberg 2021
Location
Station - a Student Innovation House
30 Howitzvej
2000 Frederiksberg
Denmark
Sales Have Ended
Registrations are closed
Perfect! You are now registered for the Smart City Challenge 2021!
Smart City Challenge is a hackathon dedicated to students to use their knowledge to develop smart and sustainable Smart City solutions.
About this event
From Idea to Concept in 3 Days with an Interdisciplinary Team of Students
Through a guided innovation process, you get the chance to develop ideas with the help of your team members to improve tomorrow's cities and turn them into viable, implementable concepts in only one weekend. You will work together with students from a variety of fields and experienced mentors and Smart City professionals.
Who Can Participate?
Students and entrepreneurs from all over the country are invited to participate. You can either sign up as a team or take part in the team formation and meet new friends and connections. Learn from each other and pitch in front of a panel of professionals. Participation is free, and food and drinks are provided.
What Is A Smart City Solution?
A successful smart city solution is innovative, user-friendly, and contributes to a sustainable world! It both creates and uses data about the city and novel ways of cooperation to improve the city and the lives of its inhabitants and users. The solutions can be anything from digital solutions (websites, games), hardware solutions (gadgets, sensors) to new services (analyses) or workflows.
Programme Highlights
FRIDAY - Cases, Grouping, and Toolbox
‍16:00-16.30: Registration
16:30: Kick-Off & Introduction on smart city and sustainability
18:00: Case presentations & group formations
20:00: Get to know your group
21:00: Understanding the problem & user needs
‍SATURDAY – Concept and idea development
‍9:00: Research – Meet the case owners
11:00: Idea generation & selection
15:00: Mentor Check-In
19:00: Prototyping
‍SUNDAY – Development and pitch
‍9:00: User Testing & concept finalization
14:00: Pitch time
16:00: Award ceremony
When & Where
Friday 29th – Sunday 31st of October 2021 at Station - A Student Innovation House in the old Frederiksberg police station on Howitzvej 30.
Free admission and catering
‍Working space, supplies, and catering (breakfast, lunch, dinner, and snacks) is waiting for you. All you need to bring is your laptop and curiosity!
Why should you participate?
Meet and collaborate with other students from different backgrounds, solve problems, share skills, and help build better solutions for a smarter more sustainable life in your city
Network with other students and professionals from the fields of innovation, entrepreneurship, and sustainability
Expand your toolbox with Design Thinking and other methods for innovation and collaboration
Practice pitching in front of a professional jury and receive feedback
‍3 days of fun and new friends!
Covid-19
We will be mindful of the development of the situation with Covid-19. Given the current development we expect to hold a fully physical event and will of course offer hand-sanitizers etc. Depending on the situation close to event day and the resulting restrictions, this event might take place in a hybrid format.
We require you to show a valid corona-pass before entry.
No-show fee
We reserve the right to charge a no-show fee of 250 DKK for students and 500 DKK for non-students if you cancel later than 4 days in advance. If you cancel due to Covid-19 the fee won't apply.
Do you have any questions? Feel free to send an email to leona.s@station.dk