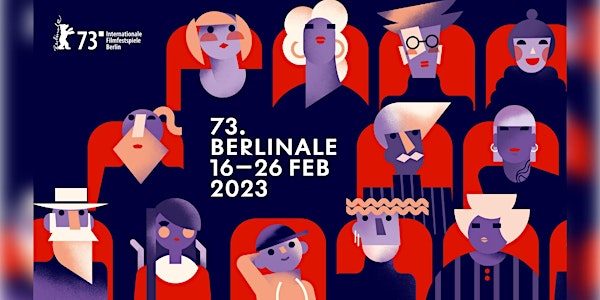 SHORTS, COMMUNITIES & CONVERSATIONS - Berlinale Shorts
SHORT FILMS IN SOCIAL WORK / COURTS METRAGES ET TRAVAIL SOCIAL / KURZFILME UND SOZIALE ARBEIT
By Botschaft von Kanada in Deutschland
Date and time
Tue, Feb 21, 2023 10:30 AM - 12:30 PM CET
Location
Embassy of Canada Leipziger Platz 17 10117 Berlin Germany
About this event
SHORTS, COMMUNITIES AND CONVERSATIONS
21/02/2023 10.30 am – 12.30 pm (admission from 10 am). Embassy of Canada
SHORT FILMS IN SOCIAL WORK
Short films allow us to reflect on sensitive issues, make them accessible and provide spaces for conversation. Representatives from the National Film Board of Canada and Methode Film (short films distributor in Germany), demonstrate this potential for social and therapeutic work by screening a selection of short films.
Admission is free. Please bring a valid ID document.
*The event is held in English.
We encourage attendees to complete a COVID self-test prior to the event. If you feel unwell, or have tested positive for COVID-19, please do not attend.
SHORTs, COMMUNITIES AND CONVERSATIONS
21-02-2023 10 h 30-12 h 30 (entrée à partir de 10 h). Ambassade du Canada
COURTS METRAGES ET TRAVAIL SOCIAL
Le genre du court métrage peut alimenter les réflexions sur des sujets sensibles. Il les rends accessibles et offre l'opportunité d'échanges à leur sujet. Des représentants de l'Office national du film du Canada et de Methode Film (distributeur de courts métrages en Allemagne) évoquent ce potentiel en matière de travail social et thérapeutique. Cet exposé est accompagné par la projection de courts métrages choisis.
L'entrée est gratuite. Veuillez apporter une pièce d'identité valide.
*L'événement se déroulera en anglais.
Les participants sont encouragés à effectuer un test antigénique COVID avant l'événement. Si vous présentez des symptômes ou avez testé positif à la COVID-19, merci de ne pas y assister.
SHORTS, COMMUNITIES AND CONVERSATIONS
21.02.2023 10:30–12:30 Uhr (Einlass ab 10:00 Uhr). Botschaft von Kanada
KURZFILME UND SOZIALE ARBEIT
Dem Kurzfilm gelingt es, sensible Themen zu reflektieren, sie zugänglich zu machen und dadurch Gesprächsräume zu öffnen. Anhand von Filmbeispielen zeigen Vertreter*innen des National Film Board of Canada und des Kurzfilmverlags Methode Film (Deutschland) Möglichkeiten auf, wie dieses Potenzial in der sozialen und therapeutischen Arbeit genutzt werden kann.
Eintritt frei. Bitte führen Sie einen gültigen Personalausweis mit sich.
*Die Veranstaltung findet auf Englisch statt.
Wir empfehlen allen Teilnehmer*innen vor der Veranstaltung einen COVID-Selbsttest durchzuführen. Wenn Sie sich krank oder unwohl fühlen oder positiv auf COVID-19 getestet wurden, nehmen Sie bitte nicht teil.