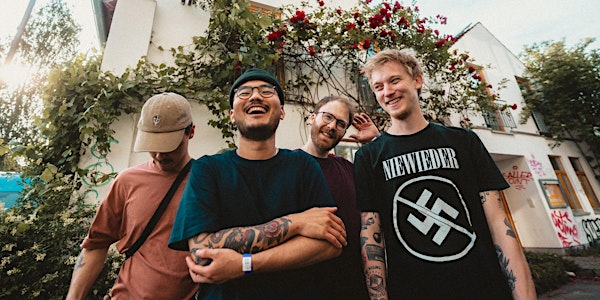 SHORELINE in Freiburg
SHORELINE live in Freiburg - Support: Das Blanke Extrem
Zeit und Ort
Veranstaltungsort
The Great Räng Teng Teng Grünwälderstraße 6 79098 Freiburg im Breisgau Germany
Karte und Wegbeschreibung
Rückerstattungsrichtlinie
Keine Rückerstattungen
Zu diesem Event
Live im The Great Räng Teng Teng:
The roots of punk rock in music history now go back more than four decades, but still the world is not in order. SHORELINE have therefore written a record in the form of their new album GROWTH (04.02.2022 / End Hits Records) that makes the genre sound more present than it has in a long time transferring the fears and disruptions of a whole new generation. Shoreline represent the lifeworld of a social group that has so much to worry about in its future and its present that it can't help but actively fight against it. GROWTH thus reflects on the climate crisis, critical consumption, but also on very personal perspectives and experiences with anti-Asian racism, which singer Hansol Seung processes on the full-length. The record is a young person's attempt not to break down from the fact that personal issues are always political nowadays.
Shoreline have long since proven that they are firmly established in their genre and scene: The band has played more than 200 shows all over Europe, among others as support for BASEMENT, SPANISH LOVE SONGS, BOSTON MANOR or HOT WATER MUSIC. With all this experience under their belt, GROWTH shows a band that is musically more solid than ever. Together with their producer Jochen Stummbillig (Kaputtmacher Musikproduktionen) Shoreline developed a concrete idea of the ambivalent sound design of their new record via their first EP "You Used To Be A Safe Place" (2018) and debut album "Eat My Soul" (2019, both: Uncle M). Heavy drums are framed by almost clean guitars while contemporary pop passages repeatedly break through the modern hardcore/punk production in an anthemic way. GROWTH also features numerous guests who could hardly be more different: The punk bands NERVUS and SMILE AND BURN, the US indie artist KOJI and the hardcore legends BE WELL are all on board with feature parts. They complete the album musically in a perfect way, and at the same time reflect the zeitgeist of the band: Naturally grown networking, solidarity and empowerment.
Support: Das Blanke Extrem
Die Leuchtraketen fliegen! Wir winken nur zurück. Wir haben zu tun und davon genug. Und wem die Ödnis der Borniertheit nicht aus jeder Pore tropft, reiht sich ein in die uniformierte Monotonie endlos großer Massen. Es ist "Alles in schönster Ordnung". Das Blanke Extrem sucht nach Atempausen irgendwo zwischen dem Dickicht der Wohnzimmergardinen und dem Viervierteltakt. Mit Post-Punk auf deutschen Texten, der zuweilen "die gute alte Zeit" um den frühen Peter Hein heraufbeschwört, um direkt im Anschluss wieder den Schwenk ins Hier und Jetzt zu finden. Ein Strohhalm, ein Prüfstein, ein Gegenpol. Macht euch keine Sorgen!
Einlass: 19.30 Uhr
Beginn: 20 Uhr