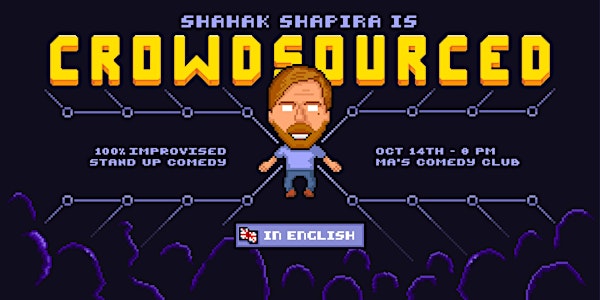 Shahak Shapira - CROWDSOURCED - a 100% improvised Comedy Show!
Join Israel-born, Berlin-based comedian Shahak Shapira for a fully improvised on the spot comedy show!
When and where
Location
Ma's Comedy Club Reinhardtstraße 10 10117 Berlin Germany
About this event
Usually, stand up comedy is carefully crafted bits, tested and re-written to perfection over months, sometimes even years, but what if you just wing it? I'm Shahak Shapira, a stand up comedian, and for a whole hour, I'll stand on stage with no written material whatsoever and try to create comedy on the spot simply by interacting with my audience. What could go wrong? Literally everything. This is the first time I'm doing this show, it's very experimental and either it will work out spectacularly our you'll get to watch me crash and burn. Either way -WORTH IT.
📅 Friday, October 14th
⏰ Doors: 7 PM | Showtime: 8 PM
📍VENUE: Ma's Comedy Club (air conditioned)
🎫 TICKETS: Unbelievable 12€. It's like you're losing money if you're NOT getting them! 15€ at the door!
🎤 WHO AM I?
Hey, I'm Shahak Shapira, an Israeli comedian in Germany, which is, already, just wrong on so many levels. I'm known for art projects like YOLOCAUST, #HeyTwitter and the 90'S BOILER ROOM, all gaining major attention all over the world, which would be very impressing if this was an art gallery but this is stand up so nobody really gives a shit.
My comedy show on German TV got canceled so fast, most people didn't even know I had one. I recorded a stand up special for Comedy Central, which would have been awesome, but it was Comedy Central Germany, so yeah, not great. My TED-Talk about how to go viral has about 30,000 views which is as sad as it is ironic. And as if that's not tragic enough - I'm a fucking DJ too.
All of this is terrible for my general well being, but it's terrific for my comedy.
Also here is a list of cool things I did:
- Toured Germany twice, recorded and produced my own special and then another special for Comedy Central.
- I was head writer and host of my own sketch comedy show on German TV and introduced the first celebrity roast ever on German TV.

- Performed in Germany, Austria, Japan, Spain, USA and South Africa and played at iconic comedy clubs such as Gotham, Stand Up NY and West Side Comedy Club.
- Wrote two best selling books and sold over 80k copies.
- My English stand up videos on TikTok and Instagram have been watched by over 5 million people.
- As an artist, my work has reached over 250 million people worldwide and has been covered by numerous media outlets such as The New York Times, CNN, BBC, The Guardian, Buzzfeed, AJ+, etc.