Eventinformationen
Rückerstattungsrichtlinien
Rückerstattungsrichtlinien
Beschreibung
The industry event for writers, producers and decision makers is looking forward to its fourth season in 2018 SERIENCAMP CONFERENCE welcomes industry professionals and creators from Europe and beyond. SERIENCAMP CONFERENCE is split into two and a half days:
THURSDAY, November, 8th // 10am - 5pm
SERIENCAMP INSIGHTS
In keynotes, panels and case studies the SERIENCAMP INSIGHTS cover the latest trends and innovative series projects. In the afternoon we invite you to the fourth edition of WORK IN PROGRESS: Presented in collaboration with leading German media magazine DWDL this exclusive showcase offers first glimpses of brand-new German productions presented by their creators.
LOCATION: University of Television and Film Munich, Bernd-Eichinger-Platz 1 // 80333 Munich // Germany
______
FRIDAY, November, 9th // 9am - 6pm
STORY EXCHANGE
STORY EXCHANGE combines pitching sessions and a coproduction forum with our new project market - connecting screenwriters, producers and broadcasters to support the developments of great stories! STORY EXCHANGE takes the conference to a new location on Friday: the prestigious Deutsches Museum right upon the river Isar.
>> PROJECT MARKET: The heart of the STORY EXCHANGE is our new project market - a forum and networking hub located in the impressive halls of the "Isarforum". Find promising stories and early stage-projects presented by their creators in casual and intimate short meetings. Meet potential producers and commissioning editors and expand your European network.
>> PITCHING SESSIONS: As in previous years, SERIENCAMP CONFERENCE once again invites you to four pitching sessions that take place parallel to the project market: the CO-PRODUCTION SESSIONS, the WRITERS' VISION PITCH, the DIGITAL SHORT FORM PITCH and the PRODUCERS' VISION PITCH.
LOCATION: Isarforum - Deutsches Museum, Ludwigsbrücke // 80538 Munich // Germany
______
SATURDAY, November, 10th // 11am - 2pm
INNOVATION DAY
The SERIENCAMP CONFERENCE badge also grants you access to the first INNOVATION DAY on Saturday, the 10th of November.
By covering web series, short form content or cross media projects, SERIENCAMP INNOVATION DAY makes the digital frontier more accessible. A selection of workshops, panel discussions, case studies and screenings invites all participants to be part of the future of serial storytelling.
LOCATION: University of Television and Film Munich, Bernd-Eichinger-Platz 1 // 80333 Munich // Germany
______
The Creative ticket is the basic accreditation for the Conference and costs 99,00 € (EARLY BIRD) or 150,00 € (REGULAR). It can be purchased by individuals or companies.
The Industry ticket additionally includes access to the Co-Production Sessions and the exclusive industry lunch on Friday. The Industry ticket costs 190,00 € (EARLY BIRD) or 275,00 € (REGULAR)

>> see chart below for details
***LIMITED EARLY BIRD***INDUSTRY TICKETS until 5th of September 2018 (while stocks lasts)
***LIMITED EARLY BIRD***CREATIVE TICKETS until 25th of September 2018 (while stocks lasts)
The ticket is valid for both days and includes beverages. We do not offer tickets for one single day. The event is held in English. For ticket purchase via invoice please contact info@seriencamp.tv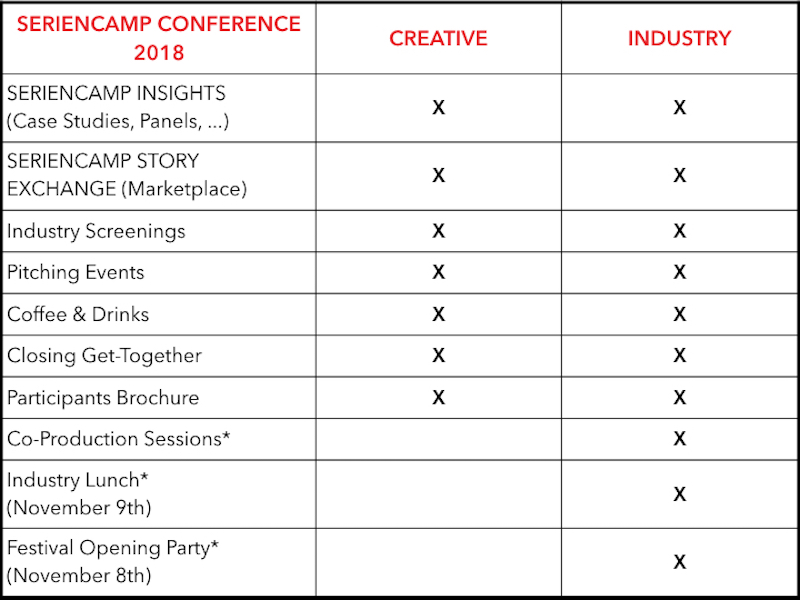 *Co-Production Sessions
At SERIENCAMP CO-PRODUCTION SESSIONS eight high-end projects of international scale will present themselves to key-decision makers from the Drama Series industry. Carefully selected by SERIENCAMP's ADVISORY BOARD of experts, these projects showcase the exciting range of upcoming and in-development productions in 10 minutes pitch presentations at the SERIENCAMP SOTRY EXCHANGE. The presentations are followed by opportunities to meet with creatives and producers in one-on-one-meetings, organized by the CONFERENCE team.
*Industry Lunch
On Friday the CONFERENCE invites all holders of an Industry badge and other special guests to an exclusive networking lunch.

* Opening Party of SERIENCAMP
SERIENCAMP kicks of in style with an exclusive opening party. 450 guests enjoy the German premiere screening of a new series and afterwards discuss the show while enjoying great snacks and cool drinks. This invitation-only red carpet event has already become a yearly fixture.
Datum und Uhrzeit
Veranstaltungsort
Rückerstattungsrichtlinien