Description
(Scroll down for English Version)
INDUSTRY TICKETS SIND AUSVERKAUFT!
Aus Erfahrung steht meist ein kleines Restkontingent zur Verfügung. Bei Interesse bitte an info@seriencamp.tv wenden.
INDUSTRY TICKETS ARE SOLD OUT!
Please contact info@seriencamp.tv for further information
---
Die SERIENCAMP CONFERENCE geht in die dritte Season. Der Fachevent im Rahmen des SERIENCAMP FESTIVALS findet am 26. und 27. Oktober 2017 statt und steht ganz im Zeichen der aktuellen Entwicklungen in der internationalen Serienlandschaft. SERIENCAMP CONFERENCE richtet sich an Kreative, Autoren, Produzenten, Regisseure, Vertriebe und Sender/Platformen gleichermaßen und widmet sich den unterschiedlichen Aspekten von Entwicklung, Produktion und Vertrieb von Serien in einem sich stetig verändernden Umfeld. Gleichzeitig wird in Netzwerkveranstaltungen der europäische und internationale Austausch gestärkt. Mehr Informationen zum Programm finden Sie auf unserer Website.
Das Industry-Ticket kostet 190,00 € (EARLY BIRD) bzw. 275,00 € (REGULÄR)
Das Creative-Ticket kostet 99,00 € (EARLY BIRD) bzw. 150,00 € (REGULÄR)
>> Umfang siehe Tabelle unten
***EARLY BIRD***INDUSTRY TICKETS bis 31.08.2017
***EARLY BIRD***CREATIVE TICKETS bis 08.09.2017
Einzelne Tagestickets bieten wir nicht an. Getränke sind inklusive. Sprache ist Englisch.
Ein Kauf auf Rechnung ist möglich, bitte wenden Sie sich an info@seriencamp.tv
----- ENGLISH -----
The industry event for writers, producers and decision makers is looking forward to its third season in 2017 SERIENCAMP CONFERENCE welcomes industry professionals and creators from Europe and beyond for two days of discussions, inspiration and networking in the heart of Munich on October 26th and 27th. Keynotes, case studies and screenings present notable new market and industry trends from Europe and the rest of the world while the premiere season of the SERIENCAMP CO-PRODUCTION SESSIONS spotlights new projects in development. Find more information about the program on our website.
The Industry ticket costs 190,00 € (EARLY BIRD) or 275,00 € (REGULAR)
The Creative ticket costs 99,00 € (EARLY BIRD) or 150,00 € (REGULAR)
>> see chart below for details
***EARLY BIRD***INDUSTRY TICKETS until 31st of August 2017
***EARLY BIRD***CREATIVE TICKETS until 8th of September 2017
The ticket is valid for both days and includes beverages. We do not offer tickets for one single day. The event is held in English. For ticket purchase via invoice please contact info@seriencamp.tv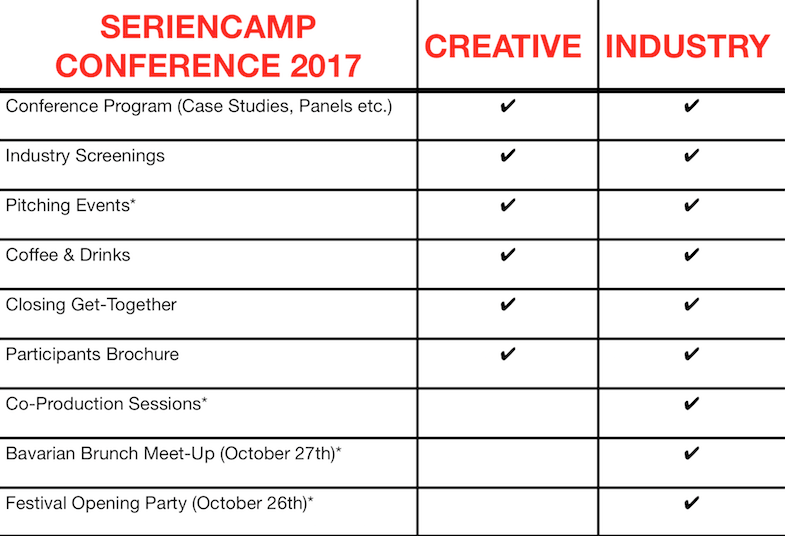 * Pitching Events
Please note that the access to the Producers' Vision Pitch is sloley dedicated to writers or broadcasters. The Writers' Vision Pitch and The Digital Short Form Pitch is open to all visitors of the Conference (Creative + Industry).
* Co-Production Sessions
At SERIENCAMP CO-PRODUCTION SESSIONS six high-end projects of international scale will present themselves to key-decision makers from the Drama Series industry. Carefully selected by SERIENCAMP's ADVISORY BOARD of experts, these projects showcase the exciting range of upcoming and in-development productions in 10 minutes pitch presentations. The presentations are followed by opportunities to meet with creatives and producers in one-on-one-meetings, organized by the CONFERENCE team.
*Bavarian Brunch Meet-Up
On Friday the CONFERENCE starts with a traditional Munich-Style brunch & networking event. Weißwurst & Weißbier (white sausages and wheat beer) as well as vegetarian options and plenty of coffee will be served across the street from the HFF at the Alte Pinakothek, one of Munich's landmark museums and one of the oldest galleries in the world: the perfect place to discuss Old Masters and new projects.

* Opening Party of SERIENCAMP
SERIENCAMP kicks of in style with an exclusive opening party. 450 guests enjoy the German premiere screening of a new series and afterwards discuss the show while enjoying great snacks and cool drinks. This invitation-only red carpet event has already become a yearly fixture.
Mehr Informationen zu den einzelnen Ticketangeboten und dem Programm finden Sie auf unserer Website.
Date and Time
Location
Refund Policy