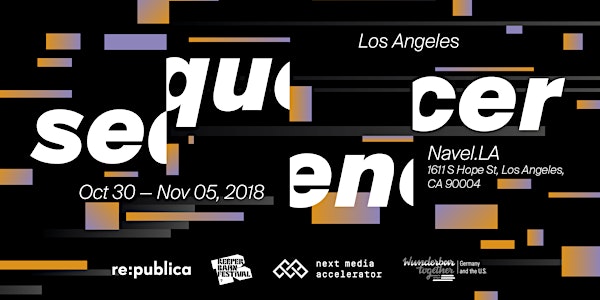 Sequencer Tour Los Angeles - re:publica Conference Day - November, 5
When and where
Location
Navel 1611 S Hope St Los Angeles, CA 90015
Description
Our Sequencer Tour event in Los Angeles is designed to link local and international influencers in music, culture, society, and politics into one transatlantic digital society. Join us when Europe's first digitalisation roadshow goes to the USA!
Conference
Curated by re:publica, the conference programme focuses on two main topics: Our "Politics & Society" track will focus on "Universal Digital Rights." We'd like to discuss transatlantic topics and current societal developments relevant to both the US and Europe. Our "Leisure & Lifestyle" track focuses on topics such as digital sovereignty, digital sustainability, and social justice within a digital context. To find out more, click here.
On November 5th, 2018, we'd like to discuss, learn, and bring together a host of interesting people. Join us!
10 am Welcome Note - Deutschlandjahr USA with Adreas Görgen

10–11 am Welcoming and Opening Imput on the Digital Society with Andreas Gebhard, Tiff Massey, Habib Lesevic and W. F. Umi Hsu
11–11:45 am Transforming the Museum - Entertainment with a Purpose with Andreas Görgen, Byrke Lou and Thilo Kuther, moderated by Kathleen Schröter

12–12:30 noon Fight for your Digital Rights! with Markus Beckedahl
12:30–1:15 pm Under Our Skin - The Future of Human Being with Rich Lee, Ramak Molavi, Newton Lee, moderated by Ryan O'Shea
13:30–2 pm Social Entrepreneurship goes Blockchain with Michael Fritz and Parul Gujral
2–2:30 pm Solarpunk Leisure for Low Carbon Futures with Andrew Hudson
2:30–3 pm ID, Please! How Identity Politics shape Digital Borders with Christoffer Horlitz
3:15–4:15 pm Trending Now - Creating a New Political Momentum with Benjamin Snow, Ingrid Brodnig, Tara Houska, Nandini Jammi, moderated by Erica Williams Simon

4:30–5:30 pm Panel: Connecting a Hyperlocal Creative Community with Malte Hagemeister and Kristian Nord, Katharina Baron, Julia Eckardt, moderated by BOLD

5:45–6:15 pm Commercial Content Moderation - God's Weeding Out Squad with Sarah T. Roberts, Hans Block and Moritz Riesewiek, moderated by Benjamin Snow

6:15–6:45 pm Connecting the dots ... with Clemantine Waymariya and Erica Williams Simon
6:45–7 pm Closing Session
7–10 pm Chill out with Music by Nordmeister
Break Out Sessions
12–1 pm From the Hero's Journey to Everybody's Journey: The Future of VR Storytelling with Boryana Ivanova
1:30–2:30 pm Mindful Tech: How to Bring Balance to Our Digital Lives with David Levy
3:15–4 pm #namethecrafter - A bridge between traditional crafts and digitalism with Schrüppe McIntosh
Screening:
4:15 pm THE CLEANERS (2018), from Hans Block and Moritz Riesewiek


Europe's first digitalisation roadshow goes USA!
From October 2018, event partners re:publica, Reeperbahn Festival, and next media accelerator will be hosting five events in Los Angeles, New York, Portland, Detroit, and Austin. Over the course of the year, Deutschlandjahr USA will see numerous transatlantic projects, events, and workshops come to life in the US. The Year of German-American Friendship ("Deutschlandjahr USA") is a comprehensive and collaborative initiative funded by the German Federal Foreign Office, implemented by the Goethe-Institut, and with support from the Federation of German Industries (BDI). Deutschlandjahr USA is dedicated to exploring cultural issues, as well as questions about just democracies or new avenues within media landscapes.

As one of Deutschlandjahr USA's milestone projects, the SEQUENCER TOUR will offer a platform for discussions and exchanges through a series of innovative event formats. With a focus on "Politics & Society," "Leisure & Lifestyle," and "Transatlantic Fusion," its formats include conference programs, showcases, as well as media and music matches.