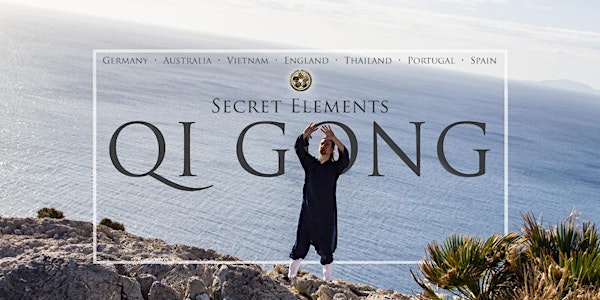 Secret Elements Qi Gong - Fyrsta stig & kennaraþjálfun
When and where
Location
Jógastúdíó Ánanaust 15 101 Reykjavík Iceland
Refund Policy
Refunds up to 7 days before event
Description
Qi Gong
Fyrsta stig
& kennaraþjálfun


22. júlí og 23. júlí 2017
Uppgötvaðu hið fullkomna andlega jafnvægi og aðferðir sem gætu hjálpað þér og þínum.
Secret Elements Qi Gong (fyrsta stig) sameinar listrænar hreyfingar daoisma í bland við nútíma aðferðir hreyfifræði og sálfræði á kerfisbundinn hátt sem auðveldar Qi Gong ástundun.
Fyrsti stigið er kennt á krefjandi helgarnámskeiði þar sem kennd eru öll fimm hreyfikerfi Secret Element Qi Gong. Kennd verður rétt framkvæmd hreyfinganna, tengdar fylgihreyfingar og aðferðafræði. Með Qi Gong æfingum myndar þú djúpa tengingu milli líkama þíns og huga sem gerir þér kleift að uppgötva sjálfan þig oglíkama þinn á nýjan máta.
Þessar æfingar, upplifun og reynslan sem þú öðlast getur losað líkamlegar og andlegar hindranir í líkamanum og hjálpað þér að yfirstíga þær. Þessi djúpstæða nálgun er upplögð viðbót fyrir alla sem hafa ástundað jóga eða sambærilegar æfingar.
Þú getur kosið að nýta þér Qi Gong sem sjálfshjálpartól eða til að leiðbeina öðrum í hóp.
Námskeiðið undirbýr þig og vottar þig sem fyrsta stigs Qi Gong leiðbeinanda.
Þú færð einnig ítarlegar leiðbeiningar um það hvernig hægt er að nota æfingarnar daglega sem öflugt verkfæri til að ná líkamlegu og andlegu jafnvægi. Kennsluefnið frá námskeiðinu (myndbönd & lesefni) gefa þér tækifæri á að endurtaka æfingarnar og leggja viðfangsefnið á minnið þannig að þú getir sérsniðið hreyfingarnar að þínum þörfum.

Laugardag 22. júlí og sunnudag 23. júlí / 09:00 -17:00
Verð ef greitt er fyrir 14. júlí: 34.000 kr. (299 €)
Verð ef greitt er eftir eftir 14. júlí: 41.000 kr. (350 €)
Staðsetning: Jógastúdíó
Erum staðsett að Ánanaustum 15. 101 Reykjavík Frekari upplýsingar veitir Drífa í síma 695-8464

Kennari: Secret Elements Qi Gong meðstofnandi Sascha Wagener
More info: www.secret-elements-qigong.com
Engin þörf á fyrrum Qi Gong reynslu nauðsýnleg.
Meira um þjálfun og atburði: www.lifeatlas-journeys.com



Qi Gong
Intense Course & Teacher Training
22. + 23. July 2017
Discover the perfect emotional balance & healing toolkit for helping yourself and others

Secret Elements Qi Gong intense training unites the deep roots of Daoist moving arts with contemporary practices of Kinesiology and Psychology in a systemised and easy to learn Qi Gong practice.

In this intense weekend course you will learn the movements of all 5 Secret Elements Qi Gong sets, their correct execution, accompanying exercises, and theory.
Qi Gong gives you a very deep body & mind connection and lets you experience your body in a very subtle way. This experience can reveal blockages in your physical or emotional system and helps to overcome them. This deep-reaching approach is an ideal complementary tool for every Yoga & moving arts practitioner.
Use Qi Gong for self-healing or choose to become a group class facilitator.
The course prepares for the certification as a Level 1 Secret Elements Qi Gong teacher.
You will also receive in-depth guidance on how to use the exercises as a powerful day-to-day self-balancing tool. Learning materials (videos & reader) give you the chance to repeat and memorise the subject and to internalise the movements for yourself.

Saturday 22. + Sunday 23. July / 09.00 am – 05.00 pm
Price: early bird 299 € / 1 week prior to the training: 350 €
Location: Jógastúdíó
Erum staðsett að Ánanaustum 15. 101 Reykjavík Frekari upplýsingar veitir Drífa í síma 695-8464
With Secret Elements Qi Gong Co-founder Sascha Wagener
More info: www.secret-elements-qigong.com
No prior Qi Gong experience needed!
More trainings & retreats: www.lifeatlas-journeys.com