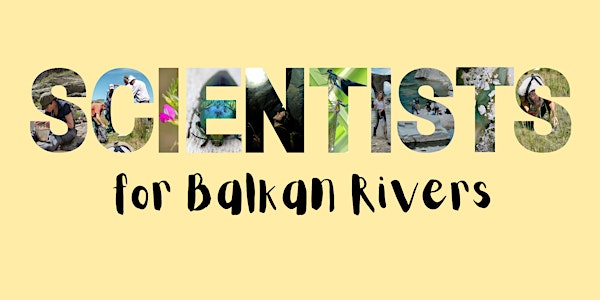 Scientists for Balkan Rivers - Launch Event
Scientists for Balkan Rivers
About this event
Balkan rivers are in need of scientific advocates!
These rivers require experts to collect scientific data for both legal fights as well as for a better understanding of the uniqueness of these last pristine river systems in general. Moreover, they urgently need these experts to speak up for their protection. In order to address data deficiencies across Balkan rivers, we are building a growing network of scientists ready to contribute expertise, tools, and data collection methods.
We are looking for young career scientists, senior scientists, students, activists, journalists, and NGOs to get in touch and contribute to the network. The actors of the network will not only lend their data but also use their independent voices to advocate for the protection of rivers.
Join us for this Launch Event!
During this event, you'll meet the actors behind the Save the Blue Heart Campaign and lead scientists already collecting data for the Balkan rivers. We'll be discussing plans for 2022, such as monthly meetings, a research week on the Neretva in Bosnia and Herzegovina, and how you can get involved!
Info & Network Registration: balkanrivers.net/en/scientists
Email: scientists@balkanrivers.net
* Zoom link will be sent out to registered participants shortly before the event!
Scientists for Balkan Rivers
This network is based on the existing Scientists for Vjosa group and aims to start a grassroots-like network for collaborative data collection and advocacy. The Scientists for Vjosa group proved to be successful in fighting off hydropower projects on the river. A Vjosa Research Center on the banks of the Vjosa river has already been set up, which serves as a base for their research and a hub for any Scientists for Vjosa activities. Check out this summary video from the Vjosa Science Week 2021: