Eventinformationen
Veranstaltungsort
Berlin
Boxhagener Straße 110
Next to Protokoll
10245 Berlin
Germany
Namaste! Come and discover with me the various styles of draping this elegant form of Indian attire with some Turmeric Chai.
Zu diesem Event
I would like to welcome you to the world of draping and give you an insight into the ethnic and fusion styles of draping this beautiful garment with style. At the end of the workshop you will be taking home a picture of you styled in the beautiful attire and some new draping skills :)
The word Sari comes in Sanskrit means strip of cloth. It consists of an unstitched drape varying from 4.5 to 9 metres in length and 600 to 1,200 millimetres (24 to 47 inches) in breadth that is typically wrapped around the waist, with one end draped over the shoulder, partly baring the midriff.
Who Is It For?
For those who're looking to learning new ways to sport those fabulous six yards. Plus, those who want to know how to drape and style a Stole /Sari . Taking you through popular regional drapes, I will begin with a quick history session on the evolution of the humble sari, before diving straight into a few unique and functional ways to wear it.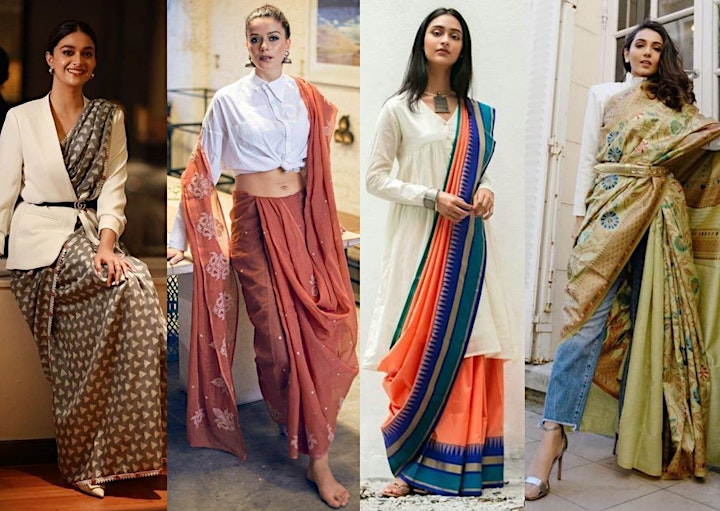 Why Should I Go For It?
Knowing how to drape a sari is nothing short of a life skill and this is a great way to learn it. Plus, you can skip the plain jane pleats and folds and don a whole new drape at the next big event you'll be at. And the workshop will let you bring your own personal style to the drape. With over a hundred ways to drape a sari, I am excited about what we'll be getting to learn at the workshop, which will be incorporating contemporary elements to the traditional drape .
About me
I am a Designer and a Stylist from Mumbai, currently based in Berlin. Having worked over 10 years in Mumbai as a Costume Designer and a Stylist for all kinds of Medias , I have acquired the know how's into the technicalities of Fashion and styling. With my immense experience and knowledge in this field , i am now finding my grounding as a Stylist in Berlin and i would love to share my knowledge with you.
www.divyapuri.co
Looking forward to meeting and sharing a fun evening with you all!
Workshop in English.
Fee: 40e / person (inclusive of all materials)
Date: December 2nd
Starting time: 16:00
Duration: 2h
Event Location: Workshop (Boxhagener Str. 110, Next to ProtoKoll ,Berlin 10245)
Datum und Uhrzeit
Veranstaltungsort
Berlin
Boxhagener Straße 110
Next to Protokoll
10245 Berlin
Germany