Eventinformationen
Veranstaltungsort
TaKe's Gaming Bar
Alte Linner Straße 93 - 97
47799 Krefeld
Germany
Zu diesem Event
The SAHSC IV - TAKE OFF is coming up.
SAHSC IV - TAKE OFF combines the thrill of a competitive surrounding with a fun atmosphere. With great players participating online we will have some sick StarCraft II action. With a 1st class ticket you can watch TaKe, NarutO and Rotterdam cast exciting matches live in our location before the bar opens.
Be with us from the 21st to the 24th of October 2021 to witness an amazing gaming event.
To viewers at home as well as visitors: Make yourself ready! Don't miss this unique StarCraft II tournament. 
Keep an eye on our social media channels to make sure you don't miss out on any of the upcoming player and tournament announcements.
https://twitter.com/TaKeTV
https://www.facebook.com/TaKeTV/
https://www.instagram.com/take_tv/?hl=de
Get your ticket right now and look forward to another StarCraft community get-together!
Admission: 16+
Currently applies in Krefeld: A proof of recovery / vaccination or negative current day test must be provided for admission. Please be aware that currently applicable legal regulations could change without our influence as an organizer. Please inform yourself again before the event starts.
In the bar, masks are mandatory. As soon as you get up from the table, you must put them on. In addition, a minimum distance of 1.5 meters applies outside of your own table group.
Disinfection stations are provided for you!
Tickets include:
Entry before the opening hours of TaKe's Bar
A seat in the front of the caster desks
A drinks flatrate from 1 PM to 7 PM (water, softdrinks and beer)
The Sunday ticket includes a drinks flatrate (water, softdrinks and beer) for the entire duration of the event
We also offer the 1st class complete ticket, which includes all the benefits of all days and gives you a price advantage.
Each ticket is only valid for the corresponding day.
Tickets are not transferable or resellable.
Any questions? Message us at: info@TaKeTV.net
Privacy
Data scope
During the ticketing process, the following data is collected from guests:
- Email adress
- First & last name
- Adress
Data processing
By applying for a ticket, the guest confirms that his/her data (email address & name) may be processed within the scope of the event organization.
Data security
The above data will not be disclosed to third parties and will only be used for the smooth organization of the event. Access by unauthorized personell will not be permitted.
Duty to provide infromation & the right to be forgotten
Each guest has access to the data collected from him/her. Furthermore, the deletion of the same data can be requested by each guest.
IF YOU DO NOT AGREE TO THESE TERMS AND CONDITIONS, PLEASE DO NOT PARTICIPATE.
The event is a show that is broadcast live. Your participation in the event implies that you will be visible on the video and image recordings. If you do not agree to this, you should not participate in the event.
For further information please contact hilfe@taketv.net
Datum und Uhrzeit
Veranstaltungsort
TaKe's Gaming Bar
Alte Linner Straße 93 - 97
47799 Krefeld
Germany
Veranstalter von SAHSC IV - TAKE OFF
Esport is coming home! 


TaKeTV events combine the thrill of competitive gaming with the relaxed atmosphere of a community get-together! Meet your favorite gaming personalities up close and enjoy the wide variety of our studio location TaKe's Gaming Bar!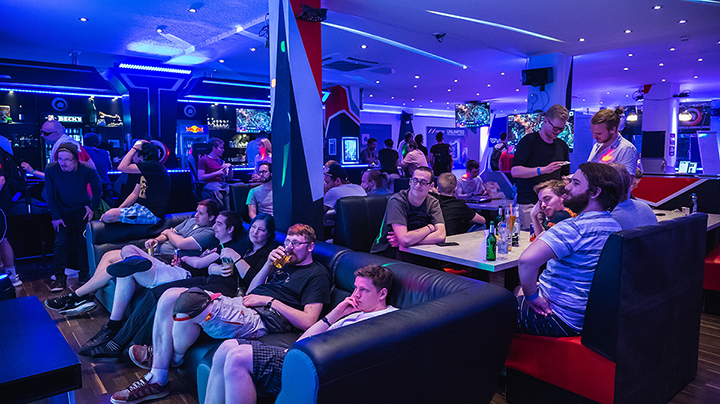 Our 2000m² location combines everything a true gamer dreamed of:
Multiple gaming stations (including PS4, XBOXONE, Nintendo Switch, N64 and other retro specials)
In-house Arcade with a Dance Dance Revolution Machine, pinball and other classics!
In-house cinema that lets you catch all the action live!
Glazed 6v6 PC area which ignites your motivation for a competitive atmosphere!
Exclusive VIP area
Multiple unique in-house studio locations
Individual Bar location with a variety of drinks and snacks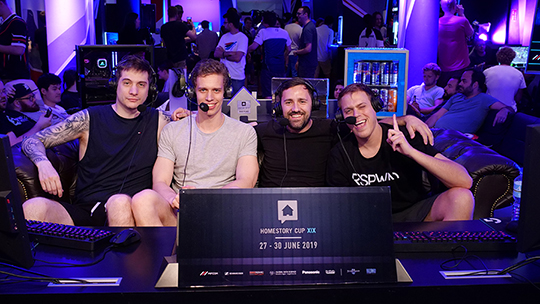 We gladly welcome visitors and gaming enthusiasts during our events and the opening hours which you can find on our social media profiles!