Der Ticketverkauf ist beendet
Registrierungen sind abgeschlossen
Thanks for registering! See you on the 6th July! Check www.safeFBDC.com for more!
Der Ticketverkauf ist beendet
Registrierungen sind abgeschlossen
Thanks for registering! See you on the 6th July! Check www.safeFBDC.com for more!
Live from TechQuartier: the Future of Data! Experts from Frankfurt School of Finance, Atos & Helaba introduce ESG - and why it matters!
Zu diesem Event
The Future of Data - safeFBDC Live!
During this premiere episode of our new live talk show, we will investigate the hot topic of ESG from various perspectives and explain why data and machine learning are great assets. Our experts from the scientific and corporate sectors will discuss the impact of data solutions on ESG and will help you make the most out of it.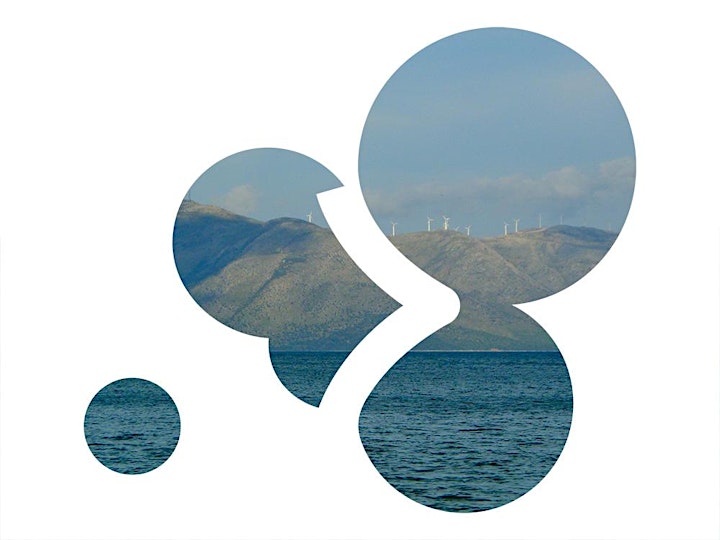 ESG-Reporting, as of today, is mandatory for many companies and voluntarily done by others. Transparency beyond fiscal results for a sustainable future is not only used to create trust and to position companies from a marketing perspective, but also to help investors decide if a company is set-up for a future that holds unprecedented risks from natural phenomena and changes in the setup of our society.
As we are working on sustainable finance within the safe Financial Big Data Cluster, part of the Gaia-X initiative, we think that you should understand more about this topic and would like to help you profit from our knowledge and research.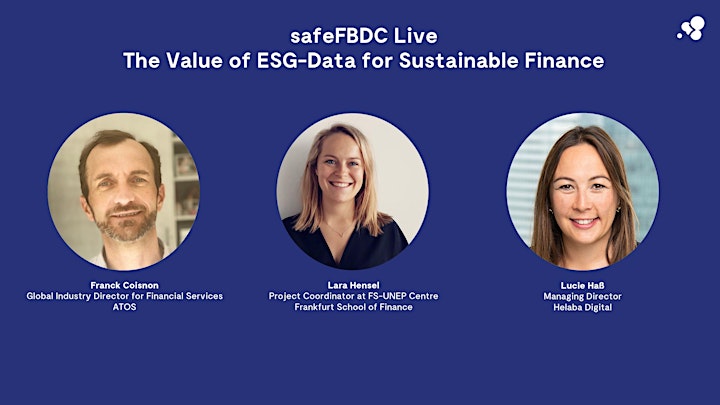 Guests:
Lara Hensel | Project Coordinator at FS-UNEP Centre & Project Manager of safeFBDC - Sustainable Finance. She manages diverse sustainable finance and corporate sustainability projects since 2017. For her, a sufficient availability, quality and comparability of ESG data is a key driver for the transition towards a sustainable economy.
Franck Coisnon | Franck Coisnon, Global Industry Director for Financial Services, is responsible for Atos Sustainable Investment offering and decarbonized investments solutions.
Lucie Haß | Managing Director Helaba Digital a subsidiary of Landesbank Hessen-Thüringen (Helaba). Her focus lies on cooperating with and investing in innovative start-ups with regard to the main strategic pillars of Helaba: Digitization and Sustainability. As project lead for FBDC Sustainable Finance she brings in her know-how on both topics from a Bank's perspective as well as her market insides on developing technologies and businesses around ESG.
Hosted by Paula Landes, Marketing Manager safeFBDC.
The Event will be streamed live, you will get the link in time. For questions around the safeFBDC, please visit www.safeFBDC.com !
Datum und Uhrzeit
Veranstaltungsort
Veranstalter von safeFBDC Live: The Value of ESG-Data for Sustainable Finance
With the power of more than 400 startup members fueling cross-industry collaborations, TechQuartier creates possibilities for disruptive technologies, new ideas and modern business models to thrive. Our mission as an innovation broker is to connect and enable our numerous members and stakeholders from industry, academia and government to learn from each other, co-create and succeed in tomorrow's digital economy. From our home hub in Frankfurt, Germany, we provide co-working and event space for our curated community of founders and corporate innovators.