Dieses Event ist beendet.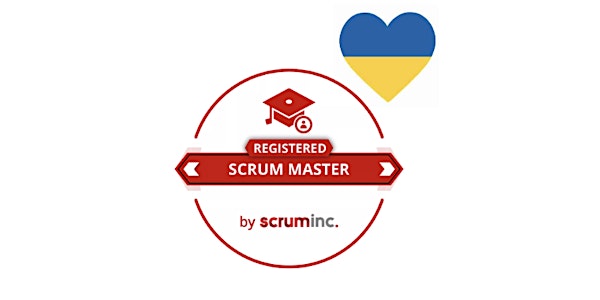 RSM Registered Scrum Master endorsed by Jeff Sutherland (respect Ukraine)
Implement Scrum in a way that drives immediate business results and will ensure that Scrum has a lasting transformative impact on the world
Rückerstattungsrichtlinie
Kontaktieren Sie den Veranstalter, um eine Rückerstattung anzufordern.
Zu diesem Event
We are devastated and feel powerless when we look at the terrible scenes from the war in Ukraine. We feel a strong desire to make a positive contribution to the situation for the people in Ukraine.
We are not experts in war or emergency aid . We teach and consult organisations to harvest the benefits of Scrum.
Therefore we have decided to setup a Registered Scrum Master class on April 9-10. We will cover all expenses for this class, and all proceeds for the class will go uncut to Red Cross who makes a difference in Ukraine.
Funds raised will be given via https://www.icrc.org/en/donate/ukraine and you will get information about the donation asap.
If we can gather 20 people for this online class, we can together send more than $20.000 to Ukraine.
Join the the class, and let us together help the people in Ukraine.
-----
Recognize your knowledge of proven principles and practices for delivering twice the value at half the cost.
The only Scrum Master credential signed and endorsed by Dr. Jeff Sutherland, co-creator of Scrum and inventor of Scrum@Scale.
Become a Registered Scrum Master™ (RSM)
Benefits of the Registered Scrum Master Credential:
Highly regarded, industry-recognized credential
Sets you apart as a leader with proven expertise
Most popular Agile framework in use
Stay relevant in today's job market
Spearhead increased productivity and deliverables
Improve team management and collaboration
Cultivate a healthier work environment
Registered Scrum Master learning workshop in virtual classroom.
Course will be held in ENGLISH language.
9+10 April 2022, 14:00-21:00 CET, 08:00am-3pm EST
The sessions are highly interactive using zoom breakouts with new features, miro canvas with exciting distributed games and visual bikablo facilitation techniques you will learn on the fly. As part of the training you will enter an engaged community of learners that stay in touch and help each other. The class is hold by a group of experienced Registered Scrum Trainers endorsed by Dr. Jeff Sutherland.
Live instructions from Registered Scrum Trainers: Avi Schneier, Barbara Anderson, Carsten Jakobsen, Dahm Hongchai, Jason Cameron, Nick Kramer, Paula Kvedaras, Serge Beaumont, Thoralf J Klatt
The Registered Scrum Master Course
The Registered Scrum Master curriculum was developed by the co-creator of Scrum, Dr. Jeff Sutherland. This course goes beyond the basics of Scrum and the Scrum Master role.
In a Registered Scrum Master course you'll learn:
The Scrum Framework with an emphasis on the role of the Scrum Master.
How the Scrum Framework helps deliver products and services faster and with higher quality while cutting cost and improving employee happiness and job satisfaction.
How to leverage lean principles to identify waste in a system, process, or organization.
Techniques and metrics Scrum Masters use to improve team happiness and performance.
The patterns and practices of high-performing Scrum teams.
How the Scrum Master role scales in an organization using Scrum@Scale.
Details: https://agileeducation.org/scrum-master/
Why Should Employees Become Registered with Agile Education?
Scrum Training Helps Businesses:
Innovate faster
Move from ideation to delivery more quickly
Increase customer and client satisfaction
Reduce friction in team collaboration
Improve employee morale and productivity
Increase transparency, fast feedback and continual improvement
Who should take a Registered Scrum Master course?
✔ Professionals in any industry wanting to become Scrum Masters or servant-leaders to their team.
✔ Job seekers wishing to work for an agile organization.
✔ Professionals interested in being "agile."
✔ Traditional Project Managers looking to transform their careers.
✔ SAFe Practitioners wanting to learn Scrum and explore Scrum@Scale.
✔ Product Managers, PMPs, PMI-ACP Team Leaders or professionals wishing to begin their journey toward becoming a Scrum Master within their organization.
✔ Managers and leaders wanting to understand the patterns of high-performing teams and how true Scrum delivers twice the value at half the cost.
About the Registered Scrum Master Exam & Credential:
Students who complete a Registered Scrum Master training, comprised of at least 14 hours of live instruction time covering all Learning Objectives with a Registered Scrum Trainer™ (RST), are eligible to take the RSM exam. Students who pass the exam will earn their Registered Scrum Master credential.
The Registered Scrum Master credential formally recognizes your knowledge of lean principles, Scrum Master techniques, patterns of high-performing teams, and how the Scrum Master role scales in an organization.
The Registered Scrum Master credential is the only Scrum Master credential in the market endorsed by Jeff Sutherland, co-creator of Scrum and inventor of Scrum@Scale®. The RSM credential will help you stand out to employers, stakeholders, and peers.
This training is for all levels of Scrum experience.
Evidence-Based. Proven Techniques.
Every Registered Scrum Master class is grounded in research and case studies across various disciplines and industries. Students will walk away having proven techniques for accelerating your personal performance and team performance.
Selected testimonials from previous online classes:
Renee was an inspiration. She brought a fantastic energy to a virtual training session which kept everyone engaged and motivated. Having the course structured in MURAL worked brilliantly, with lots of practical breakout sessions, allowing us to have a play with the theory we'd just covered. Thanks Renee!
Barbara has received an average rating of 4.8 out of 5 with feedback from more than 425 students. Students say, "She is a great trainer who makes Agile exciting & infectious! She is a pleasure to be around & extremely knowledgeable." "Clearly has a lot of experience & able to provide examples/best practices based on personal experience." "Excellent instruction. Very interactive & answered questions well"
Dahm's energy is great, very entertaining to listen to! I know scrum is a framework and not always talk about practical implementation of this framework. However I do believe that would help a lot especially with a group that been working with Scrum for some time.
He makes all the contents easy and quick to understand. Feel free to confront him. Shared good sample.
The format he taught was very action and game based which made class highly engaging and easier to remember the content
Carsten Ruseng Jakobsen is a Registered Scrum@Scale® Trainer, Registered Scrum Trainer and founder of Grow Beyond a consulting company dedicated to help organizations succeed with agile. Participants from his classes consistently praise how Carsten is teaching from hand drawn drawings instead of power point. Since 2006 Carsten has led agile transformations in various organizations including LEGO and Vestas. He has written several articles with Jeff Sutherland and is a speaker at international agile conferences. Carsten lectures at Aalborg University in agile methods and holds an EBA (Engineering Business Administration).
Paula is Scrum.Inc fellow, Scrum & Scrum@Scale Trainer by Scrum Inc., and the co-founder of ConsultoraBK®, an Agile consulting firm in South America dedicated to training Scrum teams and implementing the Agile methodologies and tools necessary for organizational success. In addition to having over 15 years of experience in the management and coaching of international projects, Paula has a distinct, and admirable, passion for education.
Serge's variation in theory and practical experience makes this a very interesting and active training. He is to the point, with clear examples and situations for real life. Het also shared many examples with a variety of his customers. Loved the discussions and exercises. These clarified how Scrum@Scale can and is applied in daily practice. Loved the coffee break every hour. Online training is exhausting and this helped me a lot. And Mural is the best!
I was in CSM, A-CSM course before, but the RSM course hosted by Lisa still exceeded my expectation. Lisa is kind and warm, the whole couse is as smooth as silk, with the intensive excercises and good examples, I feel time flies so fast, even better than a in-person course. Thanks Lisa!
It was fantastic having you as my trainer for the ScrumInc Registered Scrum@Scale Practitioner training this week. Your depth of experience across a range of business domains and situation was evident, and helped to enrich the training experience greatly, with examples that really help the theory to take root. Well done - looking forward to more! Thanks Jason.
Nick Kramer was an excellent trainer for the Scrum@Scale Practitioner course. He kept the team engaged, tailored the content to our group where possible, shared interesting videos and resources, and had fun while doing it! I appreciate how many external resources he shared, including references to case studies, books, videos, presentations, etc. The course was paced very well, there were plenty of breaks and different activities to keep us engaged. I had a couple of "aha" moments during this course, which Nick encouraged us to write down and take away. The breakout exercises we completed became pertinent to our current roles. We discussed a lot of potential experiments, and made sure to use our real-world experience so that the concepts were not just conceptual but also grounded in reality. I would highly recommend Nick's course to anyone who is looking to become a Certified Scrum @ Scale Practitioner.
Mike's knowledge of applying Scrum in various situations and how to integrate that with the latest tooling, makes his presence in class invaluable from a real-world application perspective.
I have had many conversations around which is better CSM vs PSM vs RSM and all I can say is 'it depends'. The most important factor is the person delivering the training and Thoralf J. Klatt is one of the best. He made us forget that it was a virtual training. Amount of learning and the extent of engagement was too high for a virtual classroom. I wonder if he is even more amazing to learn from in person! It was educational for me as a learner and also as an educator. Thanks Thoralf J. Klatt and my great fellow learners. I had a great time with you. - Shubhodeep Sengupta (Deep), Toulouse, France
Great facilitation and well organized training. I loved the exercises. Very engaged sessions. Feedback are welcomed. Overall, very good experience. - Mamun Morshed, Toronto, Canada