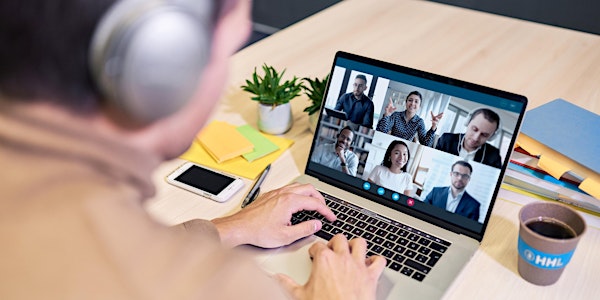 Roundtable: Entrepreneurship & Mental Toughness
The event will feature a roundtable with four female experts on the topic of entrepreneurship and mental strength.
About this event
As part of the Women Entrepreneurship Week 2022, the HHL Female Founders Initiative as well as Women@HHL are excited to announce our next roundtable with four real powerwomen who will share their expert opinions and recommendations on how to reduce New Work stress factors, staying resilient and managing uncertainty in times of digital overload and many more topics!
Our four experts will be Katja Rösener, who is a successful business coach for young professionals, Cornelia Ketscher, who with her company I-Empower Coaching helps women to embrace their busy lives, and feel joy as well as Heide Hüttner and Franziska Seidel from extrazwei - a startup addressing the various facets of "stress and digital media".
Join our virtual event starting with a moderated roundtable followed by an interactive Q&A session in which all our mental toughness experts will be happy to answer the audience's questions!
The HHL Female Founders Initiative is part of SMILE - die gründungsinitiative, a cooperative project of the University of Leipzig, the HHL Leipzig Graduate School of Management, and the Leipzig University of Applied Sciences, with the goal of supporting students, graduates, and academic staff on their way to starting their own businesses. SMILE is funded by the European Social Fund, the Free State of Saxony and the participating institutions. Find out more on our website and follow us on LinkedIn.
Women@HHL is an initiative to provide a place for empowerment, exchange and personal development for all female students, employees and alumnae of HHL as well as other interested parties. Our range of regular events throughout the year are related to topics such as leadership, career opportunities and skill development to enable women to excel in business. We open up the dialogue with executives to gain valuable professional and personal insights as well as food for thought. At the same time, we facilitate our members to get in contact with successful and inspiring people to enrich the individual network. Find out more on our website and follow us on LinkedIn and Facebook.
The Women Entrepreneurship Week is Montclair State University's annual participatory week-long initiative that brings together hundreds of colleges and universities from around the world to celebrate women founders in our communities!
The talk will be held in English and is free of charge.
Please notice that we will record this event (film) without showing participants or chats and use this material internally and/or externally in accordance with § 23 KunstUrHG and article 6 par. 1f) DSGVO.