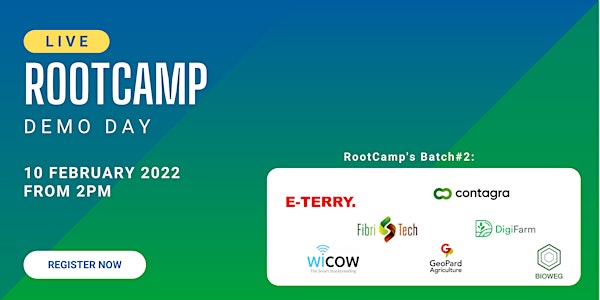 RootCamp Batch#2 DEMO DAY
RootCamp is delighted to invite you to our 2nd Demo Day together with our partners K+S, SpinLab, KWS, hannoverimpuls, Agritechnica and KPMG.
About this event
RootCamp DEMO DAY is the final event of Batch #2 of Rootcamp's Acceleration Program: a three-month acceleration program that provides customized support to agritech startups from different countries. The 7 startups of Batch#2 will present their disruptive ideas after 12 weeks of intensive program, with more than 30 hours of workshop and 100 hours of coaching!
The range of teams this year shows the versatility of the agritech sector: ag-fintech, digitization, bioeconomy, green packaging, soil improvement, and robotics. Also, look forward to being inspired by VC's, partners and startups in 2 additional panels!
Are you a startup enthusiast, scientist, supporter, corporate partner, student, innovator or entrepreneur? Then we invite you to meet our emerging startups and connect with the inspiring founders and us!
The event will take place virtually on THURSDAY, FEBRUARY 10 from 2:00pm to 6:00pm.
Registration via Eventbrite is required. You will receive the dial-in link for the online event via email a few days before.
MEET OUR STARTUPS:
BIOWEG (GER/IND): Microbial Cellulose
Contagra (GER/SA): Credit marketplace
DigiFarm (NOR): Field borders
E-Terry (GER): Robotics
FibriTech (PL): Binder-free fiber product
GeoPard Agriculture (GER/UKR): Agricultural consulting services
wiCow (GER/TUR): Sensor for livestock