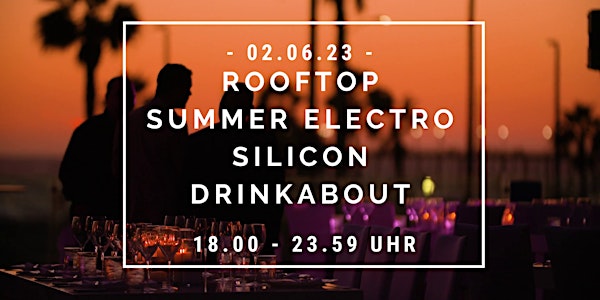 Rooftop Summer Electro / Silicon Drinkabout / reINVENT
Einladung Rooftop Sommerparty auf unserer Dachterrasse nähe Werksviertel.
Datum und Uhrzeit
Fr., 2. Juni 2023 18:00 - 23:59 CEST
Veranstaltungsort
St.-Cajetan-Straße 41 St.-Cajetan-Straße 41 reINVENT ROOFTOP 81669 München Germany
Zu diesem Event
Hi Folks,
www.re-invent.de
Join us for the Silicon Drinkabout event on the 2nd of June, hosted by Munich Startup reINVENT (www.re-invent.de) on our excellent rooftop terrace located in the urban "Werksviertel".
At reINVENT, we believe in making construction projects effortlessly and enjoyable for both buyers and developers. Our innovative solutions empower you to efficiently manage your projects, ensuring seamless communication and collaboration throughout the entire process. With cutting-edge technology including 360° real-life configurators, personalized buyer portals, digital signatures, and interactive buyer management, we enable a truly immersive and personalized experience for your buyers, allowing them to visualize and customize their dream spaces. reINVENT is the ultimate package for successful buyer and project management.
Silicon Drinkabout is a global non-profit event series that brings together like-minded individuals from the startup ecosystem, including startup and tech enthusiasts, entrepreneurs, investors, and other related groups. This casual networking event aims to foster connections, exchange ideas, and build valuable relationships.
At the event, you can enjoy a cold drink while mingling with fellow attendees. We follow a no-talks, no-BS approach, focusing solely on creating a relaxed atmosphere where meaningful conversations can take place. Each event is hosted by a different startup or company, giving you the opportunity to gain behind-the-scenes insights, interact with founders, and connect with other team members.
Don't miss out on this exciting opportunity to expand your network and have a lot of fun along the way! Join us on the 2nd of June at reINVENT's office to enjoy a cold drink and exchange with like-minded people from the startup ecosystem.
Access only with previous registration!
In case of bad weather the event will be postponed.
Häufige Fragen
Is the location barrier-free?