Dieses Event ist beendet.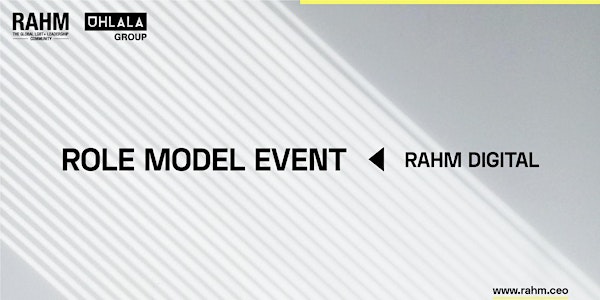 Role model: Stepping Stones to my Board Success - A Practical Route-Map
The series of RAHM Community's role-model events invites experts of different background to share their stories, experiences to inspire us!
Rückerstattungsrichtlinie
Kontaktieren Sie den Veranstalter, um eine Rückerstattung anzufordern.
Zu diesem Event
Change is Opportunity: Stepping Stones to my Board Success - A Practical Route-Map by Annemieke Hartman-Jemmett
A personal overview of the journey that took Annemieke from a small village in the Netherlands to a global commercial career which covers continents from Europe through Russia, India, Australia and the USA.
This is an inspiring story that touches on creating a personal brand, based on values that even today keep developing. Showing vulnerability is power as a senior executive makes you human and allows teams to support you in delivering your and the business's goals. The final stepping stone is how to align all these elements with the aim to create alignment in personal and business lives; as change is inevitable and, therefore, an opportunity when we are ready to be authentic and embrace it.
About Annemieke Hartman-Jemmett
Annemieke is an international commercial specialist in developing strategies for teams, captured in company wide and individual action plans, to generate growth in diverse businesses. Currently, Annemieke is full time employed as the Chief Commercial Officer of OneCircle, a visionary packaging manufacturer of KeyKeg I UniKeg with at the heart of the business a circular materials strategy supported by a sustainable business proposition. Throughout Annemieke's career she has enjoyed the development of people in the teams that she leads, great personal interest delivers opportunity commerce. 
Originally not a fan of change, Annemieke has learned to embrace change and make it work to her advantage.  As a good storyteller she is able to take the listener [prospect, customer, business colleague, friend, partner, wife] on a journey that is inspiring, interesting and full of tangible information, tips and tricks that can be tried and tested.
Annemieke enjoys: photography, walks, the sea, friends, the view from her office and life itself; it's full of surprises, live it!
What are our Role-Model Events?
The series of RAHM Community's role-model events invites experts of different countries, industries and organisations to share their stories and experiences, successes and failures, learnings and inspirations!
Taking place once a month, these short-format events are made with a sole purpose to inspire, motivate and encourage anyone who decides to join. Addressing essential topics of authentic leadership, defining diversity, growth though adversity, discussing journey of realising one's ideas, and many more!
About RAHM | The Global LGBT+ Leadership Community
The RAHM Community is an exclusive global LGBT+ Leadership Community created by the UHLALA Group. Since 2017, our Community has been revolving around connecting, inspiring and supporting the future and present generation of LGBT+ leaders striving for personal growth and professional achievements. From talented students to freelancers, founders and top executives – RAHM connects all.
We partner with proud companies around the world to host LGBT+ leadership contest and Impact Day. Our worldwide RAHM Ambassador programme allows community members to meet locally throughout the year.
Learn more about us: www.rahm.ceo
➡️ Follow us on Instagram & Facebook or event updates.