About this Event
There's a heart, a heart that lives in New York.
New York City has seen a lot of crises over the last 20 years, among them the terror attacks of 9/11, the financial crisis of 2008, and superstorm Sandy in 2012. This year, the city became the epicenter of the worldwide Covid-19 pandemic and one of the most important hot spots of mass protests against racism and police brutality.
But the city and its people have not only withstood those crises, they've managed to redefine themselves through them, come back stronger, and maintain the image of the metropolis as capital of the world. How has New York managed to become and stay this resilient? How has the city reimagined itself through a pandemic, cocooning into a capital of diversity in the fight against racism and police brutality? And who are the New Yorkers who turned negatives into positives by saying "why not me?" when it came to reinventing the city?
In a first-ever collaboration between The Great Wave and Remote Daily, we invite you to explore the new New York and its resilience in talks, sounds, and reflections that offer opportunities to reflect and build upon your own resilience, resourcefulness, and role in society.
On October 18th, you will become part of a new immersive experience, part walking tour, part live podcast, part music festival, taking you from Midtown Manhattan to Central Park—all live!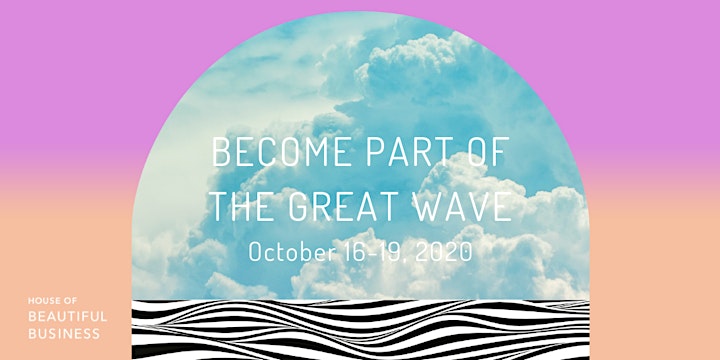 The New York hub is part of The Great Wave, the first-of-its-kind virtual and in-person festival that will connect thousands of people around the world from October 16-19, 2020 to explore how we can reinvent business, our organizations, and ourselves.
To reserve your spot, please get your The Great Wave pass. Once you hold a pass, you receive a password to sign up on this Eventbrite page for the hub. Due to limitations on crowd size, registration and admittance for hub events are first-come, first-served.
Virtual and in-person, global and local, indoors and outdoors, in cities and nature, alone and together, The Great Wave is an extraordinary festival for extraordinary times. View the global program here.
The Great Wave is a creation of the House of Beautiful Business, a global think tank and community to make humans more human and business more beautiful.
Any questions? Please email us at collaborate@thebusinessromanticsociety.com