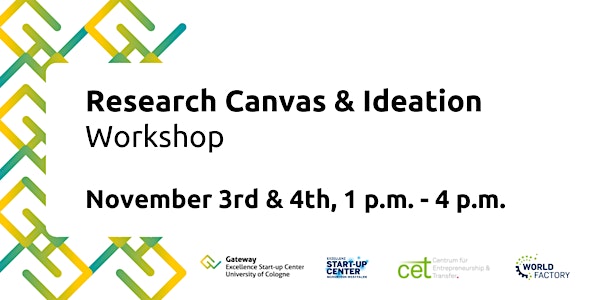 Research Canvas & Ideation
Research to Use Case: Research Canvas to Ideation journey of your research
About this event
RESEARCH CANVAS
What is the application potential of your scientific work? In this workshop you will think about possible user groups and stakeholders of your research topic. Why might they benefit from your research? You have time to brainstorm potential use cases and take shared ideas to the next level with the other participants.
Theory: Introduction to user groups and potential use cases
Exercise: Applying the Research Canvas to your own research
Play: Get creative brainstorming potential use cases for your research topic
Workshop Goals:
Reflection on the potential of your own research topic/idea
Getting to know different interest groups
Evaluation of the potential by identifying users
Develop or expand potential use cases based on your research and network
IDEATION
Ideation is the creative process of generating, developing, and communicating new ideas. But how do you get ideas? By chance? Only in the shower? Is it only by chance?
Ideation comprises all stages of a thought cycle, from innovation, to development, to actualization. We learn to develop broad set of ideas in a structured way. There are many different approaches to this. In this workshop you will learn the basics of Ideation Method based on the principle of Design thinking. You can either develop an idea based on your PhD or work on a mock idea with us.
Theory: Ideation based on Design Thinking
Exercise: Find a real user's problem and developing innovative Solutions
Play: Get creative and find as many Solutions, filter your ideas and think big!
Workshop goals
Getting to know the different elements of an ideation process
Applying the concept of the problem-solution fit
Learning how to structure ideas
Finding best ideas in a guided process
WHO CAN PARTICIPATE?
MSc and PhD students, PosDocs and group leaders
WHEN & WHERE?
November 3rd & 4th
from 1 p.m. - 4 p.m.
digital via Zoom
TICKETS
FREE (spots are limited!)
This workshop is the first collaboration between three Excellence Start-up Centres of the Univeristy of Cologne, TU Dortmund and Ruhr-Universität Bochum.
Data protection notice: Film and photo recordings will be made at the event. This material will be used as part of the announcement of further events and documentation on www.gateway.uni-koeln.de and on various online channels. Those who participate in the event give their consent to the use of these recordings. If a participant does not want to be recorded, then we ask that this be communicated to the organizers at gateway-events@uni-koeln.de. Then we can exclude these recordings from the outset. Thank you very much!