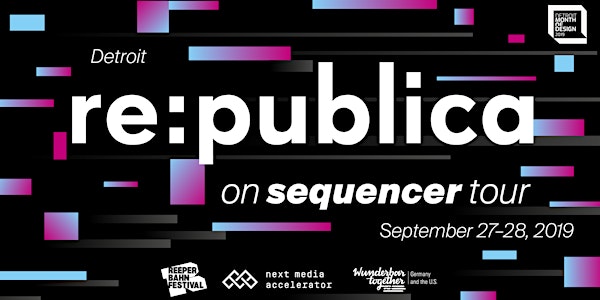 re:publica Detroit - Sequencer Tour - #rpDetroit
When and where
Location
The Tangent Gallery 715 East Milwaukee Avenue Detroit, MI 48202
Description
WELCOME TO RE:PUBLICA DETROIT!
re:publica, Europe's largest festival on the digital society, is taking place in Detroit for the very first time. Founded in 2007 in Berlin, Germany, re:publica is a community-driven event that aims to provide a platform for digital expression, discussing current issues of digital society and envisioning the future.
Detroit and Berlin's creative counter-cultures and shared history of techno music have created a special bond between the cities. re:publica Detroit aims to further strengthen this connection by creating an opportunity for transatlantic exchange around our digital future. Together, we want to explore the topic of access across three tracks: "arts & culture", "work & new economy" and "mobility & urban space". Who receives access to creative expression, economic opportunity and urban mobility in an age of digitalization?
Our program offers a great diversity of speakers, subjects, perspectives and formats thanks to the many inspiring submissions we received through the call for participation and the support of our amazing co-curators. We are looking forward to two exciting days full of creative ideas, open minds and intense discussions on issues of the digital society. Enjoy the conference, and make sure to join our evening program and the closing party on Saturday night!
TOPICS: ACCESS TO MOBILTY & URBAN SPACE, ARTS & CULTURE, WORK & NEW ECONOMY
re:publica Detroit will be all about "ACCESS", focusing on Access to "Mobility and Urban Space", Access to "Arts and Culture" and Access to "Work and the New Economy". Let's discuss challenges and opportunities in Detroit, critically reflect the digital transformation and learn from local Detroiters as well as communities from around the globe.
SPEAKERS: CÈZANNE CHARLES, BRYCE DETROIT, HOSSEIN DERAKHSHAN
Keynote speakers include: Cézanne Charles (partner of rootoftwo), Bryce Detroit (record executive and producer), Lauren Hood (social change agent), Markus Beckedahl (re:publica co-founder and digital rights activist) and Saskia Sassen (Professor of Sociology at Columbia University).

Furthermore, re:publica Detroit will feature 30 plus speakers: Adrian Tonon, Alex Haagaard, Alisa Moldavanova, Andreas Görgen, Aya Krisht, Brandon Colvin, Chanell Scott Contreras, Chase Cantrell, Claudia Owusu, Devita Davison, Diana Nucera, Jade MetzgerJoanna Dueweke-Perez, John Collins, Kuukua Eshun, Leila Abdelrazaq, Liz Jackson, Mark de la Vergne, Rochelle Riley, Stine Eckert, Tiffany Brown, Walter Wasacz.

SESSIONS AT #RPDETROIT
Access Ain't the Issue: The Failure of Placemaking in Detroit

, an opening keynote address by

Lauren Hood




Surveillance Doesn't Make Us Safer

, a panel discussion with

Janice Gates

,

Eric Williams

,

Marie Bröckling

,

Tawana Petty

, and Katie Hearn

Accessing All Abilities - New Mobility Options for Equity & Access

, a panel discussion with

Diana Nucera

,

Mark de La Vergne

,

Jessica Robinson

and more


Salt City - A Techno Choreopoem

, a dance theater work written by poet

jessica Care moore

, directed and choreographed by

Aku Kadogo



TO DANCE TO...
On Saturday, September 28, re:publica Detroit will celebrate its closing night with a party at Electric Studios (51 Harper Ave) curated by the Detroit-Berlin Connection. The lineup includes John Collins (Underground Resistance), Deepchord and Tom Linder (Detroit Techno Militia).

re:publica on Sequencer Tour
Founded in 2007 in Berlin, re:publica is Europe's largest internet and digital society conference. The last edition hosted 1135 speakers from 52 countries, and received more than 25 000 participants over the course of the three day event. Since October 2018, re:publica has joined the year-long Wunderbar Together campaign and is on Sequencer Tour through the USA. After stops in Los Angeles, Austin, and New York, re:publica is heading to Detroit and Portland this fall.
For more insights please check our website detroit.sequencer-tour.com and our social media channels.
The hashtag is #rpdetroit.