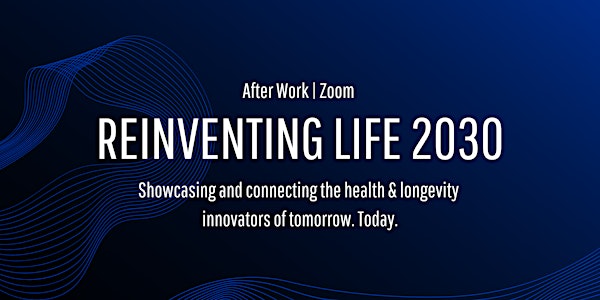 Reinventing Life 2030: The Health & Longevity Innovator's After Work Event
Sales Have Ended
Registrations are closed
Thank you for your registration. Your dial-in links will follow a few hours before the event - make sure to mark and block your calendar, spread the word, and reach out via Linkedin. We are looking forward to connecting virtually.
"Reinventing Life 2030" is an after work event series designed to showcase and connect the health & longevity innovators of tomorrow. Today.
About this event
Welcome to the year 2030. You wake up. Your AI-powered health assistant analyzes your vital signs out of gigabytes of your health data. Your 3D-printer prints a digital pill, that is activated according to your body's optimal temperature and stomach activity via Bluetooth. How close are we to this vision?
Health and longevity innovators around the world are reimagining how we diagnose and predict diseases and manage our health with personalized precision medicine. "Reinventing Life 2030" is an after-work event series designed to showcase and connect innovators that are unlocking breakthroughs in health & longevity with digital technology.
👥 Who should attend:
Digital technologies are becoming an integral part of the health value creation chain of almost every healthcare business. The event is designed to empower and connect healthcare professionals, future-oriented physicians, software engineers, digital product managers, and innovators from corporations, SMEs, startups, and spin-offs who envision the future of health and longevity with digital technologies.
"Reinventing Life: The Health & Longevity Innovator's After Work" is designed to connect health and longevity innovators across the world, showcase breakthroughs and inspire future innovations. Together we exchange ideas and insights and discuss the latest research findings, and interesting health and longevity-related topics: entertaining, time-effective, and inspiring as a digital after-work event.
Together with innovators, venture capitalists, and policy-makers, we explore the big-picture questions on the way to reinventing life 2030: How will digital technologies and data redefine human health span? How do we develop groundbreaking digital solutions in a complex and highly regulated environment? What are the special strategies that the world's top innovators use to develop, finance, and manage disruptive technologies and entire companies?
🗓 Event schedule:
After a welcoming keynote by the organizer, the event provides you with the opportunity to get insights, learn, and exchange ideas about the latest health and longevity topics in virtual rooms.
Afterwards, we will meet at the "Virtual Bar" in a relaxed atmosphere: Get a cool drink and exchange with other health professionals and innovators about ideas and projects.
Connecting, growing, and getting inspired is the focus of the evening: entertaining, time-effective, and inspiring as a digital after-work event.
📲 Registration: Get your free ticket now on Eventbrite or RSVP on Meetup, and block the time in your calendar.
🏆 Spread the word: Do you know someone who could benefit by participating? Invite him/her to join the event or share the event in your feed #SharingIsCaring
🔗 Connect with the organizer:
The event is presented to you by Philip Mertes: A passionate and award-winning health innovator, Co-Founder of EVOCAL Health, and guest lecturer for innovation & entrepreneurship in technology transfer units across the world.
Connect via Linkedin (using the #ReinventingLife2030), where he and his team share insights and opinions about "The Science of Innovation" and digital product management in highly regulated environments: https://www.linkedin.com/in/philipmertes/