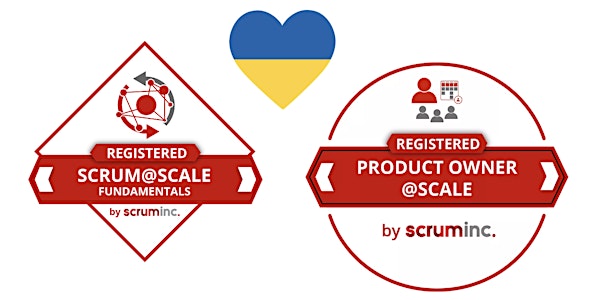 Registered Scrum@Scale Fundamentals + PO@Scale (Fundraiser, online)
Use the lightweight yet complete framework Scrum@Scale to orchestrate good business agility at scale
About this event
In April a group of 10 Scrum trainers from all timezones 🌎 up-skilled learners from Ukraine, Europe and the US to become RegisteredScrumMaster powered by Agile Education by Scrum Inc.™ and all proceeds went to International Committee of the Red Cross - ICRC to support disaster relief. Ukraine participants asked us if we could also offer Scrum@Scale classes as another fundraiser. And here we go.
We are devastated and feel powerless when we look at the terrible scenes from the war in Ukraine. We feel a strong desire to make a positive contribution to the situation for the people in Ukraine.
We are not experts in war or emergency aid . We teach and consult organisations to harvest the benefits of Scrum.
Therefore we have decided to setup Scrum@Scale classes on 20+21 Aug. We will cover most expenses for this class, and all proceeds for the class will go to a charity who makes a difference in Ukraine. Where the money goes will be joinly decided during class.
If we can gather 20 people for this online class, we can together send about $20.000 to Ukraine.
Join the the class, and let us together help the people in Ukraine.
---------
Course will be held in ENGLISH language.
20+21 Aug 2022, 9am-5pm OESZ / 8am-4pm CEST / 4pm-12am AEST
Combo class (Details via links):
RSASF - Registered Scrum @Scale Fundamentals (0.5d)
RPOAS - Registered Product Owner @Scale (1.5d)
NOTE:
Recommended previous experience: min. 1-2 years full-time, either of the following:
Scrum Master incl. those coaching Product Owners and curating Product Backlogs
Agile Coaches incl. those coaching Product Owners Scrum Masters in Value Streams
Product Owner
Project Manager (e.g. PMI) with market domain experience or servant leadership traits
Selected testimonials from previous online classes:
I was in CSM, A-CSM course before, but the RSM course hosted by Lisa still exceeded my expectation. Lisa is kind and warm, the whole course is as smooth as silk, with the intensive exercises and good examples, I feel time flies so fast, even better than a in-person course. Thanks Lisa!
[Jason,] it was fantastic having you as my trainer for the ScrumInc Registered Scrum@Scale Practitioner training this week. Your depth of experience across a range of business domains and situation was evident, and helped to enrich the training experience greatly, with examples that really help the theory to take root. Well done - looking forward to more!
Mike's knowledge of applying Scrum in various situations and how to integrate that with the latest tooling, makes his presence in class invaluable from a real-world application perspective.
I have had many conversations around which is better CSM vs PSM vs RSM and all I can say is 'it depends'. The most important factor is the person delivering the training and Thoralf J. Klatt is one of the best. He made us forget that it was a virtual training. Amount of learning and the extent of engagement was too high for a virtual classroom. I wonder if he is even more amazing to learn from in person! It was educational for me as a learner and also as an educator. Thanks Thoralf J. Klatt and my great fellow learners. I had a great time with you. - Shubhodeep Sengupta (Deep), Toulouse, France
In every crisis there is an opportunity. Thoralf Klatt was one of the Scrum trainers who took the initiative to convert his classes designed originally Face to Face into virtual to help serve the community and give an opportunity to learners to continue grow in the midst of travel and budget restrictions due to Covid19. True to the spirit of "inspect and adapt" he solicits feedback during the virtual co-creation events and incorporates the learning straight into the upcoming classes. I truly value his dedication and experience as Scrum trainer. Very valuable learning from comfort of your home and since there is no venue cost- friendly prices.
Highly recommend any of his classes: Registered Scrum Master, Product Owner, Scrum@Scale Practitioner or PO@Scale. - Anita Toth, FLORIDA, USA
Great facilitation and well organized training. I loved the exercises. Very engaged sessions. Feedback are welcomed. Overall, very good experience. - Mamun Morshed, Toronto, Canada
Hi the Greatest Ever Team of Scrum Masters! Thank you for the course you leaded for Scrum Masters in order to help Ukraine 🇺🇦 . This very well structured and perfectly organised course enriched my base for leading the further projects. The work with Thoralf Klatt was fulfilled with all the Scrum Values: Commitment, Focus, Openness, Respect, and Courage. Thank you again! With great respect and best regards - Natalia Zorba
Get the Basics with Scrum@Scale Fundamentals
Learn the fundamental principles of the Scrum@Scale framework in half a day with this live, interactive course. Start guiding your company through innovation & change with the only scaling framework designed by Dr. Jeff Sutherland, co-creator of Scrum.
Registered Scrum@Scale Fundamentals (#RSASF) half-day class covers the core of the lightweight-yet-complete framework:
– The need for a meta framework that embraces simplicity and how to build your own reference model to reduce friction
– What #goodScrum means at team level so you are scaling something that is – well – good to team of teams levels
– How leadership leads by example and delivers decisions, supports the teams, pulls levers to help build product for staff and partners
– How leadership and product owners orchestrate the product and service portfolio that is delivered by self-managed teams
– How performance is made transparent and measured to achieve the intent for happy employees and customers
Get the Fundamentals, Quickly
Becoming familiar with and adopting components of Scrum@Scale takes time. Take an iterative approach with our Registered Scrum@Scale Fundamentals™ Course. During this short, interactive course, you will:
✔ Get a comprehensive overview of the Scrum@Scale framework from a skilled, vetted Scaling expert
✔ Understand the main mega-issues that plague underperforming organizations everywhere
✔ Improve your understanding of Lean principles and develop your Agile mindset
✔ Start to lay the foundation for achieving dramatically better business results in your organization
✔ Get hands-on, real-time practice with exercises designed to reinforce critical concepts
✔ Download your Certificate of Completion and share your achievement with your network
Connect Vision to Value with Registered Product Owner@Scale™
Differentiate, forecast, and innovate at scale. Become a Registered Product Owner@Scale™ (RPO@S) to optimize your product vision, prioritization, and release planning skills for multiple products and teams.
An advanced training course for Product Owners, Product Managers, Portfolio Managers, and more…
The Product Owner@Scale role manages large, complex products or portfolios. How do you maintain consistency and alignment in strategic vision while working with multiple teams and Product Owners? How do VPs of Product, Portfolio Managers, and Product Managers maximize ROI while leveraging the power of focused Scrum teams?
In today's highly-complex product development environment, Product Owners at Scale and Chief Product Owners need training that will help their suite of products and services or multi-feature products dominate the market.
The Registered Product Owner@Scale course prepares you to:
✔ Align a product vision to your organization's goals
✔ Design an Agile Roadmap and Release Plan coordinating multiple teams
✔ Identify and empathize with customer needs
✔ Validate product assumptions and make data-driven decisions
✔ Unleash the power of the MetaScrum
Lead the Market with Training Designed by the Inventor of Scrum
Leverage the power of Scrum teams across organizations and fly above the competition.
The Registered Product Owner@Scale™ course was developed after years of testing, iterating, and implementing Product Ownership at Scale in various industries, domains, and organizations. Our curriculum is carefully crafted by Scrum Inc. transformation consultants and Dr. Jeff Sutherland. The live, in-person training uniquely combines in-depth case studies from real-life experience scaling Product Ownership in the field with hands-on, interactive exercises to help you take your products to the next level.
"The Registered Product Owner@Scale course is the best tool on the market to unlock product ownership at scale. After incubating this course internally at Scrum Inc. with transformation clients, we know that students walk away with knowledge on validating product assumptions, Objectives and Key Results (OKRs), and data-driven decisions. Participants of our Registered Product Owner@Scale course feel confident that they know how to efficiently own product development at scale." - Jessica Larsen, Product Owner, Agile Education Program powered by Scrum Inc.