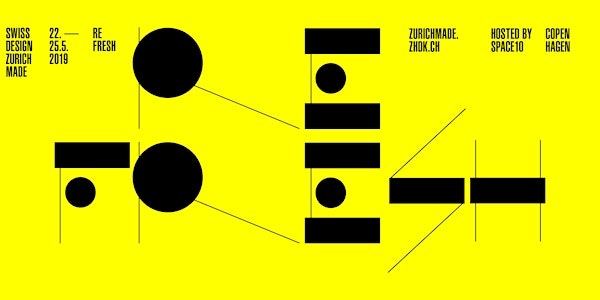 Multiple Dates
REFRESH. Day 2. Workshop. Talk & Keynote
Sales Have Ended
Registrations are closed
Thank you for signing up. We're are happy to have you confirmed.
Sales Have Ended
Registrations are closed
Thank you for signing up. We're are happy to have you confirmed.
Description
Workshop
10.00 to 14.00: Workshop by Studio ilio
Participants will produce small objects with Fabio Hendry's Hot-Wire-Extensions-technique during the workshop.
Talk & Keynote
17.00 to 18.00: Talks by Nadya Suvorova & Raphaël Lutz
/
Background:
How can other disciplines help, support and encourage us to anticipate future needs and responsibilities for design? How can designers claim and maintain their position in the future, and how will technology influence their creative processes?
REFRESH (May 22 – 25, 2019) explores the future of design through talks, workshops and an exhibition, where designers, artists, researchers and industry professionals at the intersection of Arts – Design – Technology from Zurich and Copenhagen will share their insights.
REFRESH is initiated and curated by the Design Department of Zurich University of the Arts and hosted by SPACE10 in Copenhagen.
Organizer of REFRESH. Day 2. Workshop. Talk & Keynote
Our design programme includes a wide range of future-oriented topics. In the individual specializations within the Bachelor of Arts in Design, students learn the subject-specific principles and essential skills needed to start a career in design. We offer Master of Arts in Design programmes which are research-oriented and focus on broadening and deepening individual areas of design expertise. International university cooperative programmes allow students to continue their studies to doctorate level.
The Institute for Design Research (IDE) is organised as an integrative institute, coordinating and supporting the subject areas in its research projects and connecting researchers and external research partners. Research at the Department of Design covers a range of perspectives – from basic and applied research to spin-off projects. In terms of content, the IDE's profile builds on the direction the Subject Areas are taking, which contributes significantly to the Department's position in the areas of Social Relevance, Technical Innovation and Emancipation of Economic Models.
As well as providing teaching at Bachelor and Master's level, the Department of Design also offers module-based further education formats. These range from composite courses to extra-occupational certificate courses (CAS, DAS, MAS). The Department plans to broaden its range of courses over the next few years.