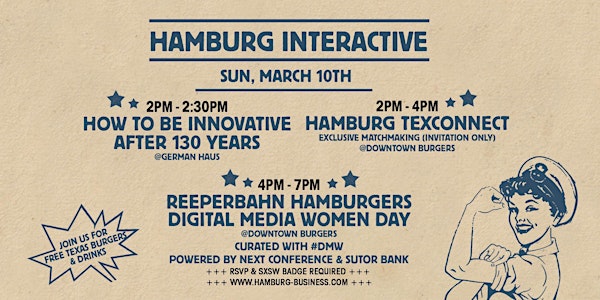 Reeperbahn Hamburgers @ SXSW - Digital Media Women Day
When and where
Location
Downtown Burgers 503 East Cesar Chavez Street Austin, TX 78701
Description
Reeperbahn Hamburgers @ SXSW - Digital Media Women Day
curated by Digital Media Women (#DMW), powered by NEXT Conference and Sutor Bank
On March 10th, digital media and tech professionals from around the world will gather in Austin at South by Southwest Festival (SXSW), the most important conference for the digital and creative industry. Digital Media Women (#DMW) - founded in Hamburg, Germany - is a network of professional women. The network works for greater visibility for women on all stages - whether conferences, trade media or corporate boards. Women want to and should participate on an equal footing and have a visible influence: open, respected and groundbreaking.
Digital Media Women returns to Austin!
We have curated an amazing group of female founders who are investing in, building and creating new solutions. Join us to hear their stories, learn from their experience and network with an incredible group of innovators - everyone is welcome!
Here's our schedule:
4:00 DMW Welcome
4:30 Investor Insight
Sara Brand is the Founding General Partner of True Wealth Ventures, an early-stage VC fund investing in women-led businesses in consumer health and sustainability sectors. She is also the co-founder of (512) Brewing, the largest draught-only, self-distributing microbrewery in the country. Sara was previously in venture capital and management consulting in the Bay Area as well as a variety of strategic and operational roles in large tech companies. Sara holds a Ph.D. and M.S. in green design and manufacturing from UC Berkeley and a BS in mechanical engineering from UT Austin.
5:00 Female Founder panel
Laurie Felker-Jones (JuiceBox Hero), Hannah Asmussen (Localyze), Jennifer Schäfer (Daily Dress), Freya Oehle (Moderator), Haydee Moreno, Founder, Almost Home Financial
6:00 Network, Mix, Mingle, Meet and enjoy burgers and beer
Join us to:
#Connect with senior and aspiring leaders in digital media and tech
#Learn about the most innovative developments in media and tech from the women who are creating them
#Receive visibility through the #DMW network
THIS EVENT IS HOSTED BY THE CITY OF HAMBURG …
in which the Digital Media Women (#DMW) network was founded in 2010 by eight Women in Tech. The Digital Media Women Day is curated and organized by, Chelsea Collier (Digi.City | Austin) and Sanja Stankovic (Co-Founder Digital Media Women & Hamburg Startups | Hamburg). Thanks to the Goethe Insitute for the delicious cold beer and to all our generous partners without whom this event would not be possible.
in cooperation with by Digital Media Women (#DMW), powered by NEXT Conference and Sutor Bank
+++++++++
About #DMW
Net. Work. Power. Digital Media Women (#DMW) is Germany's biggest network of action-taking-women. We want to give women a stage whether it is at conferences, in the media or managing boards. Our goal is to have women to be equally integrated and to be visibly able to influence: open, deliberate and pathbreaking. The #DMW is a non-profit association. All women in the organization teams are working on a voluntarily basis in and for the network.
The Digital Media Women association was founded by eight women in Hamburg in 2010 to increase the visibility of many talented, innovative women in media and tech industry. Now, nine years later, the Digital Media Women network is connecting more than 20,000 women and men in Germany and is operating in more than nine German cities.
About Digi.City
Digi.City Founder Chelsea Collier connects the tech, government and social impact sectors by publishing content and hosting events though her platform. She also serves as the Editor-At-Large for Smart Cities Connect and as a Co-Founder of Impact Hub Austin. She is a 2018 Marshall Memorial Fellow and a 2016 Eisenhower Fellow. Her research focuses on smart city policy and global best practices. Her work has also been featured in Inc.com, Venture Beat, the Chicago Tribune and dozens of other publications. She lives in Austin, Texas where she is active in the local tech and social impact community. Her masters and bachelor degrees are from the University of Texas at Austin.
About NEXT Conference
The NEXT Conference is the international digital festival that takes place on Hamburg's famous Reeperbahn. For two days, the city becomes the hotspot in Europe for discussions on digital transformation. Which trends will move people, customers and organisations? The conference prepares companies for the challenges and opportunities ahead - and helps them to stay fit for the future. This makes NEXT an indispensable event that regularly attracts around 1,500 decision makers with a digital agenda, including marketing and product leaders, digital economy executives and innovative corporations. NEXT is an integral part of the Reeperbahn Festival, that draws over 30,000 participants. Delegates of NEXT gain free priority access to more than 500 concerts, events and specialised activities.
About Sutor Bank
Sutor bank – the private bank for all Sutor bank, founded in 1921, is a private bank with the core competencies investment and wealth management.
The Sutor start-up-plattform provides solutions and services for fintech start-ups with business models for investment, savings and retirement plans. As strategic bank partner we help to realize the visions of fintech start-ups.
About Hamburg
Hamburg - hub for creative industries and city on the waterfront - is the most dynamic economic region in northern Europe. Hamburg is the advertising and media capital of Germany and favorite working place for creatives, artists, musicians, game designers and big industry leaders as Facebook and Google. The hanseatic city is one of the top locations in Europe for startups. As the center of the country's music industry, it attracts both artists and music business professionals and hosts one of the three biggest and most important music business events in Europe: the Reeperbahn Festival. The city of Hamburg has come to Austin for many years and represents one of the biggest delegations. Hamburg companies will be given support in various forms on site by giving opportunities for networking and presentation. The Hamburg Music Business Association (IHM) and the Reeperbahn Festival play a key role in the organisation.
+++
The project is supported by the City of Hamburg in cooperation with Hamburg Marketing GmbH. It is organized by Hamburg Music Business Association (IHM) and Reeperbahn Festival. Interactive Content is curated in collaboration with Sanja Stankovic (Hamburg Startups). Further partners are: ANCHOR – Reeperbahn Festival International Music Award, Digital Media Women (#DMW), Goethe Institute, Hamburg Startups, Music Cities Network, NEXT Conference, NIVEA, Sequenzer and Sutor Bank and Vast Forward.
+++ If you want to get more information about all Hamburg @ SXSW is doing, join our Mailing list here. +++
PLEASE NOTE: SXSW badge holders only - this is a business event. RSVP can not guarantee entry as we have a limited capacity and reserve the right to select our guestlist. You must be over 21 years to attend.