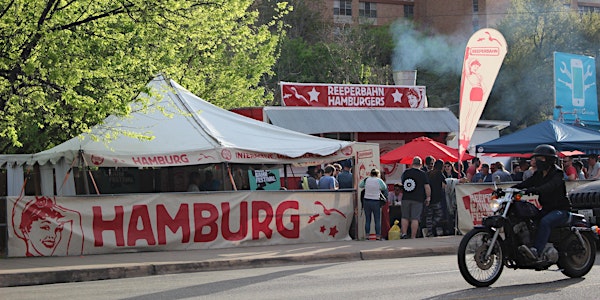 Reeperbahn Hamburgers - Music Cities Mixer
When and where
Location
Downtown Burgers 503 East Cesar Chavez Street Austin, TX 78701 United States
Description
Info below, but before we start, please don't forget to attend our other events too!
+++
presented by
ANCHOR - Reeperbahn Festival International Music Award and Music Cities Network
MEET AND EAT THE BEST HAMBURGERS IN TOWN!
The City of Hamburg and Reeperbahn Festival invite you to free drinks and Texas burgers.
Meet with representatives from Hamburg's music industry and find out about plans and partnership opportunities for 2018 and beyond. Join us for burgers and drinks!
+++

PLEASE NOTE: Badge holders only - this is a business event. RSVP can not guarantee entry as we have a limited capacity and reserve the right to select our guestlist. You must be over 21 years to attend.
+++
Reeperbahn Festival presents ANCHOR – Reeperbahn Festival International Music Award & NYC Edition 18 - 23 June
The ANCHOR is Reeperbahn Festival's accolade for the most promising emerging music talent. It serves as a guide for fans and the music industry in search of the best new music and as a jump start for the nominated artists' international careers. A two fold expert recommendation process selects the newcomers with the best musical quality and the highest potential. Learn more about the participating artists, the nomination process and the prestigious jury and other projects such as the NYC Edition from our Reeperbahn Festival staff.
About Music Cities Network
Music Cities Network is a public/private network dedicated to improving communication and cooperation, sharing research and knowledge, exploring policy and advocacy, and networking for policy makers, city leaders and all other music city stakeholders around the world. The network is focusing on research & policy; artist-, business- & city development & publicity and was initiated by Hamburg Music Business Association (IHM) & Sound Diplomacy in 2016. Current members are Aarhus, Berlin, Hamburg, Groningen, Nantes & Sydney.
About Hamburg
Hamburg - hub for creative industries and city on the waterfront - is the most dynamic economic region in northern Europe. Hamburg is the advertising and media capital of Germany and favorite working place for creatives, artists, musicians, game designers and big industry leaders as Facebook and Google. The hanseatic city is one of the top locations in Europe for startups. As the center of the country's music industry, it attracts both artists and music business professionals and hosts one of the three biggest and most important music business events in Europe: the Reeperbahn Festival. The city of Hamburg has come to Austin for many years and represents one of the biggest delegations. Hamburg companies will be given support in various forms on site by giving opportunities for networking and presentation. The Interessengemeinschaft Hamburger Musikwirtschaft (IHM) and the Reeperbahn Festival play a key role in the organisation.
+++
The project is supported by the city of Hamburg in cooperation with Hamburg Marketing GmbH and Ministry of Culture and Media Hamburg. It is organized by Hamburg Music Business Association (IHM) and Reeperbahn Festival. Interactive Content is curated in collaboration with Sanja Stankovic (Hamburg Startups). Further partners are: ANCHOR – Reeperbahn Festival International Music Award, Digital Media Women (#DMW), fischerAppelt, Good School Hamburg, Hamburg Startups, Music Cities Network, NEXT Conference and Sutor Bank.