Der Ticketverkauf ist beendet
Registrierungen sind abgeschlossen
Thanks so much for registering for our Red Bull Basement event! See you on Saturday, Oct 24th from 10:00am Join us here on Saturday morning -> https://zoom.us/my/alanarmstrong For more info on Red Bull Basement check out this little one-minute pitch we created! https://youtu.be/hKw5rQhoP1U Looking supporting you with your innovative idea! Kind regards, Your Red Bull Basement Munich Team
Der Ticketverkauf ist beendet
Registrierungen sind abgeschlossen
Thanks so much for registering for our Red Bull Basement event! See you on Saturday, Oct 24th from 10:00am Join us here on Saturday morning -> https://zoom.us/my/alanarmstrong For more info on Red Bull Basement check out this little one-minute pitch we created! https://youtu.be/hKw5rQhoP1U Looking supporting you with your innovative idea! Kind regards, Your Red Bull Basement Munich Team
INNOVATE AT UNIVERSITY TODAY, DISRUPT THE WORLD TOMORROW.
Zu diesem Event
Do you have an idea that changes student life? Or even the world? Red Bull gives wings to student innovators to drive positive change through tech solutions.
WHEN
Join us online on Saturday, Oct 24th for our Online Launchpad workshop.
WHO
You don't have to be an entrepreneur or an innovator to join us – everyone is invited to the brainstorm. Take part in our Red Bull Basement München event to develop new ideas, find team members, and get inspired.
This event is open to any students from across the world!
WHAT
During this workshop, we have several inspirational talks to help shape your innovative idea and our team of experts will guide you through our one-minute video pitch checklist to prepare you and your idea for the video application for the Global Workshop.
The best ideas from each country will be invited to the Global Workshop and win attractive prizes, see below.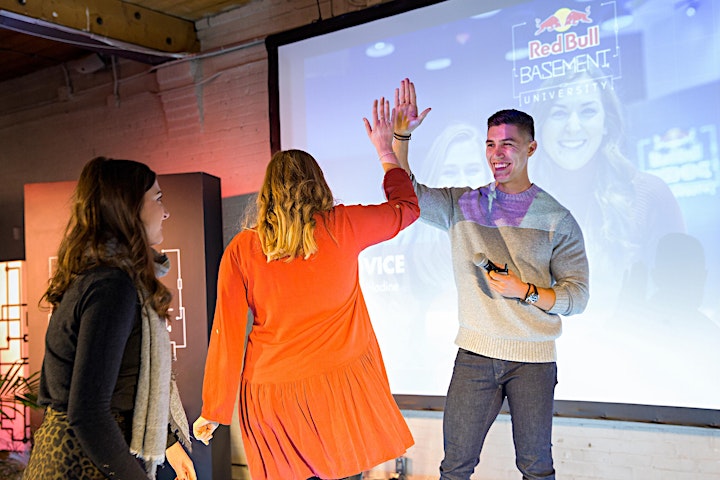 PRIZES
1st Place 🥇
The top team from the final pitch event at the München Launchpad will receive €500 to support their innovative idea! 🦄
2nd Place 🥈
The runners up will receive a 3-month Flex Desk for free at one of the Mindspace locations in Munich.
3rd Place 🥉
A public vote know as the "people's prize" will be the award of enough Red Bull to last you for a few months 😊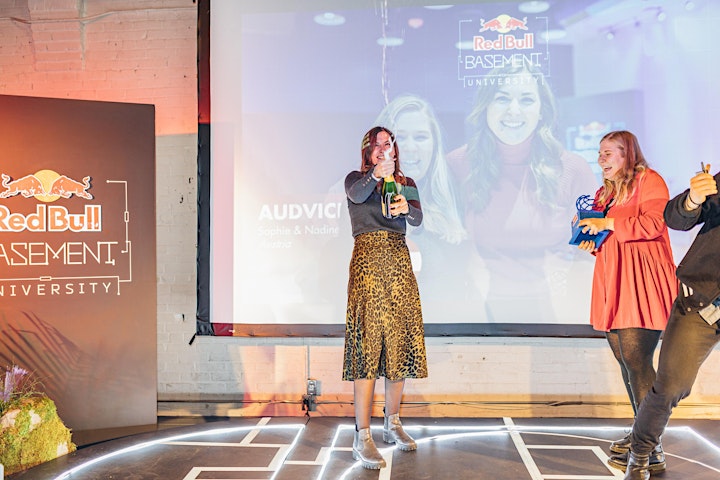 THE JOURNEY
Munich Satelite Event (Oct 24)
Satellite events are opportunities to learn more about Red Bull Basement. At our München virtual satellite event, you will have the chance to brainstorm new innovations, meet potential team members, experience inspiring speakers, and enhance your idea.
This event is designed to prepare you for submitting an awesome 1-minute pitch as part of your application for the Red Bull Basement Global Workshop!
Submit your 1-minute Pitch Application (Deadline Oct 25)
Brainstorm your idea and describe it in a max. 60-second video. Then upload the video and your application on this website. This is not a film-making competition: your idea is what matters. Remember, the public will vote on it, so try your best. A team can consist of one or two people. Make sure that everyone is at least 18, a university student, and able to speak English.
Public Voting (Oct 26 - 29)
Fellow students – and the public – will have a three-day window to view the eligible videos and vote. Their top picks will advance to the Selection phase, so spread the word and gather support from your community. The winning teams will receive coaching and support before attending the Global Workshop in December.
Global Workshop (Dec 10 - 13)
The Global Workshop is the final sprint of Red Bull Basement, packed with opportunities for the Finalist teams. At this celebration of student-driven innovation, teams will get access to a global network, immerse themselves in workshops and surprise activities, and refine their ideas right up to making their Final Pitch.
Check out the full timeline with more details here.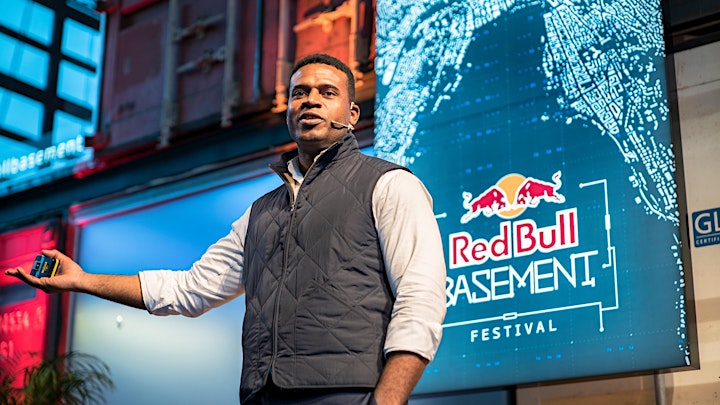 AGENDA (Oct 24)
WELCOME
Before the event kicks off, stimulate your mind and crack open a cold can of Red Bull.
INTRODUCTION
The team will introduce the Red Bull Basement Programme and agenda for the day.
THE ONE-MINUTE PITCH WORKSHOP
Alan Armstrong, a startup coach from UnternehmerTUM, will coach you through a step-by-step process of creating and delivering your one-minute pitch. The workshop will provide you with the insights and steps necessary to translate your tech solution into a one-minute pitch designed to inspire the audience.
THE ONE MINUTE PITCH TOOLKIT
Our team of expert coaches will guide you through our one-minute pitch toolkit helping to prepare you for our final pitch event and submitting your video pitch for the Red Bull Global Competition. This toolkit will guide you through all the essential elements of a one minute pitch such as your problem statement, solution and unique selling proposition, business model and a call to action.
DIY PITCH RECORDING WORKSHOP
Don't have a 4k Digital SLR to record your video? Not to worry! Our team has got you covered with the top tips and tricks for creating your very own home studio and recording a captivating visual-audio experience as part of your one minute pitch.
FINAL PITCH EVENT
After all that hard work you will all have the chance to pitch in front of our jury of experts with the chance of winning some cool prizes! This part of the event will be open to the public (invite all your friends and family!) and recorded. You will have the choice to use this recording for your one-minute video application for Red Bull Basement or alternatively you can re-record your pitch at home and submit it online.
CONDITIONS
This event has the following conditions
At least one member of your team must attend the Online Workshop
There can be non-students as part of your wider team but one member who apply for Red Bull Basement must be a registered student
You can also be a single person with no team yet and be part of our Workshop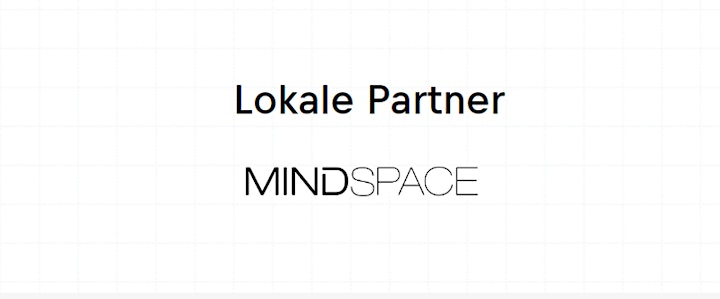 Datum und Uhrzeit
Veranstaltungsort