Dieses Event ist beendet.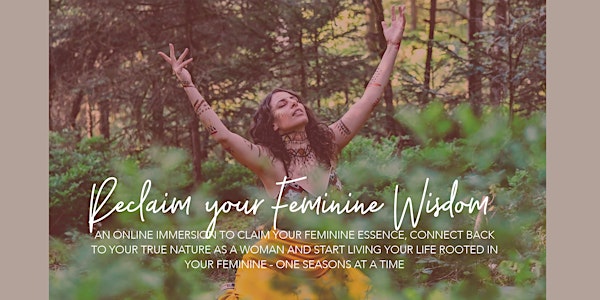 Reclaim your Feminine Wisdom - Online Immersion
An online immersion to claim your feminine essence, connect back to your true nature as a woman and start living with ease & flow.
Rückerstattungsrichtlinie
Keine Rückerstattungen
Zu diesem Event
Re-connect with your feminine energy
Uncover the secrets of & heal your menstrual cycle
Tap into the power & authentic expression of your feminine essence
Discover an effortless, juicy and easeful way of living - rooted in your feminine wisdom & energy
"Women are archetypal anchors for the power of the Feminine, and when we reclaim our feminine power – by restoring our ways and practices – we integrate the power of the Feminine into our lives and back onto the planet." Wild Power
It's time to reclaim your feminine power and stop running on a patriarchal auto-pilot.
You are so done with feeling dis-connected, shameful and cut off from your body, spending most of the day in your head.
Running through your life feeling super masculine, pushing, striving, planning and controlling.
You are done with being woman and feeling everything else but feminine.
Done with being disconnected from your body, experiencing menstrual pain, feeling shameful about your cycle.
Sometimes you ask yourself, why women have been burdened with so much!?
But deep down you know, the Feminine is divine, and powerful!
Deep down you know, on the other side of pushing and controlling is another reality – a reality of great ease and flow.
YOU ARE SO READY TO RECLAIM YOUR FEMININE POWER AND RADIANCE – NOW!
YOU ARE SO READY FOR A NEW WAY OF LIVING, ROOTED IN YOUR FEMININE WISDOM – NOW!
BASED ON EACH SEASON OF THE YEAR, YOU'LL LEARN
☾ What exactely is feminine energy qualities and the difference to masculine energy
☾ How to tap into your feminine energies based on each season
☾ My favorite practices to balance feminine and masculine energy in the daily hustle
☾ Living in alignment with your menstrual cycle
☾ Feminine energy & embodiment practices and rituals
☾ How to uncover patriarchally-programmed behaviours and alchemize them
WHAT'S INCLUDED
4 live Masterclasses à 60 minutes (Winter/Spring/Summer/Fall)
Workbook to dive deeper into the teachings
Feminine energy & embodiment practices to integrate into your daily life
Intimate Facebookgroup & exclusive access to me for your questions
ENERGY EXCHANGE: CHF 111
Dates: 25 January | 25 April | 25 July | 24 October