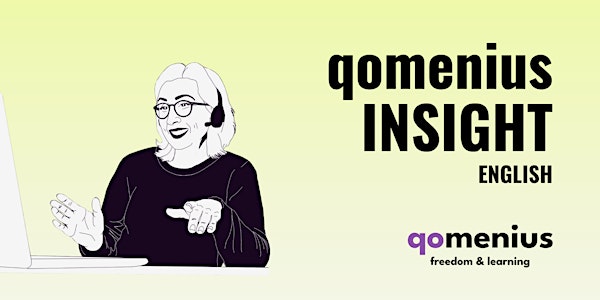 qomenius Insight: Experience a full qomenius learning session – live!
Experience a complete, 90-minute qomenius learning & development session - within a group of 4 to 6 learners
Refund Policy
Contact the organizer to request a refund.
About this event
This online event is open to all who are interested. You can register alone. Or you can ask colleagues, acquaintances, and team members to take part as well.
Each qomenius Insight event takes 2,5 hours, or 150 minutes. Make sure you arrange enough time to be there from start to finish!
WHY YOU SHOULD PARTICIPATE
Some things you just have to experience for yourself, in order to fully understand them. This is also probably the case with small-group learning in qomenius.
You are looking for effective and easily deployable approaches around effectiveness, agility, change, learning and development for teams and organizations? Regardless if you are an entrepreneur, a top executive, manager, or an expert in Learning & Development (L&D), an organizational developer or HR specialist – this event gives you the first-hand-experience and the information that you need to understand the qomenius approach and offering better, and the impact it provides.
You will experience the brand new learning method (didactics), technology and functionality of the qomenius platform, during a complete learning session - live and first-hand.
You will experience how qomenius promotes insight, social density, community-building and agility in teams and organizations.
You will gain insight into how small-group and discourse learning with qomenius has an impact on the levels of the individual, the group and the organization. And how qomenius ensures this impact.
We will answer all your questions about qomenius didactics, technology and content, as well as your questions about the use of qomenius in the real context of your team or organization.
THE SETTING
The core of qomenius Insight is a complete, 90-minute qomenius learning session in a small group of four, five or six people. You experience a qomenius learning session without compromise: Be prepared for intensive, stimulating and varied discourse with other participants!
We created a special content module for the qomenius Insight format: It is entitled Agility boosters. The main focus of the module is the agility of people, teams and organizations. We promise you: These 90 minutes will be highly entertaining - but also highly instructive for your personal work context. No matter what your current work context looks like! Be prepared to be surprised.
In a debriefing discussion after the 90 minutes, you will have the opportunity to exchange your ideas and views about the session with us and the other participants. You will also learn a little more about the use of the qomenius approach for learning & development in real-world work contexts.
THE PARTICIPATION FEE
The fee for participating in qomenius Insight is EUR 25.00.
Due to current events, we are donating the income from the participation fees to the work of the UN Refugee Agency in connection with Ukraine. The UN Refugee Agency not only supports people who leave Ukraine because of the war, but also people who have to flee from war regions within Ukraine.
TECHNICAL STUFF
The qomenius Insight event will be held through Zoom. No parts of this event will be recorded.
Please feel free to share this invitation with colleagues, peers or friends who might also be interested in qomenius! For more information about qomenius, visit www.qomenius.com. For all questions related to this event, please send an email to start@qomenius.com. We will answer you within 24 hours!
ABOUT QOMENIUS
qomenius is technology and learning method at once. It is a cloud-based platform for the development of people, teams and organizations. If you haven't heard much about qomenius yet, but suspect that our solution could be something for you, your team, or your organization, then the qomenius Insight format is probably a good starting point. If you haven't heard anything about qomenius yet, it may be worth taking a look at the freely available ebooks