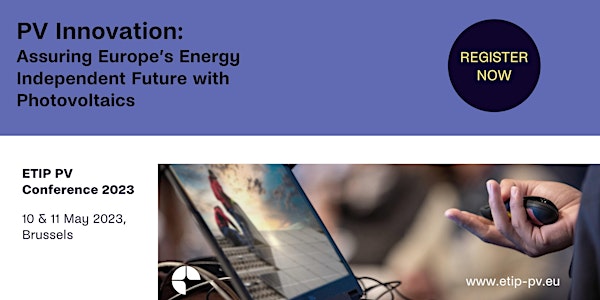 PVinnovation:Assuring Europe's Energy Independent Future with Photovoltaics
ETIP PV Annual Conference 2023
By European Technology & Innovation Platform Photovoltaics (ETIP PV)
Date and time
May 10 · 1:30pm - May 11 · 1:30pm CEST
Location
VBO 4 Rue Ravenstein 1000 Bruxelles Belgium
About this event
The annual Conference of the European Technology and Innovation Platform Photovoltaics (ETIP PV) will be held at the VBO FEB in Brussels on the 10th and 11th May 2023.
The topic of the conference will be " PV Innovation: Assuring Europe's Energy Independent Future with Photovoltaics".
The conference will highlight how policy, supply chain factors, research and innovation, international trade, economic growth and environmental and climate concerns can deliver the resurgence of a European solar supply chain.
More information are available on our website: https://etip-pv.eu/events/etip-pv-conference/etip-pv-conference-2023/
Agenda
Session 1: Global Solar manufacturing development
Session 2: Competitiveness of EU production, supply chain of overall PV ecosys
Session 3: Photovoltaics innovative technologies manufacturing
Session 4: Sustainability and Social impact of Photovoltaics