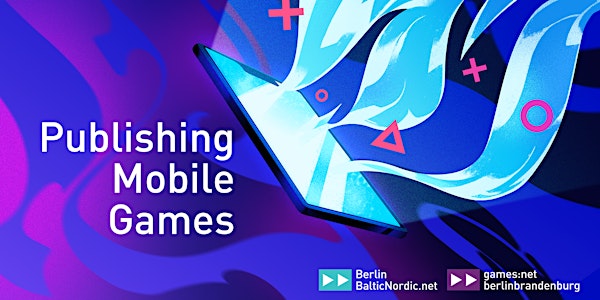 Publishing Mobile Games
Publishing Mobile Games
When and where
Location
KOLIBRI Games Hallesches Ufer 60 7th floor 10963 Berlin Germany
About this event
On Thursday 5th March 2020, games:net berlinbrandenburg & BerlinBalticNordic.net invite you to join the Workshop 'Publishing Mobile Games'.
The workshop will focus on 3 topics: Publishing Contracts, Commercial Game Design and Marketing Analytics. 5 experts in these fields will share their expertise with an initial keynote, answer questions and evaluate each project case by case in a more hands-on approach. This is why we encourage you to bring your contract, project and specific concerns to the workshop.
Breakfast and lunch will be provided in the breaks between each part.
Part 1 - Contracts and Publisher Partnerships vs Self-publishing
(20-minute keynote & Q&A + 90-minute workshop)
We will look at common terms and conditions in contracts, what to expect and what to be cautious of, as well as glance into the benefits and disadvantages of self-publishing.
Part 2 - Commercial Game Design
(20-minute keynote & Q&A + 90-minute workshop)
We will look at how to design a mobile game with a strong focus on Usability, Retention and Monetization.
Part 3 - Marketing Analytics
(20-minute keynote)
We will look at how to evaluate the success of a mobile game, how to set KPIs case by case, use App store data to boost users and retention, how to read data to find patterns…
We encourage attendees to bring their own contracts, game builds, prototypes and specific concerns, as the mentors will evaluate the projects and help the teams case by case.
Games:net and BerlinBalticNordic.net look forward to welcoming you to the KOLIBRI offices.
Kind regards,
Maria Wagner & Irene Preuss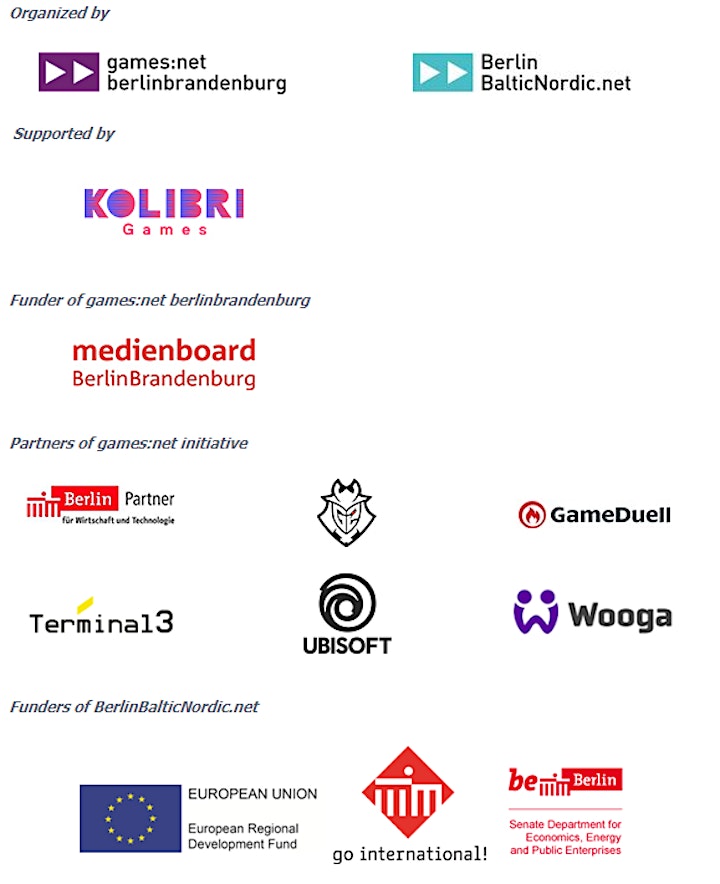 games:net brings together members of the gaming industry based in the capital region. From big names to fresh faces, games:net provides support and excellent contacts in the fields of business, politics and research.
Immersing in fantasy worlds, battling mythical creatures and solving intricate riddles – it's an industry full of fun that we take very seriously. games:net berlinbrandenburg offers a platform that unites studios both large and small with publishers and representatives from business, politics and research. We enhance the exchange of our members and share knowledge and ideas. Opportunities such as networking events, joint trade fair stands – for example at gamescom and Nordic Game – and delegate trips abroad create a strong ecosystem – and not just in the digital world.
BerlinBalticNordic.net is a business and networking platform for interactive media companies, with a focus on games, startups and digital media. The aim of this initiative is to connect the Berlin scene with the Baltic Sea and Nordic countries, to facilitate business relations which are supposed to lead to sustainable cooperation. Publishers, developers, financiers as well as education and training institutions will get the chance to proactively network with each other. Business matchmaking and events in the partner countries will be accompanied by activities and information online. BerlinBalticNordic.net is organized by media:net berlinbrandenburg, which ranks among the biggest and most successful regional networks of media and digital economy in Germany for 15 years. It represents more than 450 members.