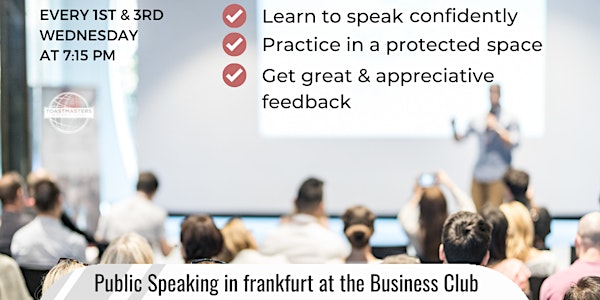 Public Speaking at Business Club Toastmasters
More confident, more convincing, more authentic, challenge yourself with regular rhetoric training
Zeit und Ort
Veranstaltungsort
SAALBAU Gallus Frankenallee 111 60326 Frankfurt am Main Germany
Karte und Wegbeschreibung
Zu diesem Event
You want or have to talk?
Then come to us. We are your audience! Here is your stage!
Toastmasters is the place to learn public speaking and build your leadership skills.
What do we do at Toastmasters?
We train in a friendly atmosphere
speaking in front of an audience
give effective presentations
structure your speech
planning and conducting effective meetings
giving constructive feedback and accepting criticism
We meet: Every 1st and 3rd Wednesday of the month from 19:30 to approx. 21:00.
We are also on Youtube
https://www.youtube.com/channel/UCH2vb9GuRO-RIRvFo_hb9Yg
Homepage
http://toastmasters-bc-frankfurt.de/
Questions? Then send us an email to president@businessclub-frankfurt-toastmasters.de
We look forward to listening to you and getting to know you!