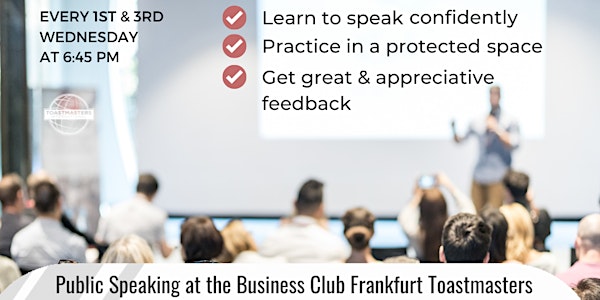 Mehrere Termine
Public Speaking at Business Club Frankfurt Toastmasters
More confident, more convincing, more authentic, challenge yourself with regular rhetoric training
Von Business Club Frankfurt Toastmasters
Datum und Uhrzeit
Mi., 4. Jan. 2023 18:45 - Mi., 20. Dez. 2023 21:00 CET
Veranstaltungsort
SAALBAU Gutleut Rottweiler Straße 32 Room Miquel 60326 Frankfurt am Main Germany
Zu diesem Event
You want or have to talk?
Then come to us. We are your audience! Here is your stage!
Toastmasters is the place to learn public speaking and build your leadership skills.
What do we do at Toastmasters?
We train in a friendly atmosphere
speaking in front of an audience
give effective presentations
structure your speech
planning and conducting effective meetings
giving constructive feedback and accepting criticism
We meet: Every 1st and 3rd Wednesday of the month from 18:45 to approx. 21:00.
After our Toastmasters meeting we always go together, whoever wants to, to our favourite restaurant Rumi's for something to eat, drink and fun. It's always a great end to the evening!
We are also on Youtube
https://www.youtube.com/channel/UCH2vb9GuRO-RIRvFo_hb9Yg
Homepage
http://www.businessclub-frankfurt-toastmasters.de/
We look forward to listening to you and getting to know you!