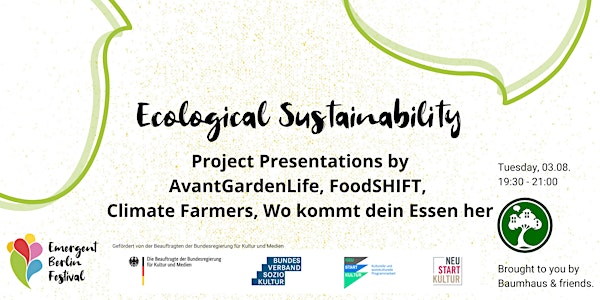 Project Presentations: Ecological Sustainability | Emergent Berlin Festival
Come here a series of exciting talks by AvantGardenlife, FoodSHIFT, Climate Farmers and Wo kommt dein Essen her!
When and where
Location
Panke Culture Gerichtstraße 23 #Hof V 13347 Berlin Germany
About this event
Project Presentations
Join us for a series of short project presentations by a string of social, ecological and cultural local projects.
Each speaker will share their project's current state, learnings, needs, resources and strategies. Following the month's focus theme, we asked them to reflect on "ecological sustainability" within their projects: Where are they at ecologically? What did they learn from the pandemic about ecological sustainability? How can we step up our ecological actions to combat climate change and accelerate positive transformation?
AvantGardenLife: Self-Sufficient Herbalism & Food as Medicine
Climate Farmers: Regenerative Agriculture - Going Beyond Carbon
Wo kommt dein Essen her: Was könnt ihr bei uns entdecken & wo geht die Reise hin?
FoodSHIFT 2030 Berlin Lab: How Baumhaus Is Participating in an EU Project for Citizen Driven Food System Change
We'll gather in Panke Culture's outdoor space (the same address as Baumhaus, but in the back building). The setting is open and informal (no power point). We're looking forward to reconnecting, reflecting on and sharing our experiences and strategies after a long pause of events.
About Emergent Berlin 2021 - An event series by and for local projects.
Every Tuesday night in the second half of 2021, this year's EMB provides a platform for people and places to reconnect, reflect on and share our collective and individual experiences and strategies.
Theme 2021: "Rising to meet the crises." As we gradually emerge from the pandemic in Berlin, the climate catastrophe is knocking at our doorstep. We need to act with a sense of urgency. We invite fellow social-ecological projects and people who want to take action to reconnect, reflect on and share our collective and individual experiences and strategies. Where are we at? What can we learn from the pandemic? How can we step up to the evermore urgent climate and sustainability crises now?
Each month, we shift our focus on another aspect of taking action for transformation: personal, ecological, aesthetic, cultural, economic and social.
Month #1 July: Local Projects & Personal Sustainability
Month #2 August: Local Projects & Ecological Sustainability
Month #3 September: Local Projects & Aesthetic Sustainability
Month #4 October: Local Projects & Cultural Sustainability
Month #5 November: Local Projects & Economic Sustainability
Month #6 December: Local Projects & Social Sustainability
As always, Emergent Berlin Festival is brought to you by Baumhaus & friends. If you have trouble finding us, call Karen: 0176-7856-6593
Website: www.emergentberlin2021.de
IG: @baumhausberlin